I'm finally getting round to doing a thread on my retro vehicles a well as my girlfriends. As we've got a few and they are quite wide ranging in size I've decided rather than doing a thread on each I'll do a thread for the light ones (Raumer's Landrovers) and a thread for the heavies. Will also make my life a lot easier as we are working on multiples at the same time. Due to having moved around the country in the last two years for new jobs and still hunting for a suitable property to store them all on (as well as needing to find a job at the moment) they are scattered around the country. In 2018 we were in Gloucestershire, then new job in Coventry so moved up to Leicestershire. Then job loss and end of house rental so back to Gloucestershire as most of our big vehicles are down here.
So this thread will be for work we do on the heavy vehicles. We'll start with the driving licence & mot side and then an intro for each of them, it' going to be a long one as I'll try and answer the most likely questions as I go.
Driving licences, the most asked and probably most misunderstood area. All lorries that were built before 1960 can be driven unladen on a standard car licence, new type or old type. There is a pre 1960 exemption in the driving licence rules. You can also tow an unladen trailer under the same rule. Unladen vehicle means that it is only carrying tools and items associated with the vehicle or it's operation (this does contrary to popular myth include drivers lunch, coat etc....) So my girlfriend who has a new type licence could drive one of the Scammell's or the Kraz with a tank transporter trailer behind it but she can't drive her own 110 with our unladen car trailer behind it!
Mot exemption, unlike cars lorries are not subject to the rolling 40 year exemption. So again pre 1960 used unladen are mot exempt. Added to which there aren't many mot inspectors that could cope with most of them. Then there are some other exemption categories, reviewed and reduced about 2 years ago. Two of importance with our vehicles. The first is that over width vehicles are exempt and depending on how over width there are certain conditions to meet when driving them. UK normal width limit is 8ft 6 inches. For the Kraz it has to have a passenger but nothing else. Should be noted that it is no longer possible to register over width lorries. The second exempt category is for ballast tractors not based on an HGV. This covers our Unipower and would also cover things like a Scammell Contractor but not a normal Volvo truck with a ballast weight. Highly complicated and we make sure to have the relevant paperwork with us at all times. If you are thinking about going for something like these vehicles and unsure on registration etc... it is best to check with the DVLA first. We also use a version of the VOSA example HGV driver walk round checklist when we take the trucks out. Basic checklist that covers wheel nuts, working lights etc... Compulsory for all commercially used HGV's. And we think a good idea in light of the mot exempt status.
1935 Scammell Rigid 6 (R6)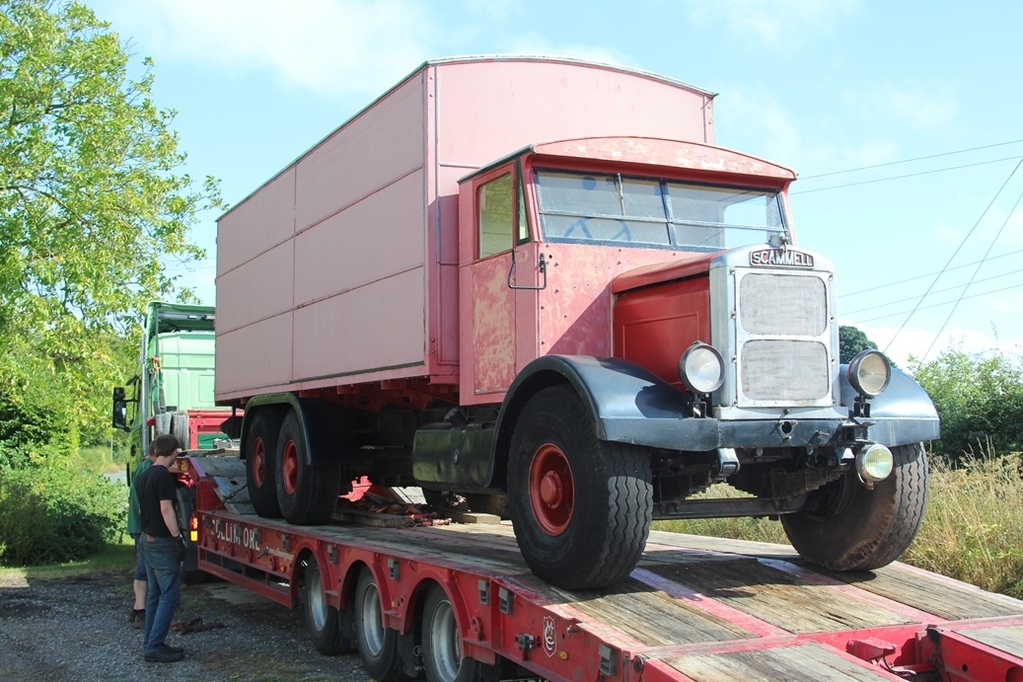 The oldest and the easiest spotted when it is out. Also seems to be the one liked by all our friends. Believed to be one of only 4 rigid 6's known to survive and the only box body one. Owned by my girlfriend and she is the only one so far prepared to drive it. One of two box bodied R6's built for the GPO, they also had a few other R6's with pickup bodies. Our one features in a pathe information film as well as being on the front cover of a GPO book. Mechanically she is 6x2 with the middle axle driven. Gardner 6LW engine with Scammell 6 speed gate gearbox (you can not skip gears!). Air assisted cable operated rear brakes, air front brakes. Has fuse box in the middle of the dash and was supplied with electric trafficators & headlight. But also had a pair of oil lamps on the side of the cab and one at the back. Really fun bit is no brake lights originally! The tyres are about the external size of modern super singles so double normal width. Overall size is 30ft long, 11ft tall and about 7ft wide. Weight is unknown but probably about 7 tons empty and loaded a lot lot more! The size has proved very helpful as we have been storing lots of spare parts in the back of her. About the size of a container and about 80% full at the moment. This one is also the quickest, will cruise at over 40mph. I did have to tell my girlfriend to slow down on the one outing as there was a roundabout coming up and we were doing 45mph with still a couple of gears to go.
The previous owner had here for almost 40 years and the family grew up with it. They had rebuilt the cab and reroofed & reskinned the rear body not long before we got her. Although the rear doors desperately need a rebuild and we have this planned with a friend who is a cabinet maker. Since we have owned her she has been rewired, new brake light setup fitted. LED indicators and side lights fitted at the front (easily removable) and an easily removed rear trailer board with modern lights on it. Best compromise of originality and being seen. Also the radiator started leaking when we started her up to drive her off the low loader she was delivered on. This necessitated removing the radiator and making new seals & replace studs for the drain pipe. The drain pipe drops down through the chassis so it can't be removed in situ and also meant the radiator had to be lifted over a foot vertically upwards to remove it.
There have been two big issues with her on the one outing we have done, in her defence it was the first time out for a very long time. For the local show that was about 3 miles away she broke down once on the way there and once on the way back! Both times getting towed the rest of the way by a friend's Diamond T 980 tank transporter. By the time you included the steel bar the total outfit was about 70 feet long. The second issue which has been there from the day one is incredibly heavy steering, even for the size tyres and manual steering it was ridiculously heavy. With 3 people on the steering wheel we couldn't turn the wheels when she was stationary on concrete.
Issue one was quickly tracked down to fuel starvation. But due to her design we couldn't do anything about it at the show, just enough to get her running for a mile. Since then we have cleaned out the fuel pipes and replaced the on engine filter and the chassis mounted filter. Just the fuel tank itself to clean now. The steering issue has been a bigger problem. Jack it up and the steering is fine, drop it down and it was very heavy in one direction and nigh on impossible the other way. As soon as you are moving it starts to get easier and at a few mph is better. But maneouverying is awful especially combined with a 30ft length. We took the steering box off and my girlfriend stripped it down. I got home from work to find it in pieces on the living room floor (normal working area for us!). The problems very obvious, it was filled with grease instead of oil and the bottom bearing was smashed in to multiple pieces with bits missing. We couldn't get a replacement bearing even going to a custom bearing manufacturer. We were hitting a dead end and a friend volunteered to look at it. He has almost finished the rebuild and mods, I'll put up the details and photos later in this thread and fingers crossed it will be a lot better.
1938 Scammell Pioneer R100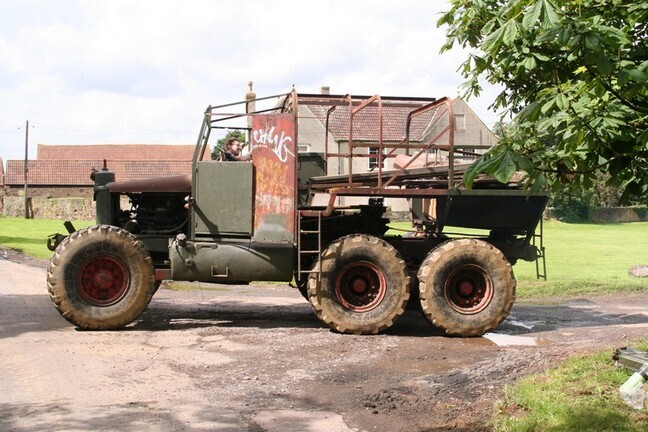 My pride and joy, the vehicle I always wanted since a little boy. My parents used to help organise Rushmoor steam rally and then moved to exhibiting at many more. I think their record was 20 weekend steam rallies in a year. Great times growing up although it did corrupt me towards the lorries. In particular the Pioneers, watching them rescuing artics at muddy rallies. And axle articulation that has to be seen to be believed. For some reason I always liked the R100, heavy gun tractor version. Also as is common with me the rarest version. When she came up for sale we emptied the bank account to buy her and at the same time had nowhere to put her! The Pioneers were first built in 1927 so by the time WWII started they were a 12 year old design contrary to the general view that they are a WWII vehicle. Although their service during WWII and after is what made them famous. Mine is the earliest known gun tractor although one that is 10 chassis numbers later lives a few miles down the road! Even with that mine has lots of different features, some lost though as along with many others she was rebuilt by the military after WWII. Size wise she is about 24 feet long, 9 1/2 feet tall and and 8 foot 8 inches wide. And about 7 tons empty. Top speed somewhere between 24 and 28 mph depending on the engine governor setting.
Technical spec is Gardner 6LW (the first direct injection diesel and probably the most indestructible engine ever built) with remote Scammell 6 speed gate gearbox - no transfer box. 6x4 but with only two axles. The rear is a single axle with gear driven walking beams at the end - will put up some photos later in the thread to explain. Brakes are air assisted mechanical but on the rear wheels only! Being a Scammell you ignore tow and load ratings, I've seen them moving over 100 tons which is at least double the official rating. Mine needs a lot of work and due to being away from home progresses very slowly. Work to date includes repairing the bulkhead support, fitting starter motor, freeing off the kingpins and rebuilding the steering box. Just waiting for a new roller to be machined for the inside of the steering box. Plus hunting up parts. She does run and drive so it is mainly bodywork, brakes, suspension and electrical that she will need. But Scammell's are not the easiest of vehicles to work on. Now that we are closer to where she is stored I can get on with more work once lock down eases.
1944 Scammell Pioneer SV2/S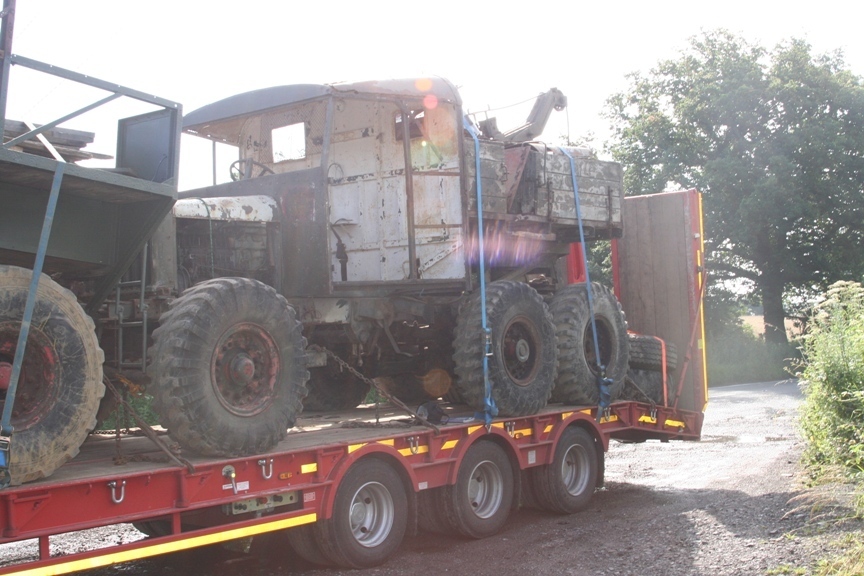 The recovery version of my gun tractor. The most common version and there are still some being used commercially. Probably the best known is the one at Severn Beach that still goes out to recover cars from Weston beach. Rear crane is hand driven and can lift about 3 tons at shortest reach. Main winch as fitted to all Pioneers is an 8 ton engine driven horizontal one. Capable of a lot more than 8 tons but has a sprung loaded bit that cuts the engine when overloaded. The same winch used on later vehicles was rated at 15 tons. I only bought the recovery as it came with the gun tractor. So it is a parts donor for the gun tractor and it does have the correct early aluminium engine that it will need at some point. Not much done but the steering box is at the same stage as the gun tractors. Original plan was to build one good one out of the two but it turns out they are different! Same size as the gun tractor but if it had all of the recovery kit it is about 12 tons in weight.
1951 Scammell Scarab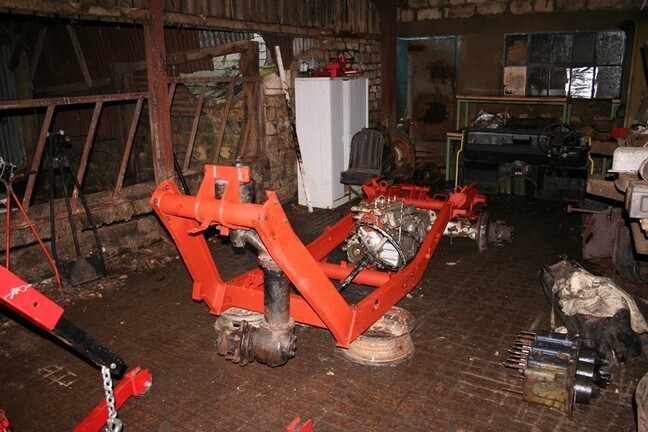 How ours currently looks.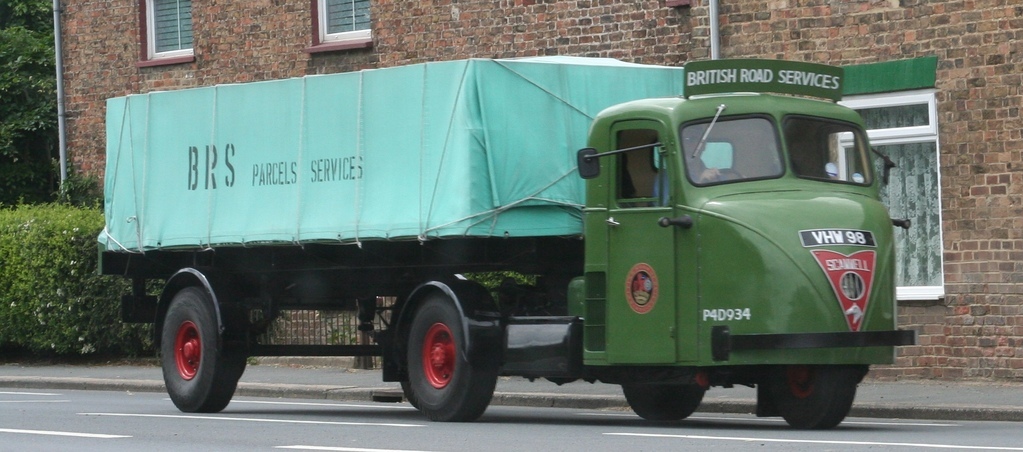 A complete one for reference.
Another one of my girlfriend's vehicles. It came in lots of pieces and has lots of spare parts. Bought from a fellow Scammell owning friend. He rebuilt the engine and gearbox. We have had the chassis repaired, making one good one out of two. And built it up to a rolling chassis after sandblasting and putting in to primer. It is complete with it's trailer. Rare for us to do work on this one currently but hopefully when we can find a permanent home it will progress a lot faster. Top speed is over 30mph but can't remember how much over.
Scammell developed the Mechanical Horse and then this was replaced by the Scarab. Their 3 wheeled construction makes them incredibly maneouverable and they were intended to replace horses. With trailer on they can turn in less than their own length. Enabling them to drive in to tight areas and spin round without having to reverse out. The really clever bit is auto trailer connection. Reverse up to trailer and then under trailer. Trailer, brake and electrical connections automatically made. To disconnect pull lever in cab and drive forwards, legs drop down automatically. There were two load ratings - 3 ton and 6 ton. With different gearing, trailers and connections. This one is 3 ton and is fitted with the Scammell petrol engine. Lots used by the railways but also used by people like Cadburys, distilleries, military etc... She is the smallest and lightest of the heavies.
That covers all of the Scammells, the next post will cover the other 2.