Well it's not actually an Mx5, it's an Eunos Roadster... but it's the same thing
I wasn't looking for an mx5, nor even another project really, but this one sort of fell in my lap and seemed too good a deal to refuse! A friend of a friend had bought it off an older gent with the intention of breaking it for spares but looking closer he'd decided it was too good to break and I was in the right place at the right time to take it off his hands.
So, it's a very early 1989 Mk1 Mx5. It has a few months MOT, claims to have done about 120,000 miles, though with imports you have to take this with a pinch of salt, and I've got some keys and a v5 to go with it, but no history.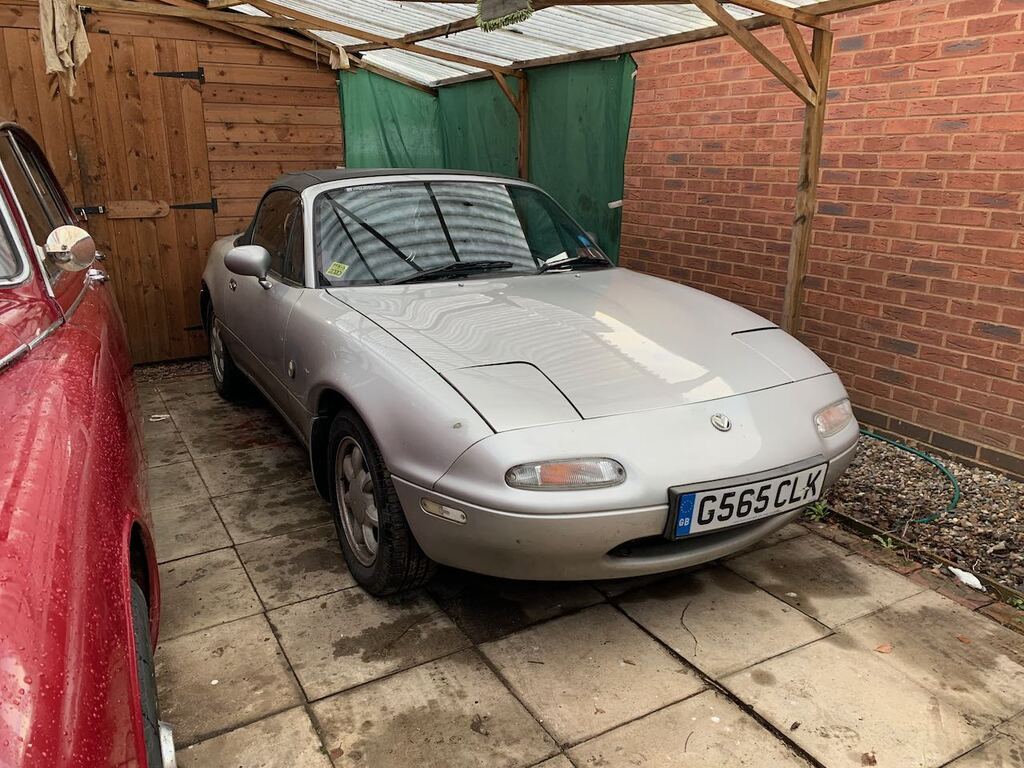 Looks pretty good there, less good from this side though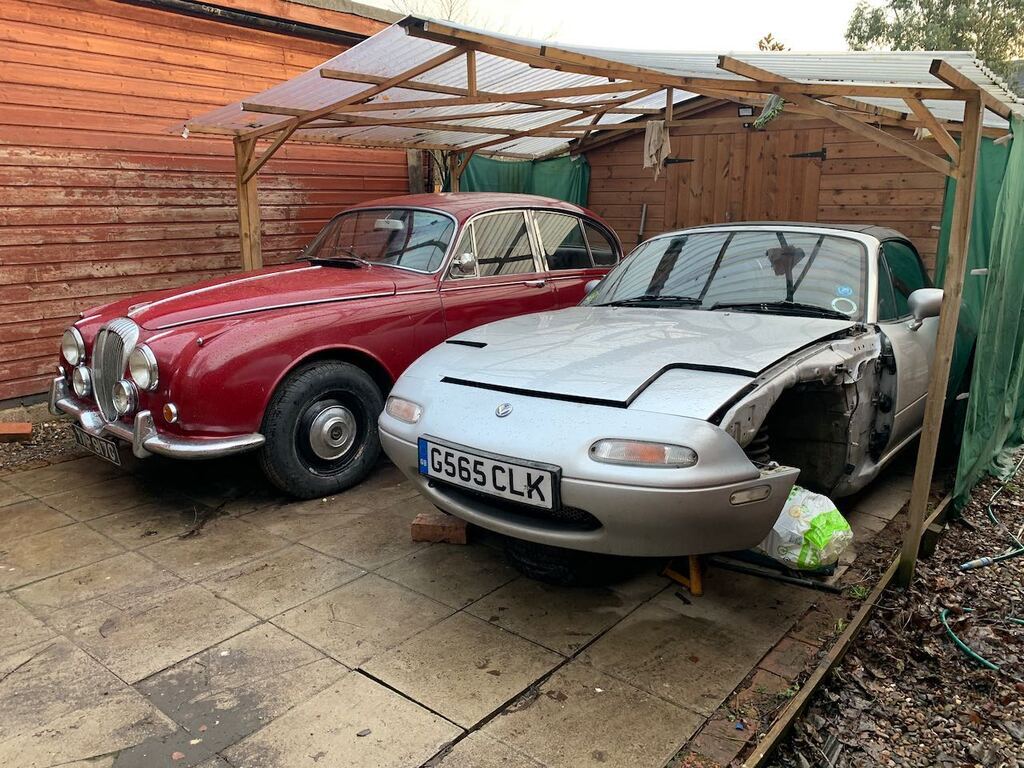 It did come with a new pattern part replacement wing, the original was apparently rusty. The paint is not good. The silver paint on these early cars seems to have suffered most of the years. I would say the previous owner was probably preparing to have this resprayed, as on every panel there are areas where he has sanded back around stone chips and then put rust convertor on them. This means every panel is dotted with sanded sections and unsightly brown stains. You can also see in the above picture the the previous owner had primed his new wing with a rattle can while still on the car, so there's primer overspray on the bumper and door, and he'd gone at the inner wing with some silver Hammerite, or similar, in a pretty hap hazard manner!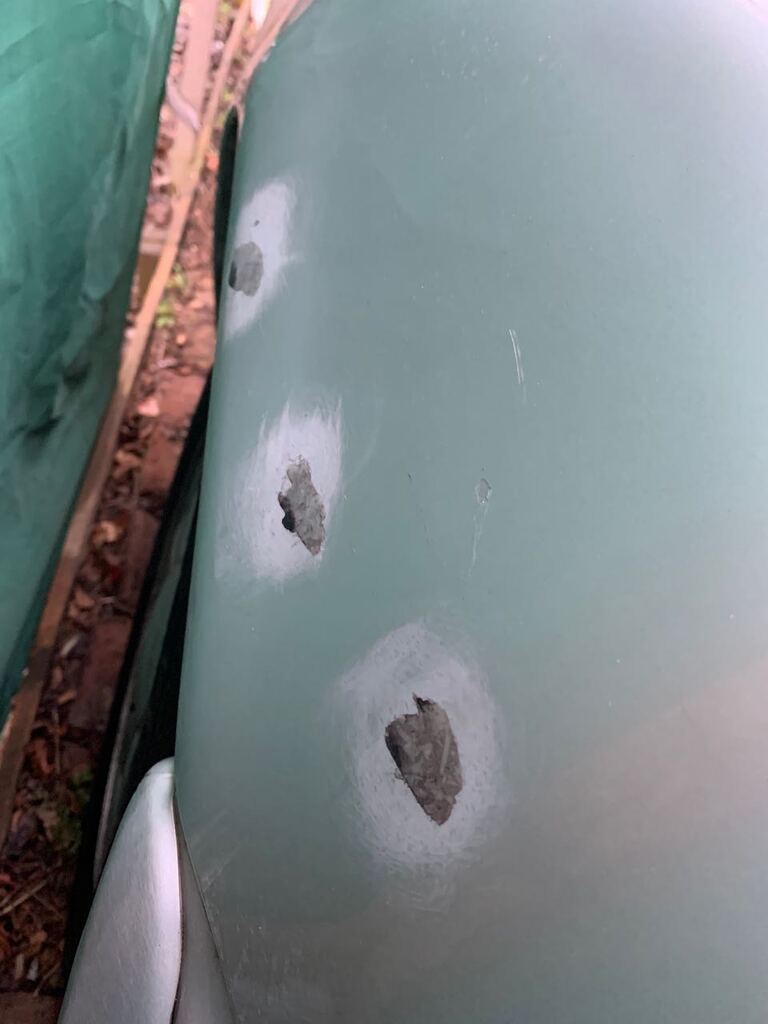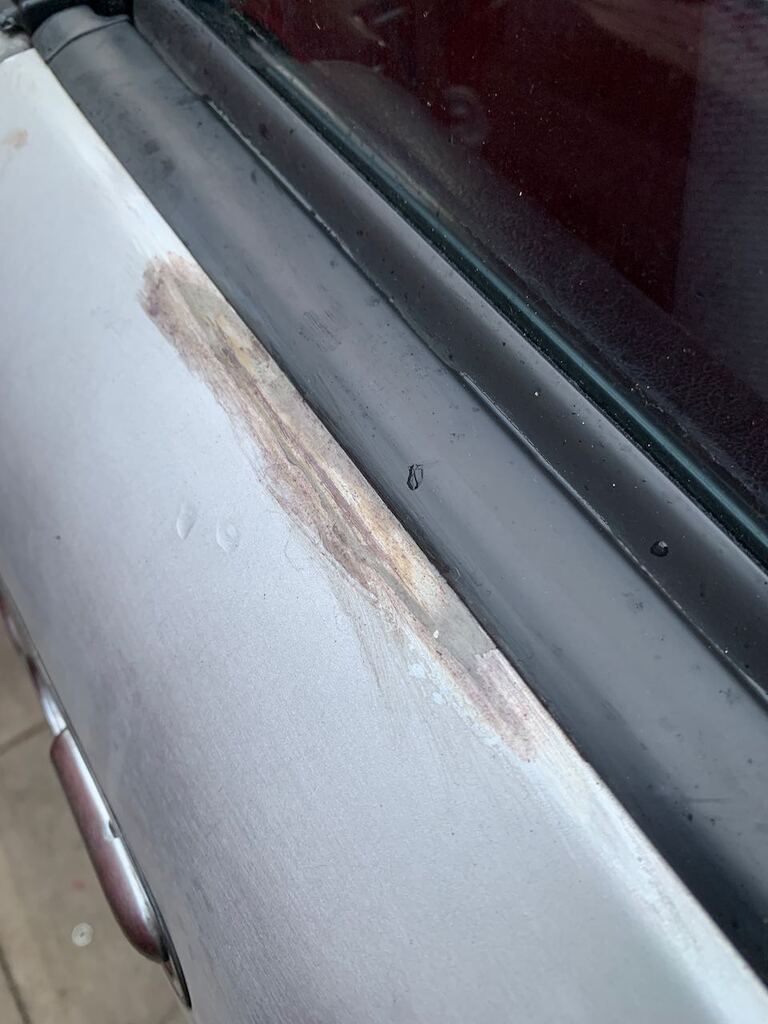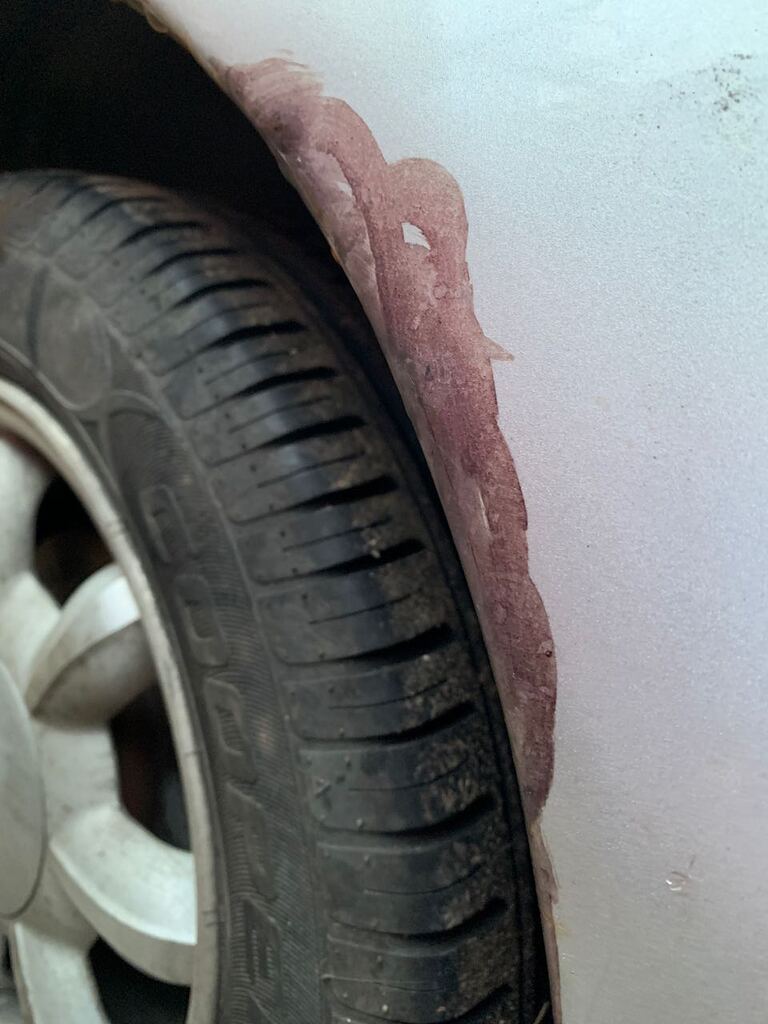 So that's the bad, and you can see why it was a candidate for breaking, but what about the good?
Well, it's got to be the cleanest Mx5 I've owned. The passengers lower rear wheel arch/sill has had a repair, and the shape could be improved a bit, but its very solid. Other than that, it all looks original, all the original spot welds showing on the wheel arches etc. The inner sills and floors are tidy with the original underbody coating rather than surface rust, and the frame rails seem to have avoided being mashed when moving around the docks with a forklift, like some many imports are.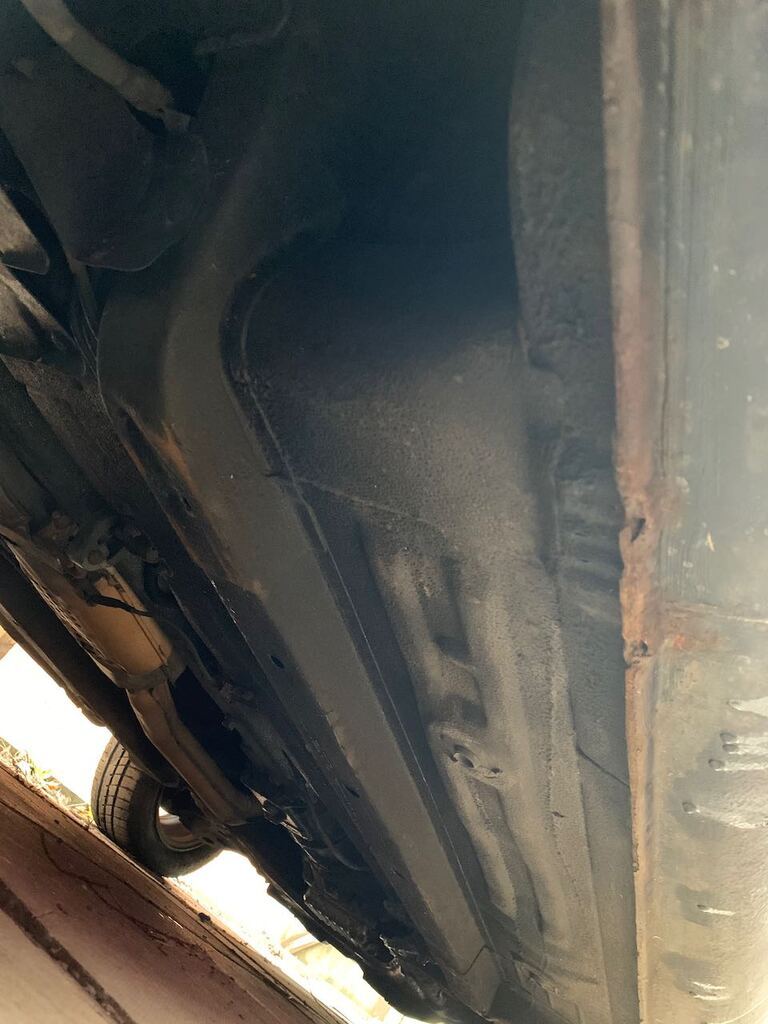 The suspension components are impressively rust free, and wiping some of them off, most of the original paint is there under the dirt.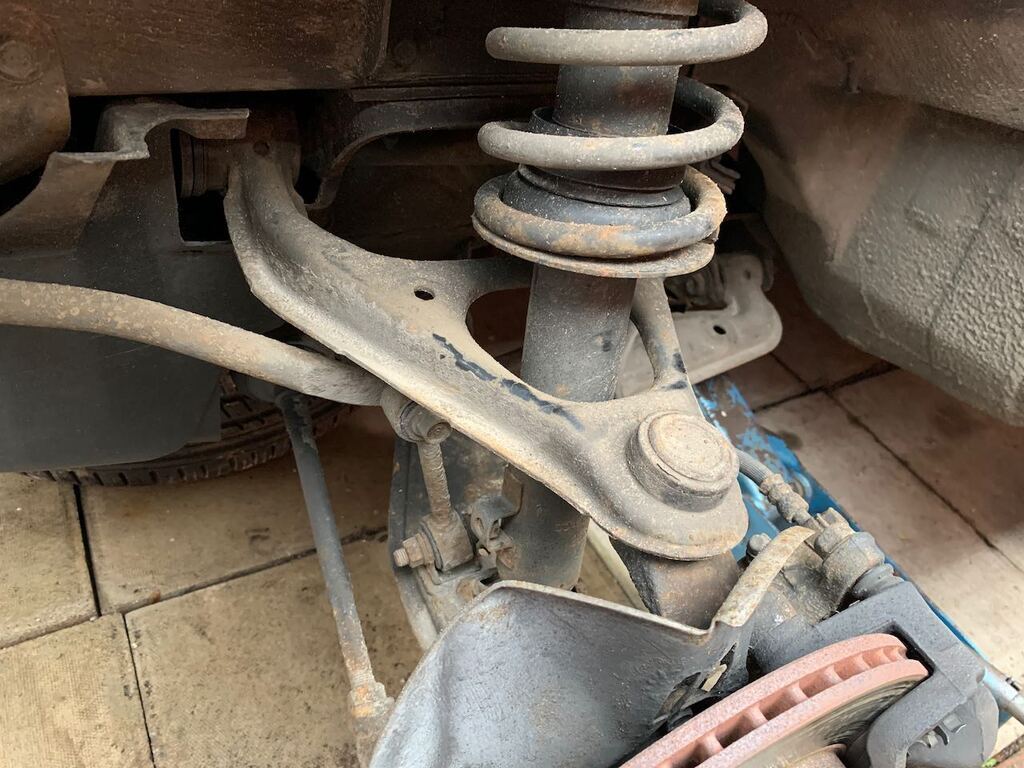 It's now a 31/32 year old car, and it's less rusty than my first one was back in 2008 when it was 12 years old! So that's a good start, building on this the roof is in great condition, back window is clear and no cracked.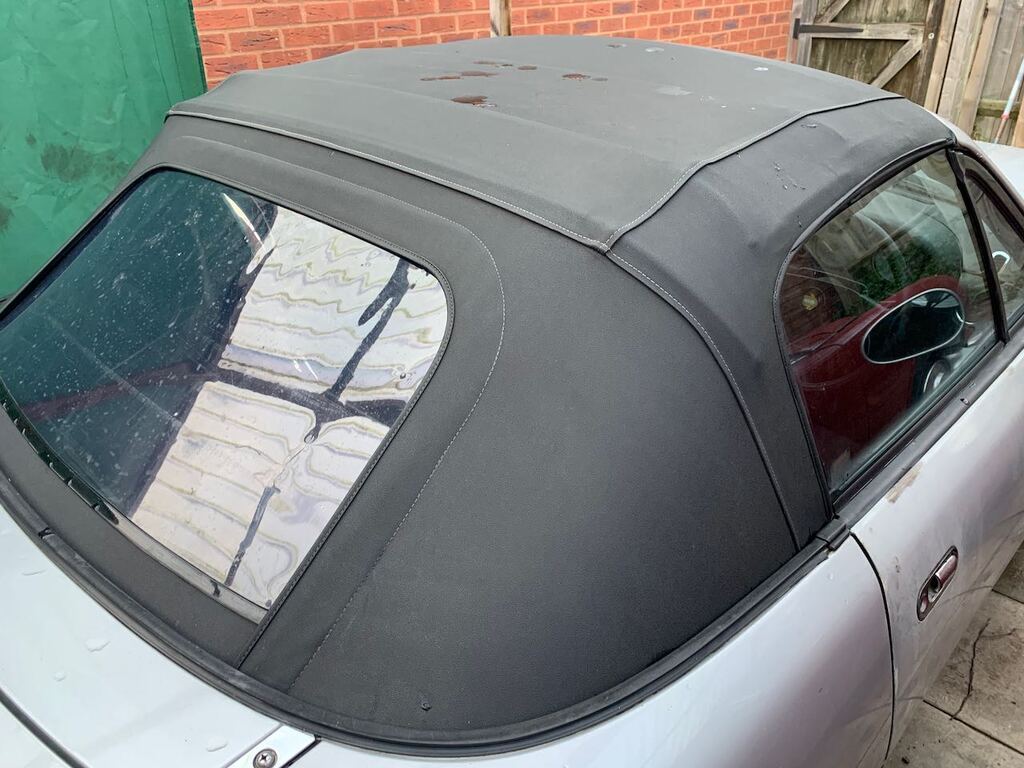 The interior is tidy, with minimal wear on the drivers seat bolster, again less worn than my previous 3 mx5s.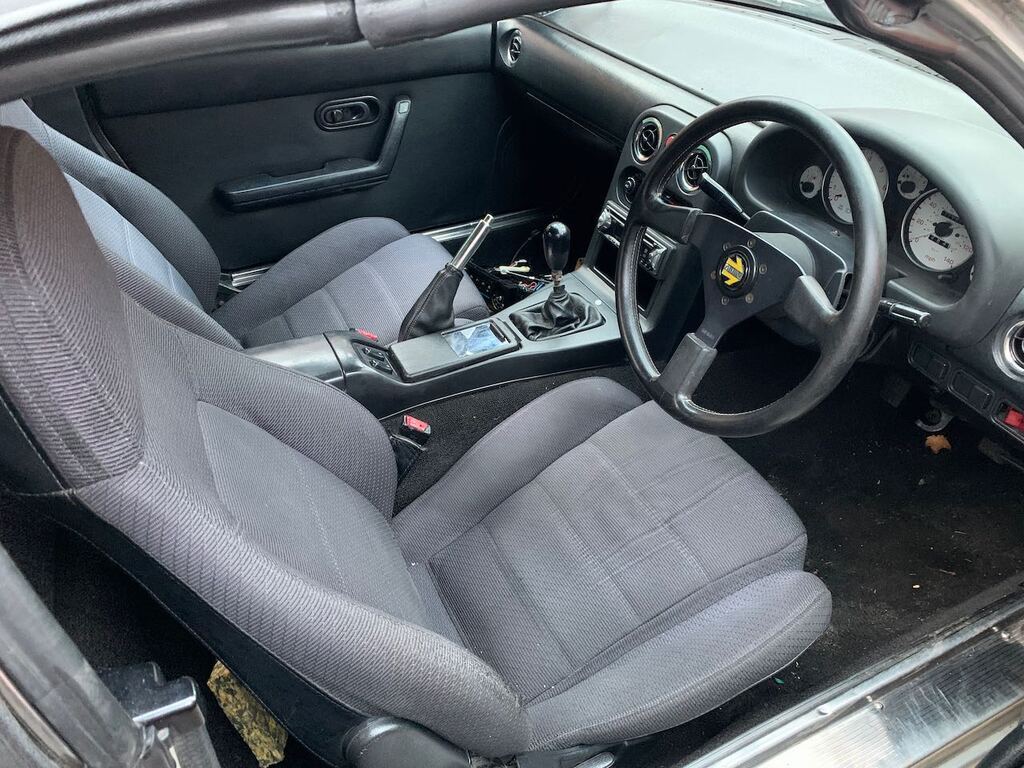 The engine bay is clean and tidy (mildly disassembled here)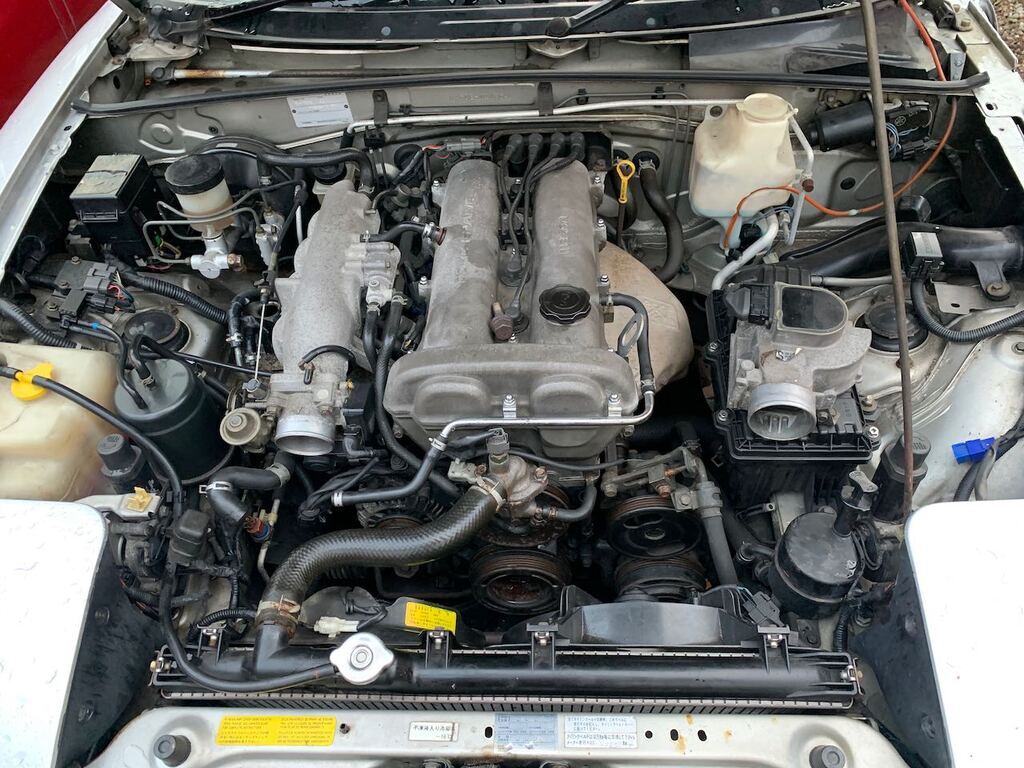 As I had no service history, I figured part of my first round of fixes would be to service it. But when I inspected it, the oil and air filter looks brand new.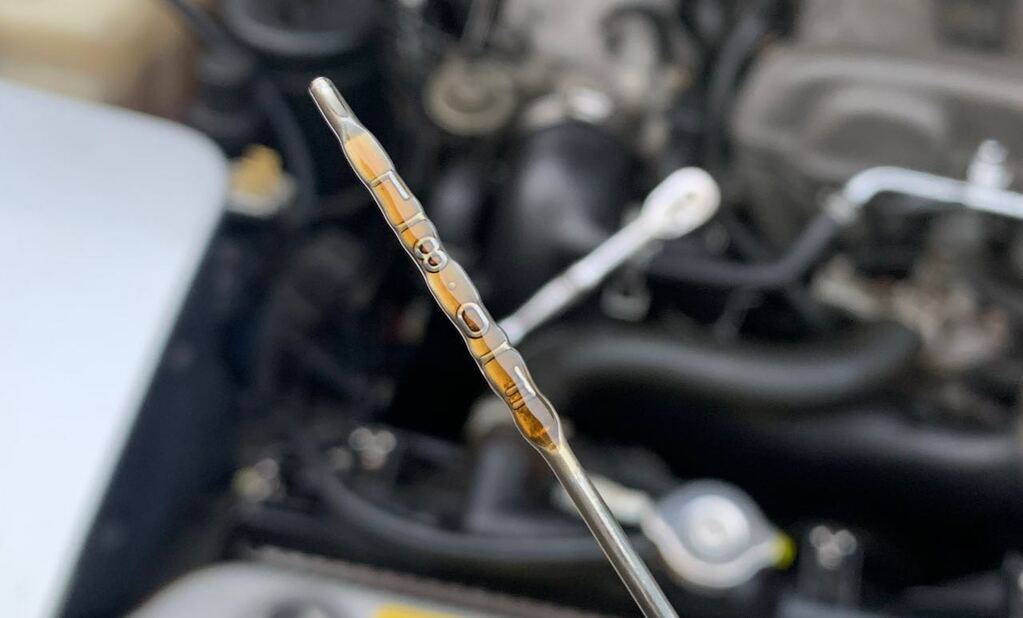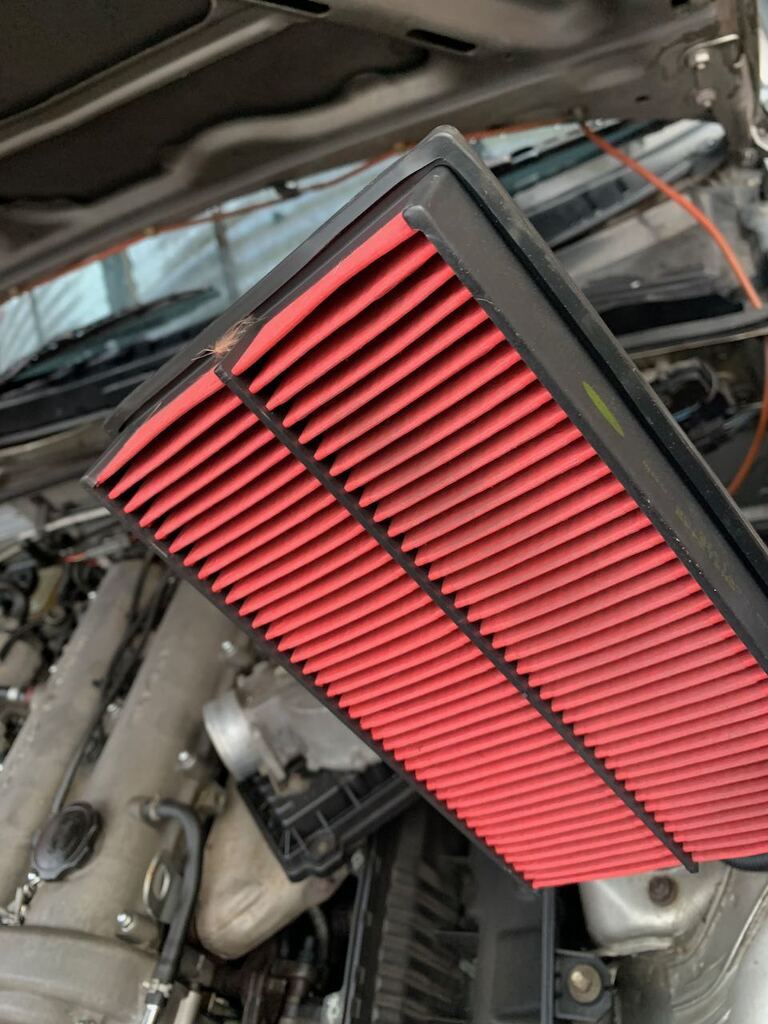 As a final bit of basic engine inspection, I thought it wise to check the keyway in the front of the crank. These early 'short nose' 1.6 engines have a weakness in the design of the front pulley that can result in the keyway getting worn and allowing the timing to slip or in extreme cases cause the nose of the crank to actually sheer off. This was fixed in 1992 onwards cars, but the fix also made the crank a touch heavier so in theory these are the revives of the mx5 engines. Whether you can feel it, or whether it's just forum chat for people to feel good about their weak cranks...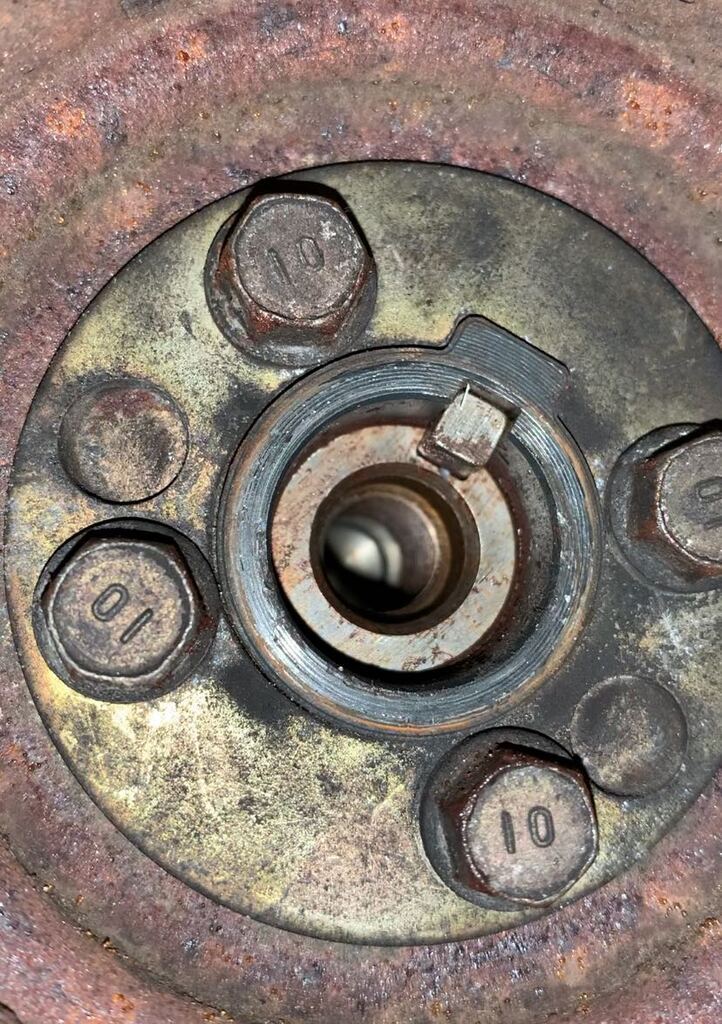 Anyway, my keyway looks fine. So I've ordered a new bolt which will be locktited and carefully torqued and that should mean I'm safe from any crank problems for the foreseeable.
Another problem, obvious when I drove it from the trailer it arrived on to my drive, was that one of the front brakes was sticking. Sticky callipers, as any mx5 owners will know, are a very common mx5 issue. I jacked it up and checked the other wheels, and was pleasantly surprised to find that that the other 3 brakes were free and the handbrake was working on both rear wheels evenly. I whipped the sticky calliper off, and again was pleasantly surprised to find minimal rust on the piston, and an intact dust seal.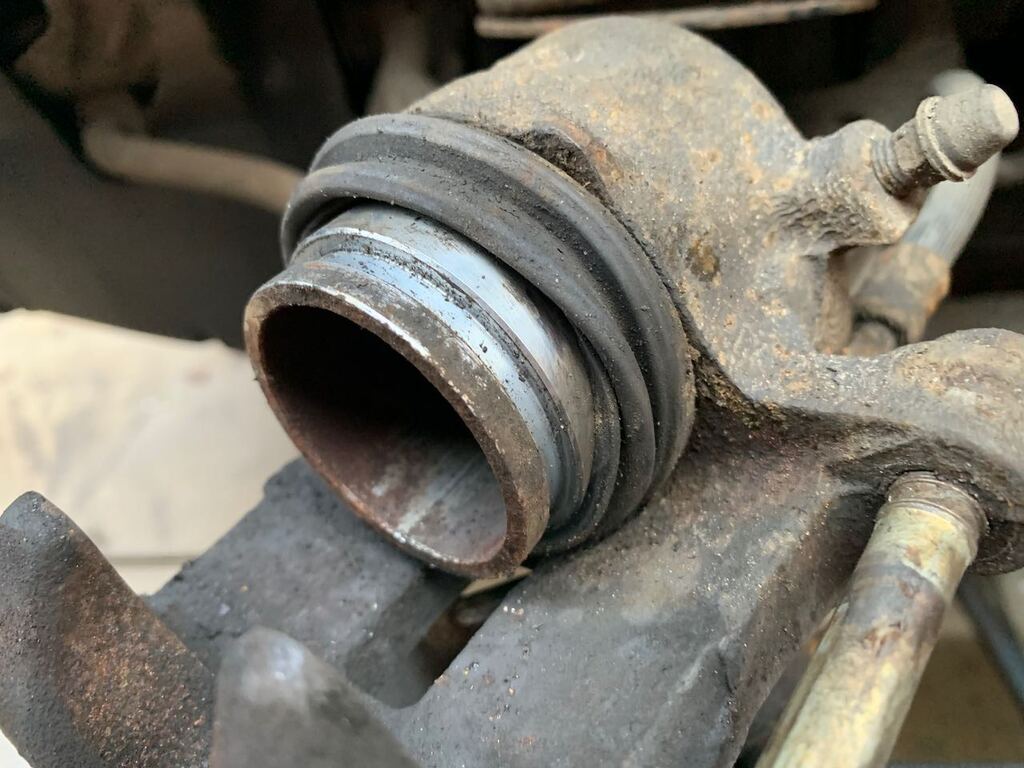 It's not seized up solid, just a bit sticky, so might be ok with a clean but when a new set of seals in only £10, it seems silly not to do it properly. While I had my head under the wheel arch I was also pleased to see that all the suspension bushes looked good, not the perished old worn out bushes I was expecting to see. I don't know if they've been replaced, or whether this car has just been kept out of the worst of the weather?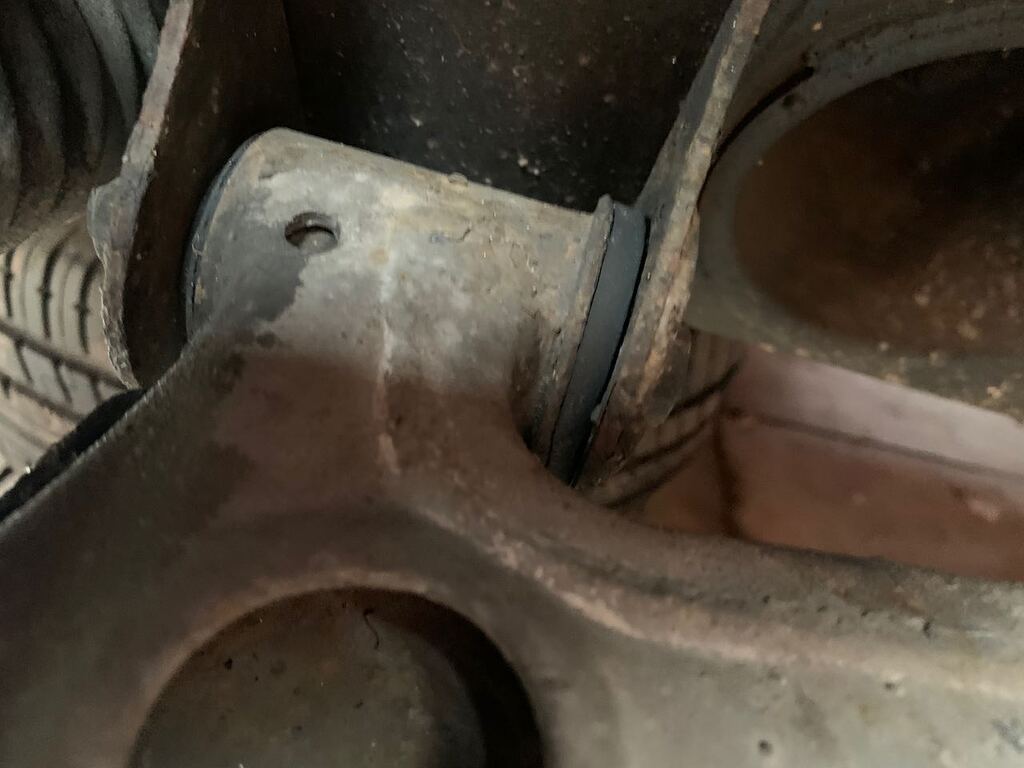 So yes, plenty of good points, some bad. I'd say it's a car that's probably lived in a garage a lot recently and someone has cared for it. Some of that care has just been a bit misguided when it comes to the body work!
Stage 1 is going to be a quick once over, a tidy up, then in a couple of weeks time hopefully get it out on the road to do what Mx5s are all about, driving.
On top of the new front pulley bolt and brake calliper rebuild already mentioned, this first found of fixes will include removing the stick on chrome...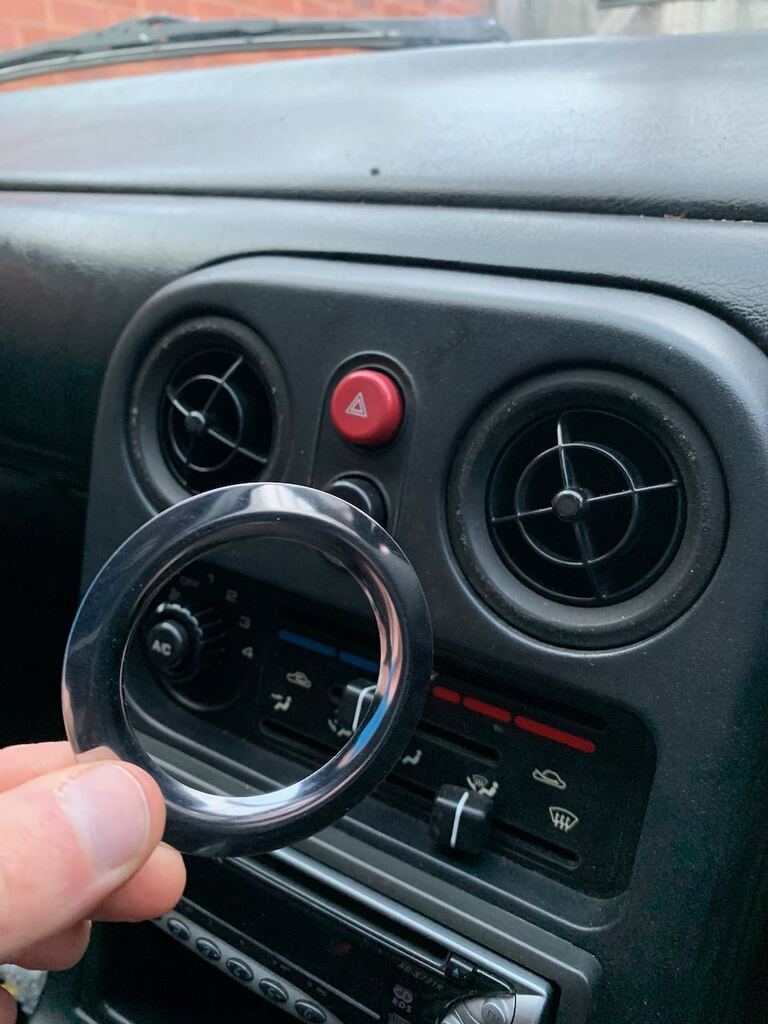 ... replacing the aftermarket white dials with the much nicer (IMO) standard black dials...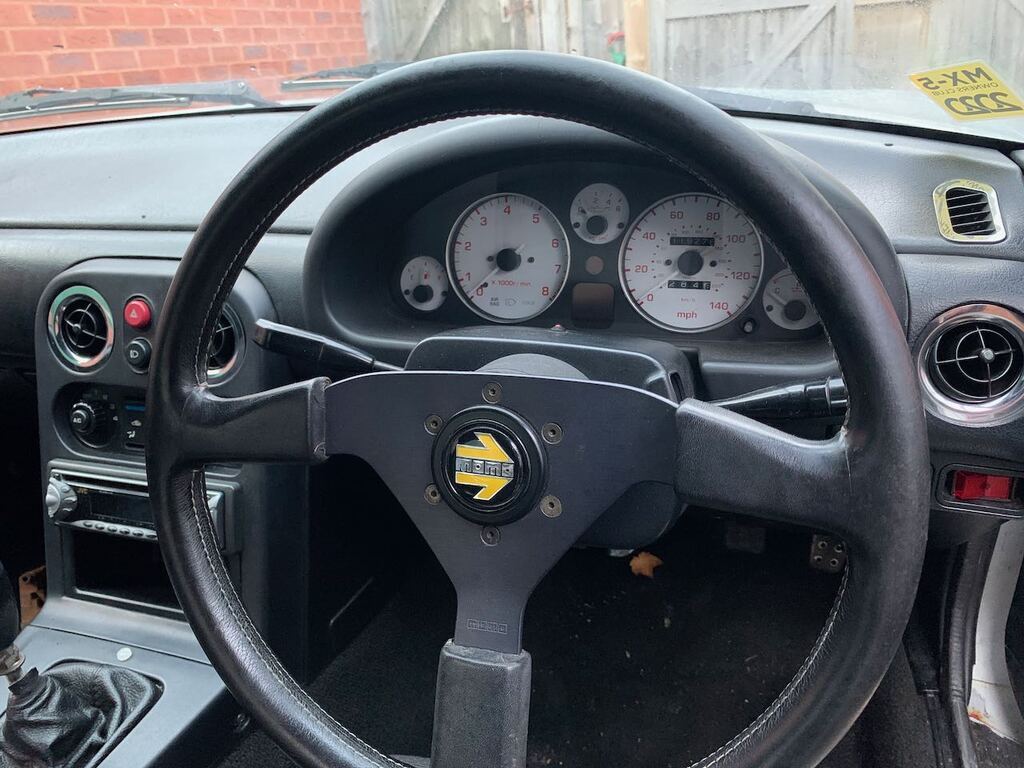 ... and obviously fitting that front wing! haha. I've also ordered some Bilt Hamber underbody coating and cavity wax to give this a fighting chance of staying rust free!
Whilst picking this car up wasn't part of my plan, it does feel 'right' to have an mx5 again, it just feels like home! I'm very much looking forward to getting out for a drive in a couple of weeks time

Once I've actually driven it a bit then we can talk mods... I've been on eBay looking at silly wheels and motorcycle throttle bodies already