Hello again.
A few more weeks have passed, what great success have I achieved?
Car wise - not a lot really.
The XJR has seen around 500 miles now and I am really very fond of it already. Still got various little niggles to sort out but it has been my daily vehicle for the last few weeks and aside from a suicidal pheasant taking out a main beam head lamp unit (replaced for a whole £15 off eBay!) and a very slight 'clunk' from something driveline related when shifting down gears when coming to a halt, it has been perfect. I think once I get the central locking sorted and get to the bottom of the driveline 'clunk' I'll probably look at selling it on. Which doesn't really make sense but I've been doing this long enough to know how it goes and it generally goes something like this:
Buy a car that I consider really nice and in good condition (the newer XJ I had was the last one)
Decide it is too nice, feel stressed when using it/don't bond with it and then sell it
Buy something rubbish, fix it up a bit, basically fall in love with it, use it for a few months and then think "this is a bit rubbish, I should get something better".
Repeat.

I will change my mind a few more times yet though.

Here is what an X308 XJR looks like missing a main beam head lamp: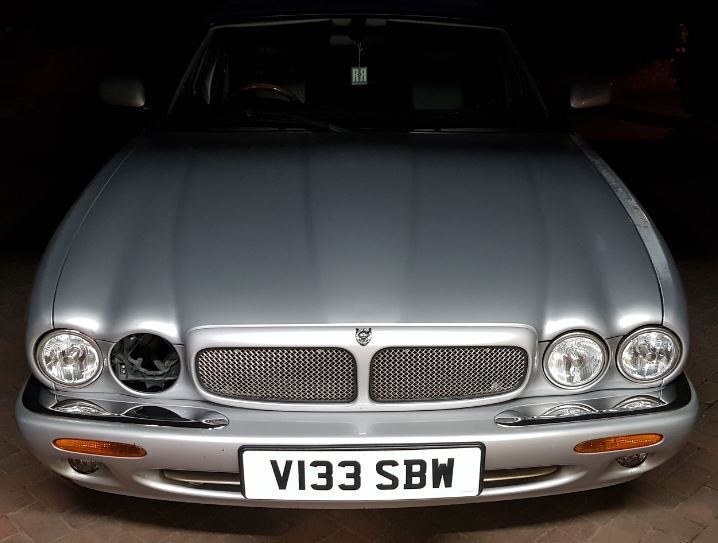 Anyway. I digress.

The Daimler!

I have been slowly chipping away at various parts of the Daimler. The front subframe parts came back from the powder coaters and so, over a few nights last week, I got everything back together apart from the front brakes (they weigh so much I decided to reassemble when back on the car). My plan is to get the car rolling again before I put the engine back in - it will just make a few other little jobs I want to do a lot easier if I can move the car about and ultimately, the job of reinstalling the engine should be made easier if I can roll the car out of the garage and then not have to contend with a small step at the edge of my garage, which was fine when I was taking the engine out and rolling down the step, but will be more problematic when I have the 250Kg+ engine on the hoist, trying to push it up the same step.

Here is the subframe back from powder coating, you might not be able to make it out on the pictures but there was some pretty serious corrosion on this, the worst has been patched and the shiny black paint goes a long way to making it look nice but I think if this were a perfect world and a car with a limitless budget, I would have hunted down a more solid unit to start with. Yes, pictures: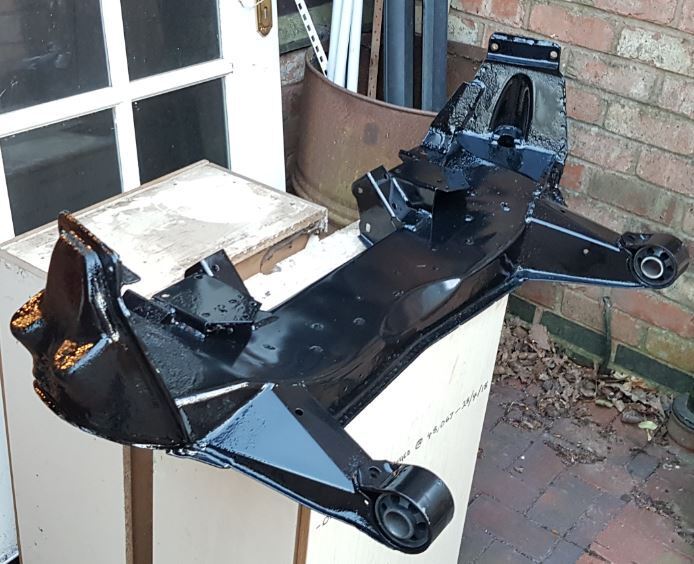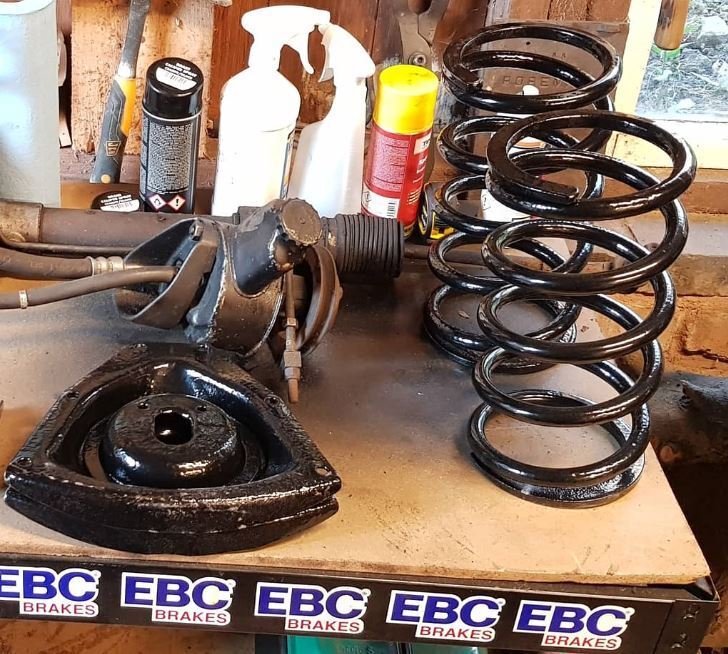 One day I'll have that whole bench covered in EBC Brakes stickers.
It took quite a bit of faffing around to get the subframe back together, it turns out the upper wishbone arms have specific locations, it is very subtle but there is a difference! I haven't made a note of it anywhere so here will do to remind me, I haven't actually torqued much of the bolts to spec, yet.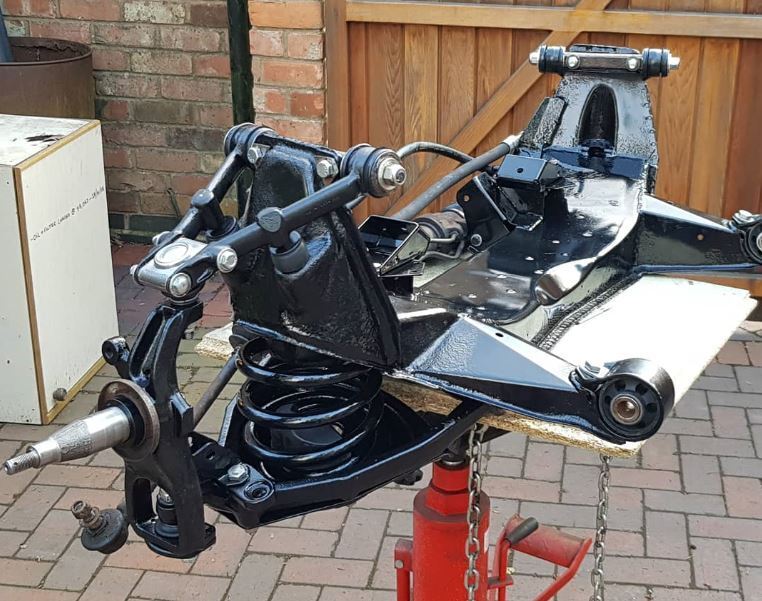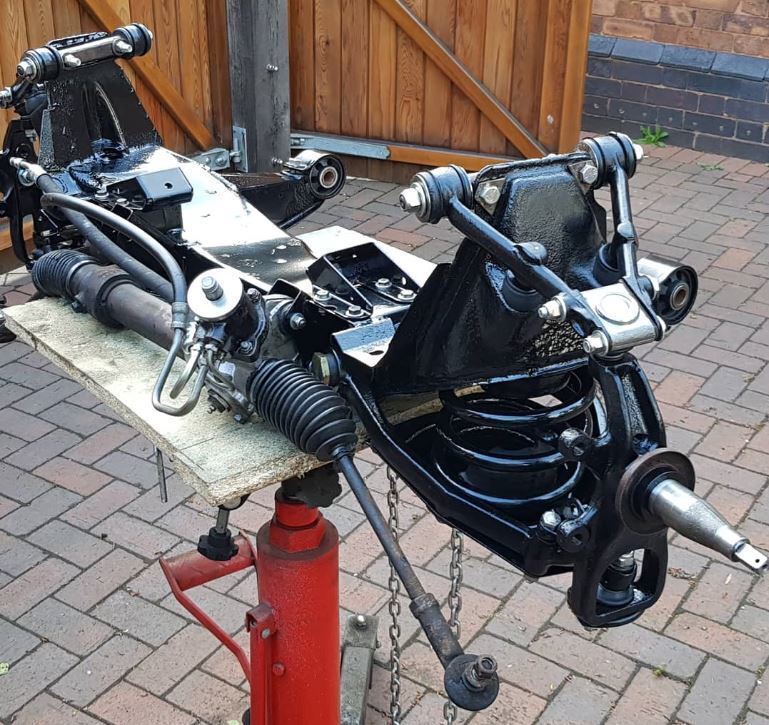 New track rod ends will be going on and despite appearances, the steering rack has been apart and had some dodgy looking seals replaced so hopefully it won't leak.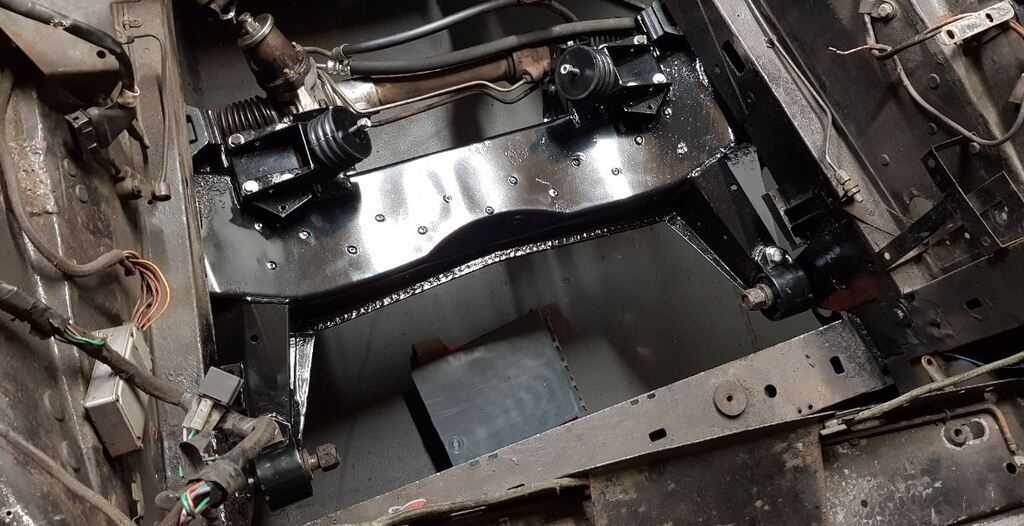 And there it is back in the car, I was wary about this step as if you recall from earlier, I had cut the front mounts off to repair some corrosion on the chassis rails. I was relieved when it bolted back in no hassle. I remembered I hadn't ordered any new nuts for the massive subframe bolts so they have been added to the list.
I now have to get loads of engine bay jobs done before the engine can go back in. New battery cables and a general inspect and tidy up of the engine bay wiring is one of the bigger jobs but should be totally worth it when back together.
Speaking of the engine, it is all ready to go apart from a few minor details:
Series 3 XJ6's were fitted with an engine oil cooler - you can see it still attached to the engine in some earlier pictures. My cooler has had that horrible oil and water emulsion gunge go through it and so I wanted a new one, I didn't want to pay Jaguar prices (£200) so I bought a generic 19 row oil cooler with 3/4BSP connections (£47). Turns out Jaguar didn't fancy the well proven BSP standard connections and have gone for a stub pipe with O ring type affair, so my bargain oil cooler is no good without modifying the Jaguar pipe connections. The pipes are rusty and if nothing else, are approaching 40 years old and are partially made from rubber so I can't imagine have long left for this world anyway. I took a step back from the situation and then realised my series 2 XJ6 had an identical engine and no oil cooler, I ran that car in traffic on the hottest summer day we had in 2019 with no problems so have come to the conclusion that an engine oil cooler probably isn't necessary anyway, so I am going to do away with it. I've bought some compression fittings which
should
allow me to use what is left of the metal part of the standard Jaguar cooler pipes to just make a loop. Might be ugly but will work ok - not too unlike myself.
I've not gone mad with painting it either, just given it a dusting to smarten things up, looks pretty good I think: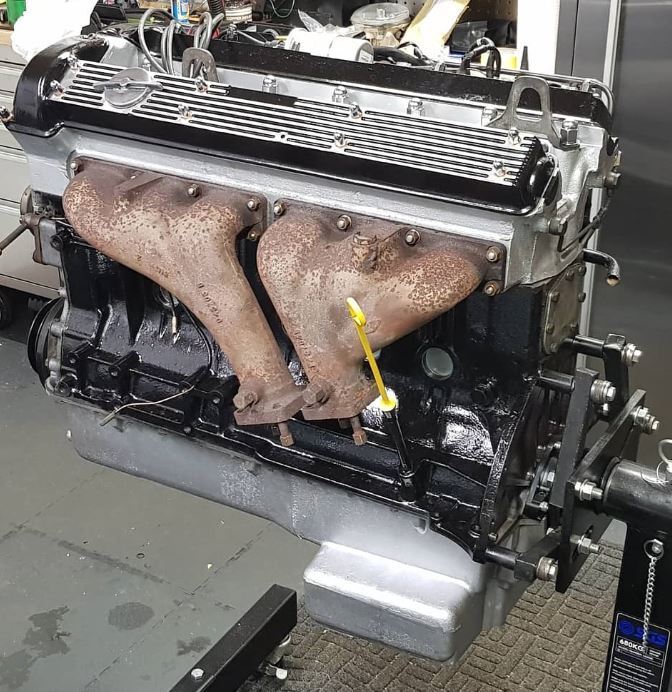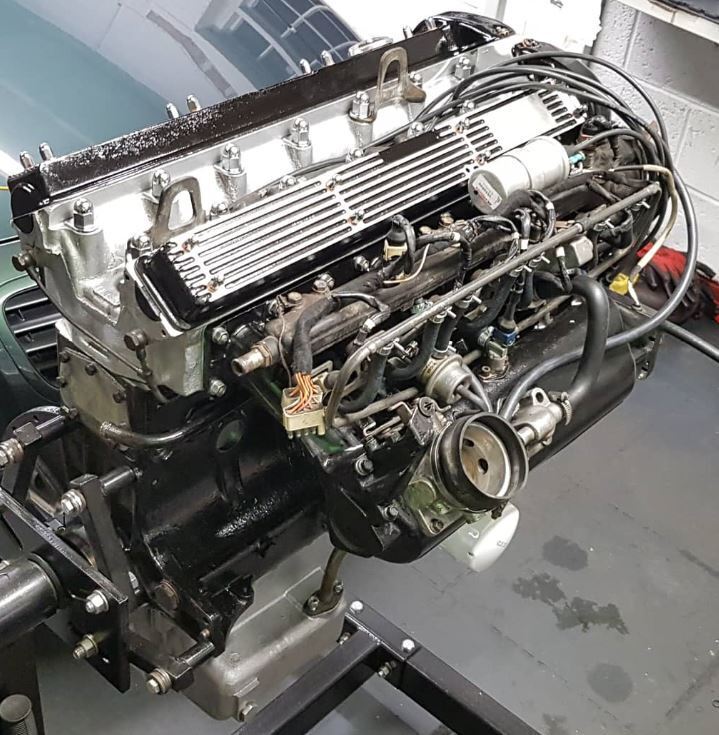 That intake manifold and fuel injection set up was a project all on its own. I've replaced every single bit of rubber fuel hose for ethanol safe stuff now.
If I keep working on it like I have been, an hour here or there, I should have the engine bay jobs done and the engine back in over the next month or 6 weeks I reckon. Hopefully I don't miss out on summer time!
I hope you're all well.
Good evening.