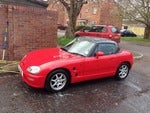 The ECU I have I have installed a Boosted Billy chip. Chatted with him and he suggests that his set up with a TD04 19T, an IPD turbo cam (or something more aggressive), 3" exhaust from turbo all the way back, larger intercooler with 2.5" pipes and injectors no smaller than 440cc. Is running around 280bhp.
But with that I'd need to install an LSD, better brakes... I expect a clutch that can handle that..... the list goes on.
So other than a mild increase in boost for now bring it near the 170ish figure (that's what the lotus excel SE version is roughly ) then I shall build from that.
Interesting build. Once upon a time (many years ago) I had an Excel with a Rover v8. The brake upgrade that I did (at the time) was 300zx 4 pot front calipers after milling down the front hubs and not running the discs inbound. I've got a parts list if you are interested?
I would be very interested indeed.
I already have twin pot 300zx calipers 30mm ones.
As for hoses it won't matter too much as I'll be completely re doing all the brake lines.
I'll add some pictures shortly. Thanks