Another car! Some of you may have seen this for sale on the forum recently for the princely sum of £0, it was I that managed to secure it and have it picked up and brought home during lock down. The reason I wanted this despite needing no more cars is that my brother is slowly breaking his rusty Mazda Demio which uses a 16V EFI version of the engine in the 121. So, that seeming pretty obvious where this is going, lets dive in with the few photos I have..
These are the pics James sent me of my potential 'purchse', check out that upholstery. Super retro. Love it.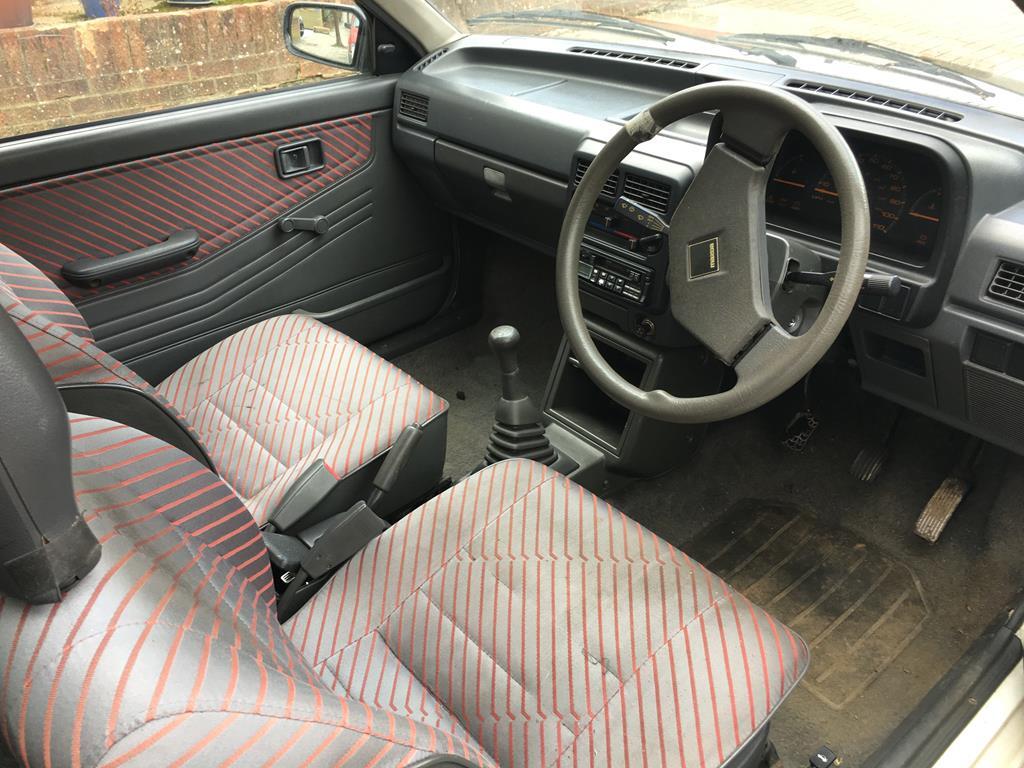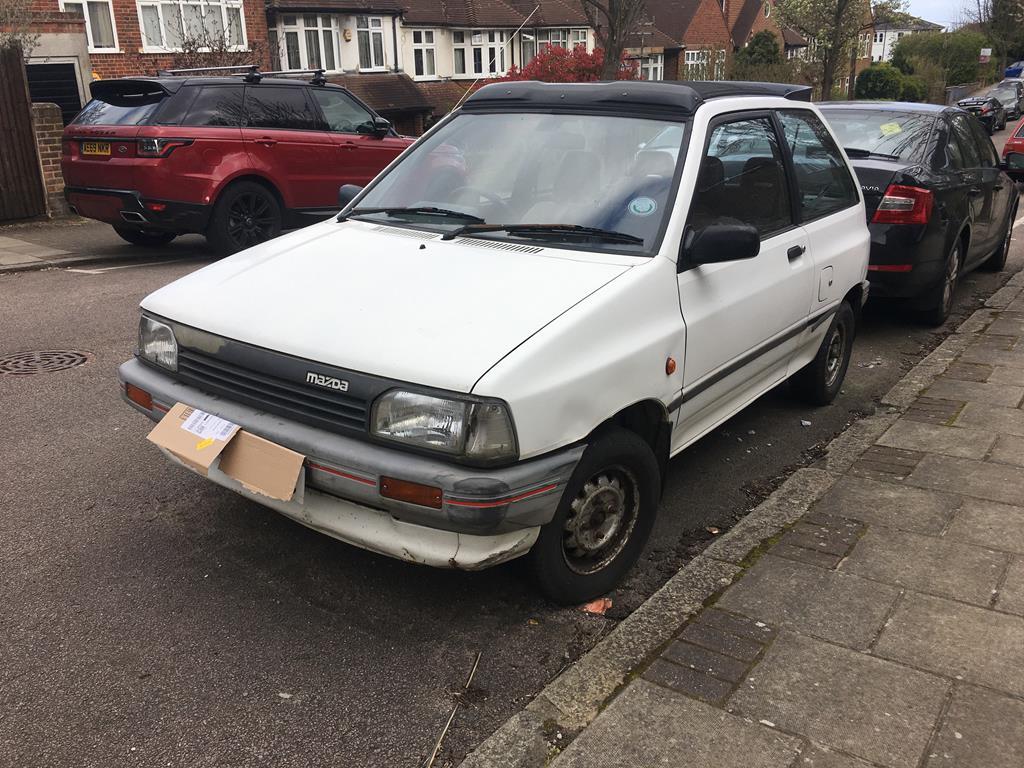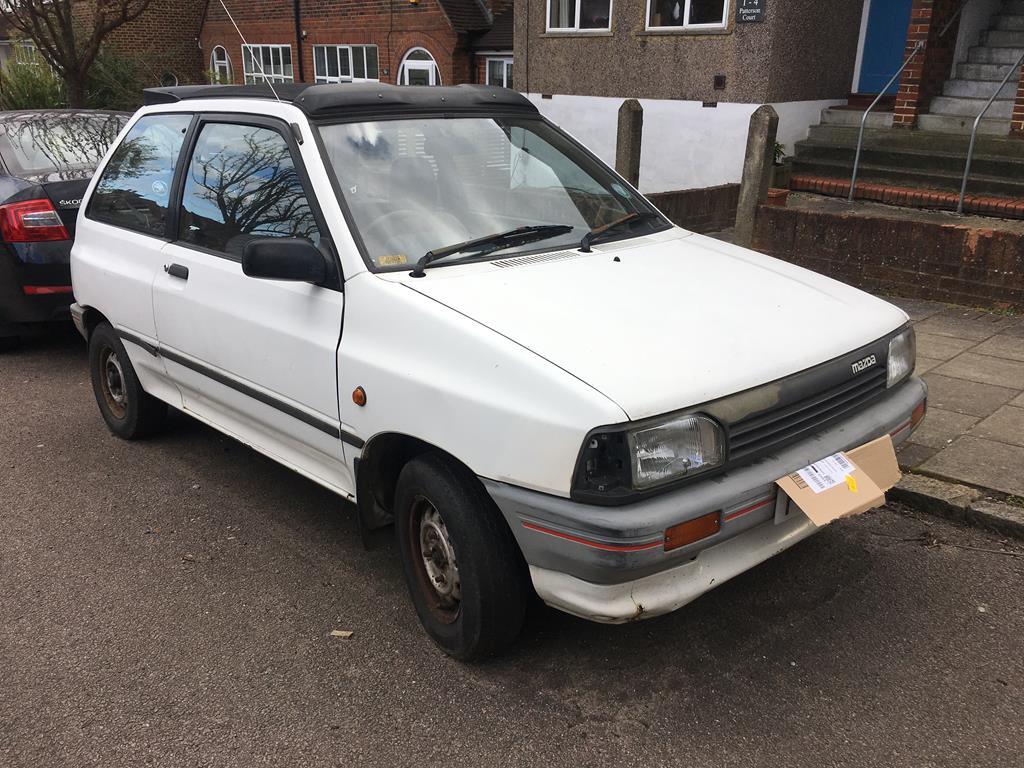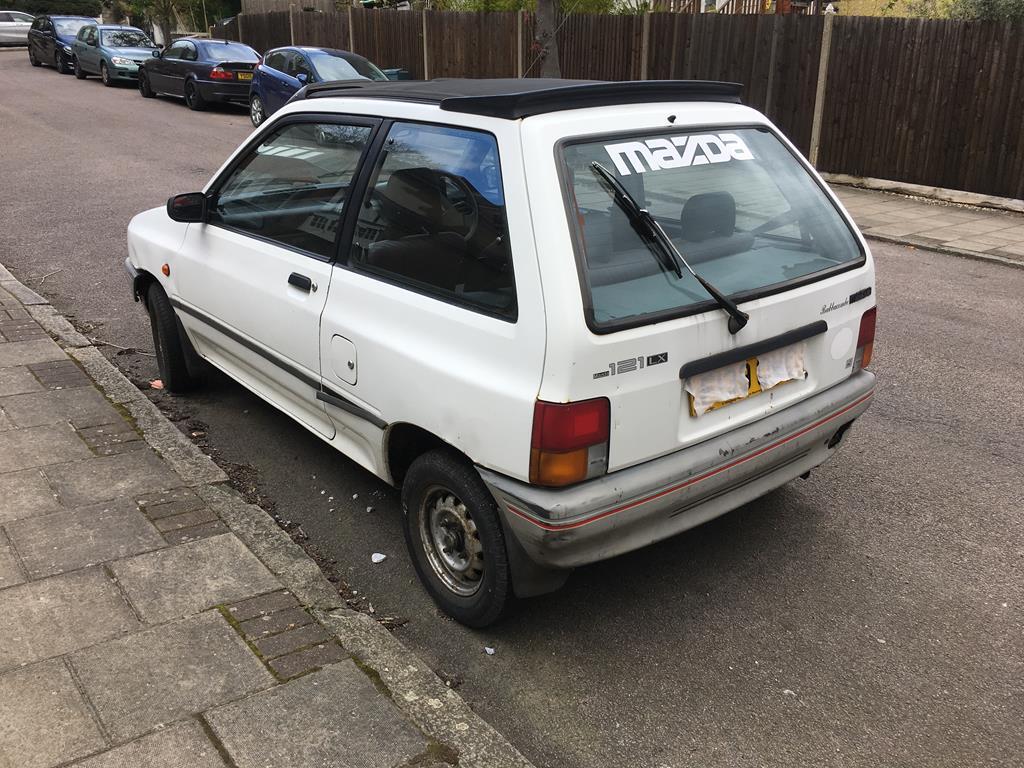 As you can see, she is pretty battle scarred and a bit tired around the edges. But it has got it's original cassette deck which works, and the suntop is all working too so that's the 2 important bits at least.
Sadly it was seized. I wasn't hugely surprised, I figured someone had just driven it til it's little heart gave up after falling into the category of 'car that is working CURRENTLY but when it breaks I am not fixing it again', sometime in about 2008, when it's last MOT was up.
So that's over 10 years off the road. I wasn't expecting that.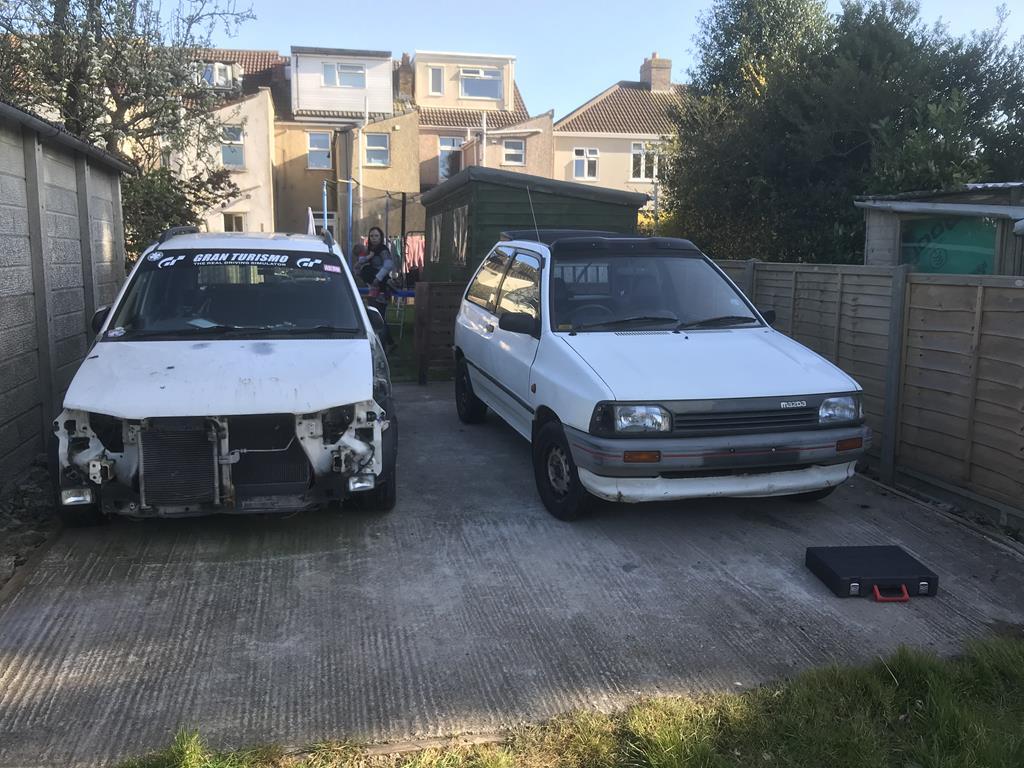 It did not fail to deliver, it wouldn't turn over or even roll in gear. Until a really hot day happened and all of a sudden it decided it wasn't seized any more. I had no idea. I just knew I was going to see if it would run, as moving it around my storage would be easier. Ended up having to rebuild the ignition switch with parts from the Demio due to the electric not going the right way, and eventually we coaxed it into life.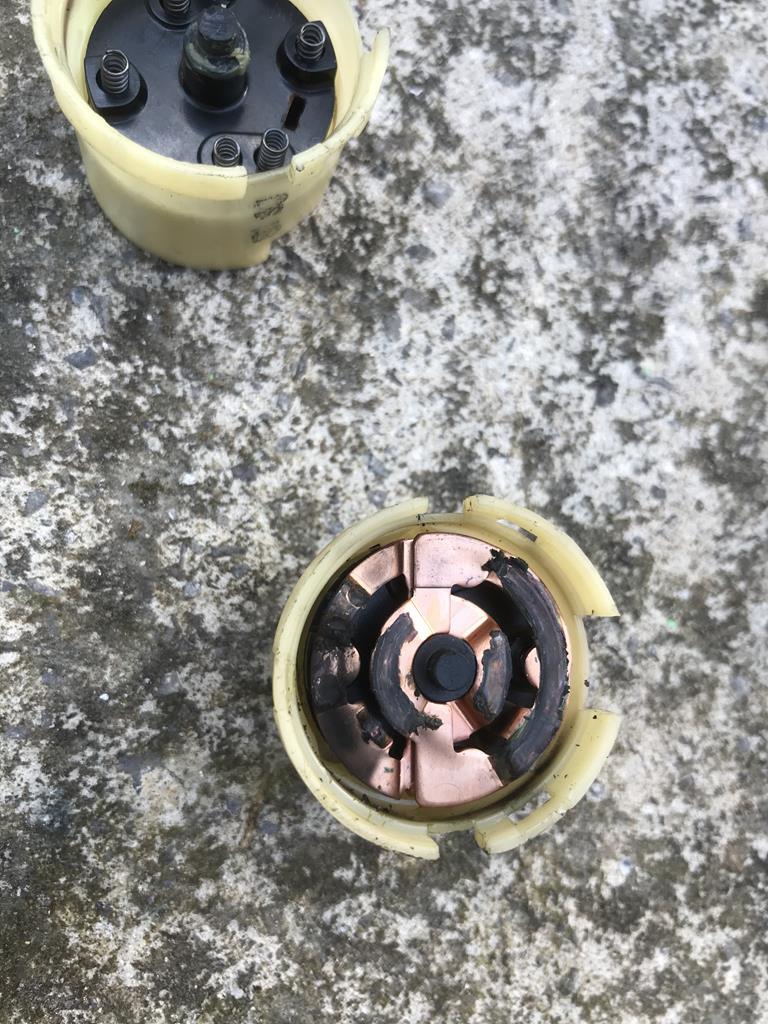 It does however sound quite awful so I suspect it won't last long. not a problem.
I knew I needed to finds some rare parts though, and having no joy finding the side marker lenses on ebay I started exploring options and looked for Kia pride ones, in the hope they could be modified to fit. I tracked down a pair for sensible cashola and to my SHOCK HORROR when they arrived they were not for a Kia at all, they were for a 121 all along! No idea why they were listed the way they were, but hey, benefits me alright. I also managed to track down a RHD headlight as the O/S had a HUGE chip in, I COULD repair the chip but I'll stash that lamp as a spare now. But now it looks less like a scrap car and more like a.. car.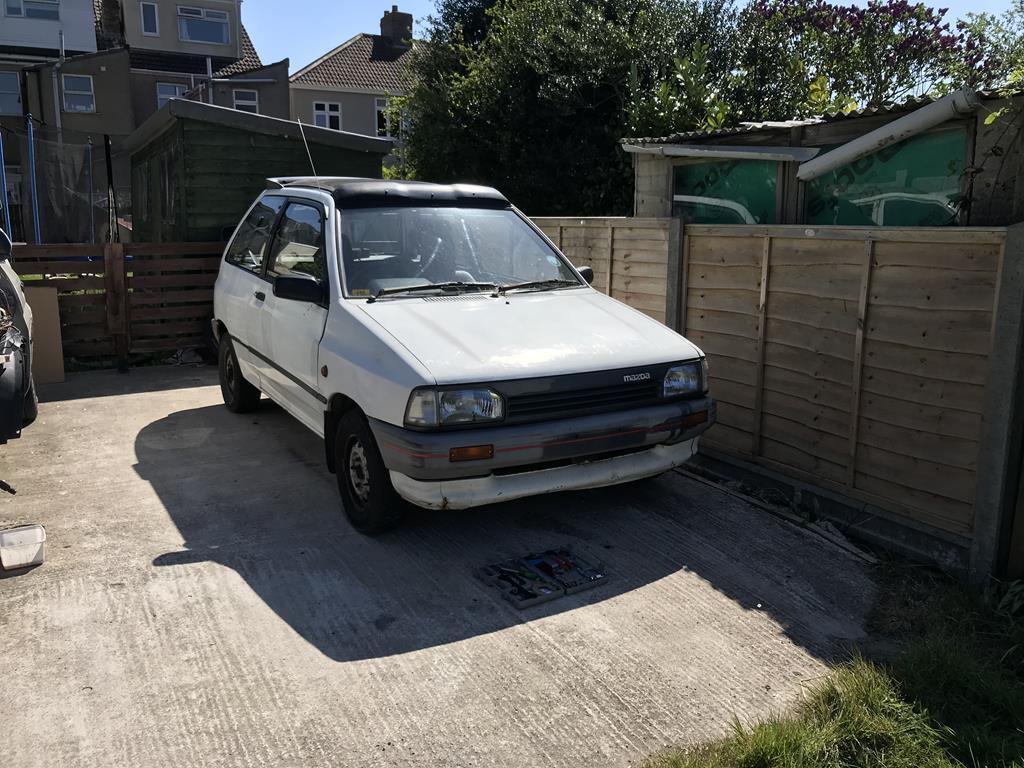 So we are nearly up to date. I have bought some wheels but they are currently at the wrong end of the country but that'll get sorted when it gets sorted, and I have removed the Demio engine and loom ready for some work. The Demio engine is a total unknown milage, being an import and having had at least 2 replacement odometers, we figured it was worth opening it up and doing some surgery, it was a good runner but did leak lightly everywhere and burned oil on overrun.
Sketchy engine hoist to the rescue!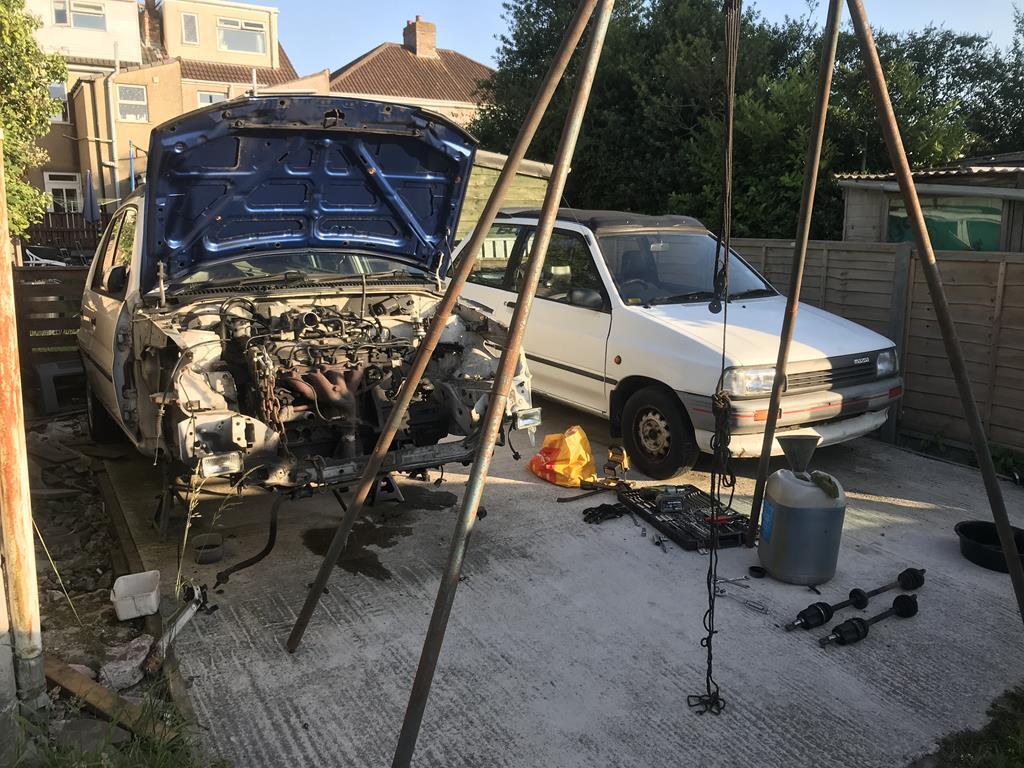 And on the floor. I've opened it up and it's going to need a hone and rings as it's a bit glazed and i'm getting the head done as a 'because', I may as well invest the money in it somewhere, free car, free engine, something has to cost money at some point right!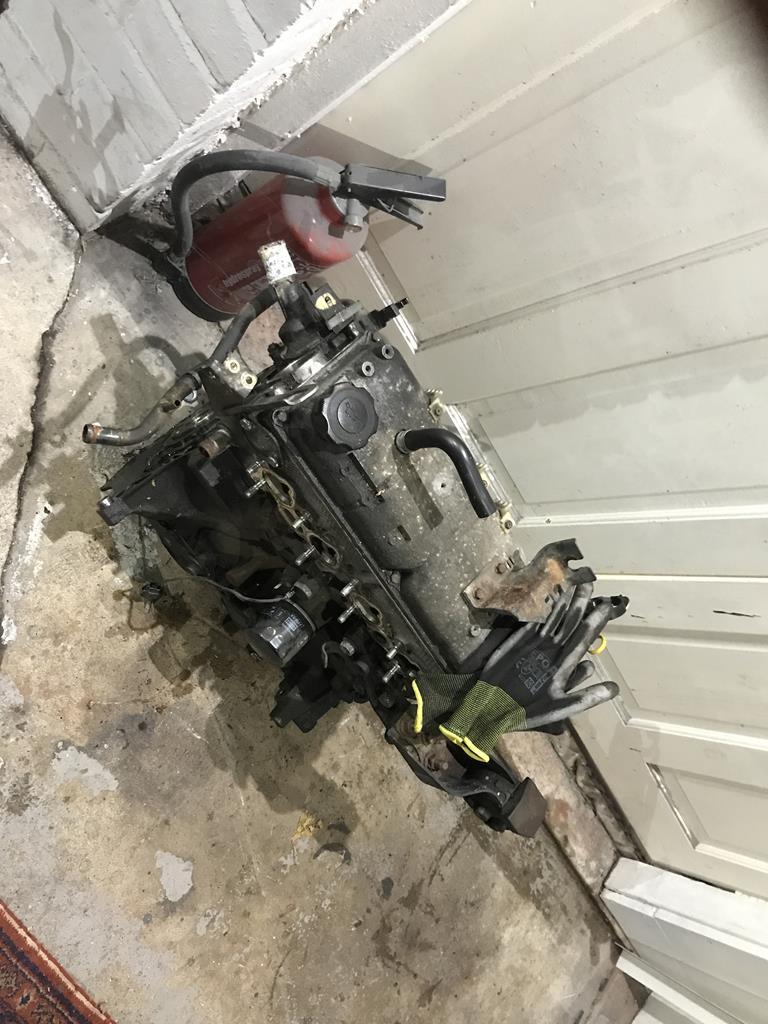 More as it happens