&nbsp
Powdercoating - it'd be great to get an in depth thread going on that, especially as we haev people who work in the industry on here.
gib
Is this something you can start up?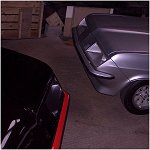 If you look at OEM manufactures there is a reason they go for passivated bolts v's raw BZP bolts in a number of places. The passivation process prevents the rapid oxidation of the zinc from the environment by forming a thick oxide layer on the zinc. The Zinc still retains its ability to sacrifice itself for the base material underneath but it lasts a lot longer. Its possible to do at home with care (see a recent Project Binky) and you can buy kits. I suspect, although i've never used privately, that getting a load of bolts plated at the platers isnt overly expensive. I think its fair to say that stretch bolts are used in specific locations / conditions in modern cars (read last 30 years), and for specific purposes. Head bolts / studs can often be stretch bolts, and its also quite likely that they are used on things like crank damper bolts, cam bolts, etc. Unwary re-use is a recipe for disaster as it not un-heard off for them to come loose very quickly. A lot of bolts on cars are unlikely to be stretch bolts, especially if the item is something that is conceivably a regular maintenance / service item. Subframe bolts, suspension bolts, etc. Its not to say in some cases they arent, but to me it seems unlikely in the majority of cases.
To me Torque angle is about being able to accurately set the load on the bolt. It can take a lot of variability out that you get with using a torque wrench. Actual Torque on a bolt can vary wildly based on how much and what type of lube is used, and where that lube is applied. For me torque angle is less susceptible to this and the angle of turn relates directly the advancing of the threads, and therefore relates directly to the change in length the bolt has over its free length. This strain equates clearly to the bolt tension in the elastic region of the material, and based on the material properties and a clear understanding of the given elongation to expect when you move into the plastic region you can then be clear on the tension retained in the bolt.
Torque to yeild is being used quite widely on suspension and subframe bolts now, if they have torque plus angle I would always check.
The reason all oems went away from plated bolts was enviromental legislation about 8 years ago that outlawed most electroplating, the ones they use now are basicaly a paint. I ran a vehicle program testing new fastners to make sure nothing came undone with the new coatings.