&nbsp
Good evening Retroriders,
On a few threads recently a few of us have ended up in discussions on Bolts / Nuts / Fasteners / and metallurgy there off.
Rather than tie up great threads with side debate I thought it might be a worthwhile general topic to discuss. I did a search but cant find an existing thread on the subject, but if there is please let me know and I can wind this into them.
I wasnt certain if its a general topic or a technical topic, so have put it in general for now (we'll see if it moves).
Fasteners are one of the things I like to get overly excited about on a regular basis, as they end up being a fundamental cornerstone of all mechanical systems. Cars included.
Whilst i'll rarely lay the blame for failures i've been involved with in engineering on the bolts themselves, it is very often bolted joints that are at the route of the failures, or rather the failure of the engineer implementing the bolted joint.
So much so I have an m8 bolt on my desk that is circa 60mm long thats moved with me when i've changed jobs over the last 8 years. The reason it moved with me is that it used to be a circa 50mm long bolt. The story of the length change isnt overly exciting, but root issue was someone calcing something based on one material and a different material bolt being fitted and some design neivity. It moves with me as a reminder that bolted joints need care, mine and others.
They are possibly one of the least thought about bits other than, does it look like I can re-use it OK, but are critical to your's and others safety. They need some thought.
I generally think of bolts as a tension spring pulling two things together. The act of tightening the nut (or theraded item into a hole) stretches the bolt casusing a residual tension within the bolt which pulls against whatever its bolted through. Its then this force acting on the objects that holds them together (inducing friction in the mating faces) and not the shank of the bolt directly. Bolts are clamps, not trunions, i.e. things should not really rotate around them per se.
In this instance though its very important the bolt is only ever loaded to within the elastic limit (where releasing load returns the bolt to original size) as the second the bolt stretches it looses its clamping force. Which is why if you ever tighten a bolt and it suddenly "eases" a bit its generally a good idea to throw the bolt away. Stretch bolts are a special case.
The discussions that prompted this are both focussed on use of Stainless Steel bolts.
Stainless is a fantastic material in the right application, and some of the right application is in bolted joints. It just needs to be though about before applying them.
I can see the significant temptation in using stainless bolts, they don't corrode the way steel bolts do so therefore they should be a great upgrade. With how easy they are also becoming to get, and with the prices of them not too expensive any more they seem like an ideal choice.
For me there are always some issues with stainless bolts use in road cars.
1) Stainless galls. That is to say when the mating threads in a bolted stainelss joint are under pressure the material in the mating items can weld together at the micro level (the asperities in the material finish). The continued turning of the mated parts (which may not even be noticable in the first movement its that weak) rapidly snowballs and tears larger chunks from the material until it binds the threaded joint. At this point you can neither tighten nor release the bolted joint. It doesnt happen all the time, especially with the common stainless fasteners you can buy as they are pretty soft, but the more times the joint is made the more likely it is to happen.
This can be avoided a few ways. A difference of 50 Rockwell C hardness between the mated parts, or the use of some lubricating film between the mated parts. I've found topical compounds a bit hit and miss and a bound surface (like a PTFE surface coating etc.) much more effectively. If only for a certain amount of time / joint makes (as it slowly abrades).
2) As its generally reasonably high up the galvanic index stainless can promote corrossion in items lower down the index, like plain steel.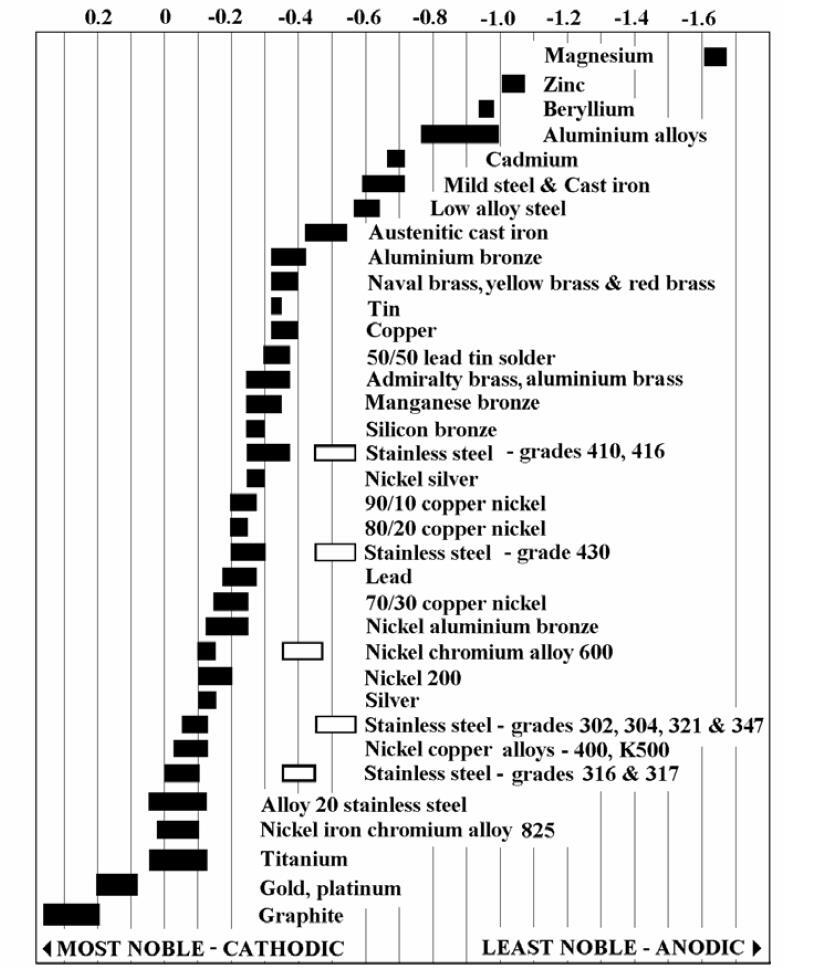 www.ssina.com/education/corrosion/galvanic-corrosion/
Which covers a bit on galvanic corrossion and shows why Zinc is so common for anti-corrossion coatings.
whilst its unlikely if you put the two materials together to see one rapidy disapear, i wouldnt be surprised to see a few years down the line pitting appearing in the material under the bolt head on fasteners exposed to salty roads. If you mix plain nuts with stainless bolts the nuts may start to corode fairly quickly depending on conditions as it'll quickly eat any plating.
3) Stainless bolts may not be as strong as you expect them to be.
I know Peter may disagree with me, but for me "high strength" bolts (metric at least) are 8.8 upwards in strength. I start at 8.8 as they are the first grade of bolts for "structural" activities. 4.6 etc. and un-marked are all much weaker and not really for bolting things that have any appreciable load. I looked but couldnt see any ISO etc. definition of "High strength" for bolts, which makes me think standards stay away from a generalisation of class.
Whilst not guaranteed, if you buy bolts from a supplier they are often 8.8 by default. You usually have to work to get a lower rating of bolt.
Automotive bolts tend to very usefully not declare their strength on the head like commerical bolts do. I suspect as they are all custom manufactured items for the car makers. There is no easy way of knowing what they used for the original fastener, it could be they used an equivalent of a 12.9 stength bolt for strength v's size reasons.
You can get a huge array of stainless bolts, but the ones I see most often from suppliers tend to be A2(-70) or A4(-80) stainless, both of which come in a couple of other flavours so be ware as some are lower strength again.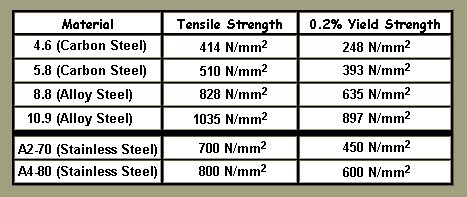 taken from :
www.volksbolts.com/faq/basics.htm
as it was a handy example if not a verified data source....
If you look at the Ultimate Tensile Strength (UTS) figures they both look reasonably favourable being up close or on par with the UTS of an 8.8 bolt. However earlier i mentioned only using within the elastic region and that means looking at the 0.2% proof stress / Yield stress. When you look at the yield point A2-70 is a lot lower and A4-80 is a bit lower than an 8.8 bolt. So it may be OK if you are swapping out an 8.8 bolt for a A4-80 stainless bolt (case depending) however swapping a load bearing bolt with am A2-70 is likely not a good idea.
If you then think it could be equivalent of a 12.9 bolt thats been used in the suspension, which is about 900Mpa v's the 635 Mpa of the 8.8 bolts 0.2 proof stress v's 600Mpa of the A4-80 v's 450Mpa of the A2-70, then it quickly becomes clear care is needed.
There are other grades of stainless out there you can buy bolts in, but you generally have to go to a decent fastener supplier to get them and are less likely to be what you get from Ebay. You also know you're buying higher grade stainless as they cost.
4) Depending on which stainless you use can have a big difference on expansion rate, and it can be quite different to mild steel / cast steel/iron. Which means you need to take care bolting things with stainless fasteners where they may get hot, especially if there is a quick rate of change of temperature. If the material being bolted expands at a faster rate than the stainless it can stress the bolt, and conversly if the expansion rate of the clamped material is lower than the stainless the joint can loosen as the temperature changes. If you are unlucky the cycling on the bolt can cause it to fatigue due to the changing tension.
Anyway. I quite like stainless in the right application, and the right application may be on your car. I think its generally worth consideration first about if swapping out bolts for stainless ones is the right choice and not just it wont corrode. They may not, but they come with their own constraints that need to be respected.
An intersting(?) read on the subject of bolts is Carol Smiths book "Nuts bolts and fasteners" which is quite a good general read. It covers basic metallurgy etc.
Anyway. Anyone else have some thoughts?
It would be good if there are some more questions / discussions on the topic to have.
petervdv
crackfox
A brief caviat, this thread just contains thoughts of people on the forum. You should always satisfy yourselft that any course of action is correct and check any advise in this thread against best practice. It may or may not be completely correct. Caveat Emptor.