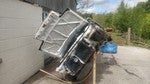 Mar 8, 2021 15:34:57 GMT:
I never seem to find the time to read anymore so i have them all on audio book as well and listen while I'm in the workshop. Just started the colour of magic again the other day.
Now that is really good idea ! Who reads them ? any good ?