Hi everyone
It's probably about time I started a thread on this seeing as I've applied for the deadline display at RRW

The story starts with a 12yr old MLT buying a copy of Street Machine back in 1993. From that moment I was hooked on American cars and all things a bit different.
I had a few generic cheap cars to begin with, then a Viva E coupé when I realised I could have a cool car. But I constantly told myself that a yank would be too difficult for every day.
Fast forward lots of years and lots of silly but cheap cars and I needed to own a v8.
It's May last year and I've just sold my turbo volvo estate (which returned about 25mpg and ended up too nice for every day) for a useful amount, got a few motorbikes in the garage that barely got used and frustration is setting in from never having enough time or money to do any of my projects justice. Time to consolidate...
My wife has a soft spot for 50s pickups but by now we have 2 kids so 3 seats isn't going to work. This is going to be a family car that I want Mrs. MLT to drive and enjoy too.
I want something that will fit in my garage (5.5m long luckily) so I start looking at early 50s stuff as by the late 50s the cars are growing rapidly. However the early stuff largely has 6v electrics and beam axles or outdated suspension designs. So I need to look at mid 50s.
I seriously considered 2 56 chevy, a 53 ford victoria and a 61 galaxie, by which point I was searching all across Europe and the states, although I really wanted to avoid unseen purchases.
Anyway I found this '57 in France, sent the seller a message but no reply.
Then out of the blue, weeks later, he replies. We exchange a number of messages, he sends photos, we speak on the phone and then I decide to go and see it.
It's about 3hrs from Calais so I booked a cheap tunnel at 9am and set off to have a look. 6hrs later and I was greeted with this
Now this may look horrific, but it's remarkably solid. The guy dragged it out of a barn where it had been since the 80s, so a mere 25 years old. It had cracked the block so they threw the engine and box and started stripping it.
After crawling all over it I gave him a chunky deposit and came home again, getting a thorough grilling from border control for such a short visit.
I arranged collection, transferred the balance and the next time I saw it was about 6 weeks later in Essex!
Here's a more current picture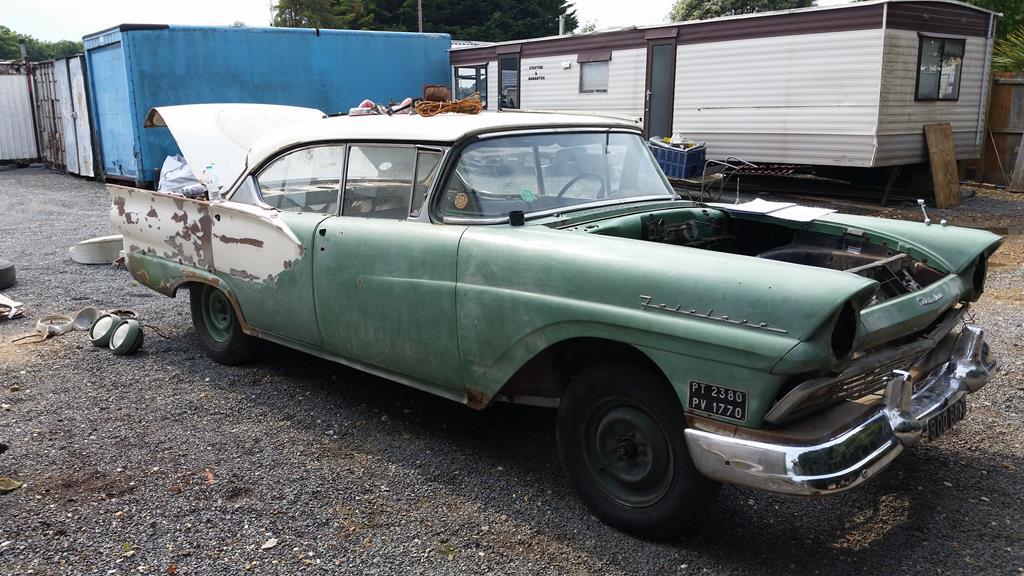 It's a 4 door pillarless hardtop, officially known as a Town Victoria. French registered from new, assembled in Holland according to a stamped plate. 80k kms on the clock which going on the condition seems entirely plausible. About as rusty as a dry state car but without the burnt paint and dead interior, in fact the back seat should be usable with a wipe down! 63 years old! 
I've since sourced an engine and box and a whole bunch of parts which are being fitted in the coming weeks.
Basic plan is upgraded running gear, disc conversion, lowering, and a simple 2 tone paint job basically to cover the bare steel and the small rust repairs it's going to need.
I'm FULLY excited