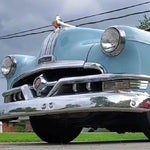 In my defense I had no rearward visibility other than my mirrors; the same as you can with that (there's metal under the rubber) I beat the bumper and bracket with hammers until it was straight again.
Same couldn't be said for the pole, which spent the next 3 years at a jaunty angle before the sidewalk was torn up to put a new building in.
Really frustrating, despite minimal damage.
I hate stupid stuff like that, just three of those posts.