&nbsp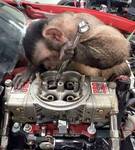 That said, the TSR manifold in my Golf is wrapped.
Didn't know that about Zircotec, that's a shame.
Why is it damp? When parked up it will be very hot with all moisture evaporated. Sitting around long enough for moisture to be able to penetrate the cloth means that an uncovered exhaust will have been exposed to the same moisture for a longer period. I don't buy this at all.