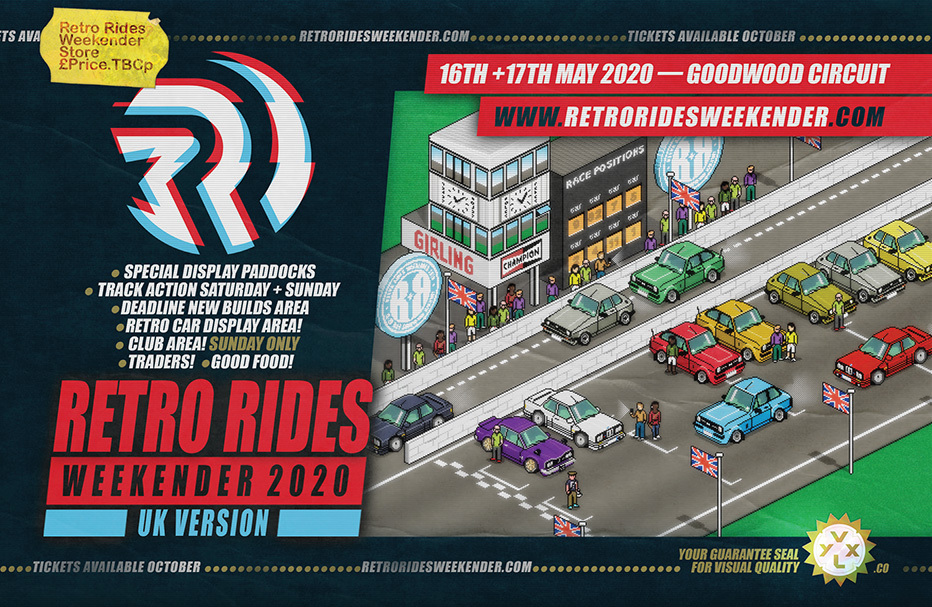 Retro Rides Weekender is back in action at Goodwood on 16th and 17th of May 2020. Bringing unique curated car displays, track action on the Saturday and Sunday, a huge variety of retro cars on display all over the site on both days and Sunday's new track parade should be something to behold. Throw in some camping good times, good food, traders, cool people and you're on for another awesome weekend of laid back Retro Rides action.
What's On?
Our central three display paddocks this year are Classic Touring Car Racing Championship, Acceptable In The 80's and Stock Vs. Custom. The Deadline display will be returning for new builds for 2020. We also have further displays yet to be announced in the pipe line. On top of this get your Pre-98 retro cars parked up inside the venue on the Saturday and Sunday, we also have our amazing array of Club displays on the Sunday. Good food and car related traders round out the day time fun. On Saturday and Sunday evening for our campers we have have the Super Shell building Arcade open again, with the legendary tat auction taking place on Saturday evening. Not to be missed!
How do I get involved?
Our display booking system is currently being updated for our 2020 events, we'll have it live before the end of November. We'll be taking applications for the Acceptable In The 80's, Stock Vs. Custom and Deadline displays. If you have pre-98 car you can book to display on the Saturday in the non-themed display areas, this space is first come, first served. You can also add yourself to club stands there too. Full details and a walk through of the system will be live when we've finished updating it.
Where do I get tickets?
Weekend tickets, day tickets and camping extensions are all available from
store.retroridesevents.com
Prices are £49 for Weekend Camping and show entry both days
(£10 for camping extension to stay Sunday evening)
£12 Advanced Day ticket (each day)
£20 On The Door Day tickets. 16 and Under go free.
Super excited by the 2020 event