I had sworn I'd not get myself stuck in another big restoration and weldathon, but like a moth to the flame, it seems I just can't help myself

I've been a little absent from the forums recently, but I was I need of a mojo boost recently and found myself back reading about some other members
money pits
restorations. It did the trick, so figured it couldn't hurt to do a thread about this old heap!
Cast your mind back to the end of March... Spring was properly springing, we had some great warm days, perfect weather for my Spitfire to be out zapping about. And yet I was discontent. Somehow the idea of wanting a v8 had implanted itself in my head, and although I spent a fair amount of time investigating the idea of putting one on the front to the spitfire, in the end I decided it would be a better idea to get a car where the v8 fitted a little more easily, where the car was actually designed for it*.
I also found myself missing my short lived XJ6 (x300). I'd had a very nice time just wafting about the place in that big old jag for the 6 months I owned it, but it was not without it's challenges as a daily, and after running into major rear subframe/diff issues, I moved on.
I toyed with various different idea, looking for something that could offer me some of the proper old fashioned driving experience that the little Triumph did, but with a more relaxed luxuriant attitude and a suitably interesting power plant, and quickly one idea stood out. It wasn't a great idea, it was pushing my budget and it was invariably going to end with an expensive project and probably a lot welding, but the idea kept popping back into my mind.
So I went looking for a Daimler 250 v8. As most of you are aware, it was the first Daimler after the Jaguar buy out and is essentially a Jaguar mk2, but with Daimler's own 2.5l hemi-headed V8 in it. I went looking for an obvious project, attempting to learn from my mistakes and not buy another car which is 'just about roadworthy' but is intact barely held together with bodges. After a couple of weeks looking this old girl popped up: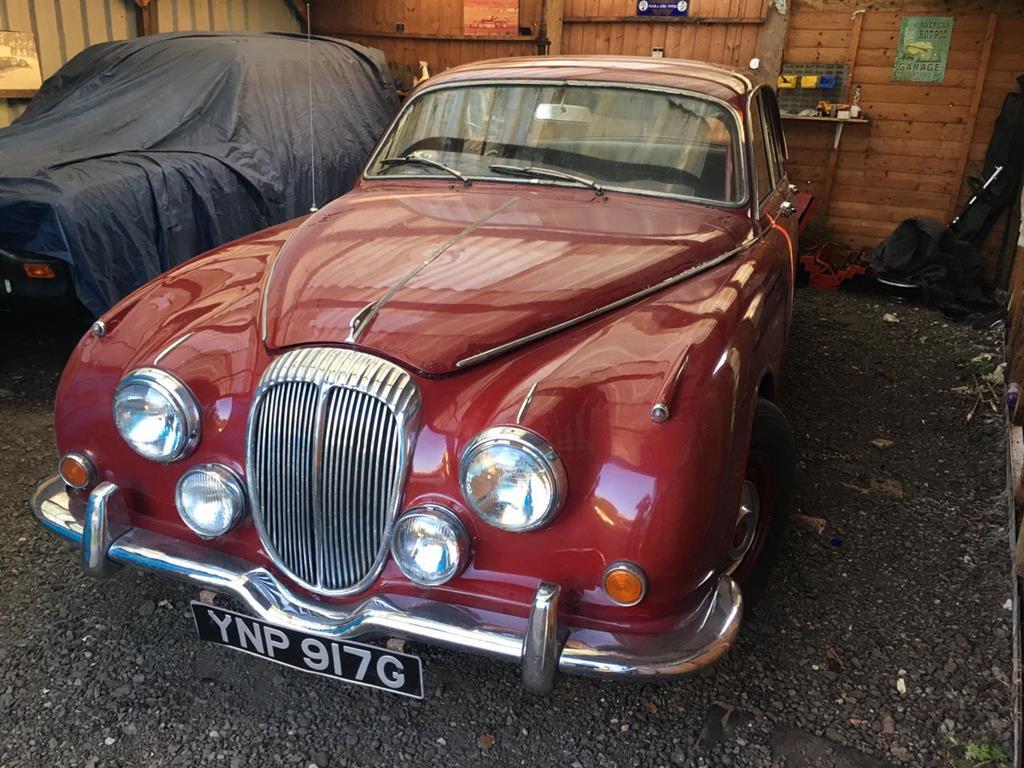 The previous owner told me he thought the car had been laid up for around 10 years. A quick online check soon showed me that it was last taxed in 1987... not long after I was born!! It's going to be a fairly big project then...
On balance I decided it was worth going for. The shell was remarkably solid (potentially due to not having seen the last 30 years worth of rain/salt), it suffered from a few of the usual mk2 issues but compared to the state of many of the 'projects' you see for sale (with huge gaping rust holes or sills that are clearly full of filler from even the small advert photos) this was going to require much less metal work. Aside from the missing drivers door, it was pretty complete, the research I'd done suggested that often refurbishment was reasonably priced, but replacement was pricey, so this was good news. It just about ran and would select gears the brakes sort of worked and it could be moved short distanced under it's own steam, all of which s good news.
On the downside, having sat for so long, every single rubber component was perished and would need looking at, and I was bound to run into all the usual issues with corrosion due to sitting. It also wasn't super cheap, considering the condition. Still now I'm a few months int the project and have a better understanding of just how much you can sink in to a restoration, I look at some of the cheaper projects and realise how much more expensive they would have been in the long run and feel reassured I didn't spend unwisely.
A week or so later it arrived with me on the back of a flat bed. I didn't get many pictures, as I wasn't planning on writing about it, but here's a quick one of me looking a bit stressed trying to get the car safely tucked under the carport.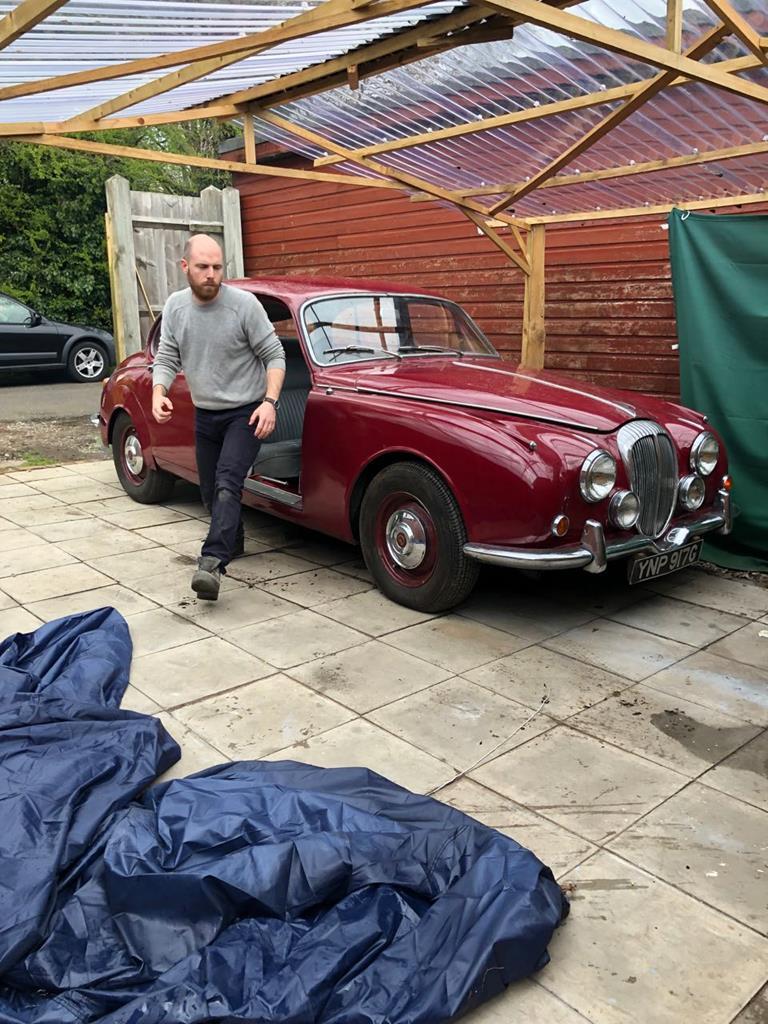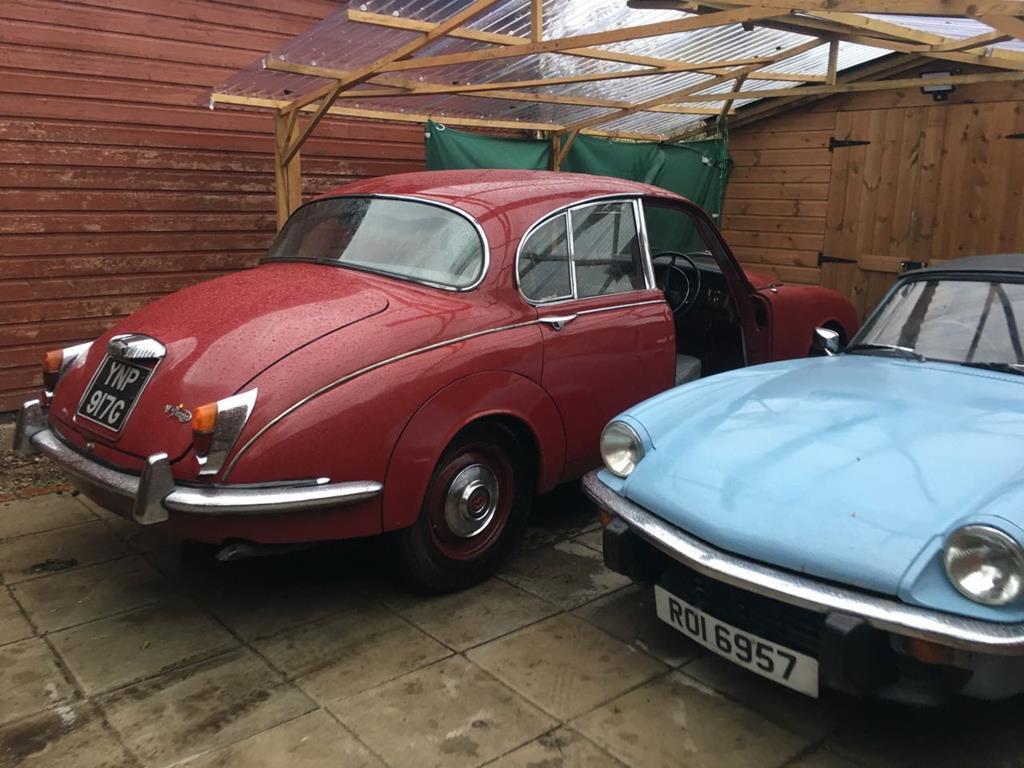 Inside as you can see is 'ok'. The red aftermarket carpet set clashes horribly with the paint work, and it's been re-trimmed at some stage. Regency Red paint was never offered with grey interior. The head lining is shot, not a surprise and the leather is very stiff and dry. The wood veneers are all present but in a poor state, under several layers of manky old varish. It's oddly lumpy, someones just put new varnish straight over the flaking old I presume!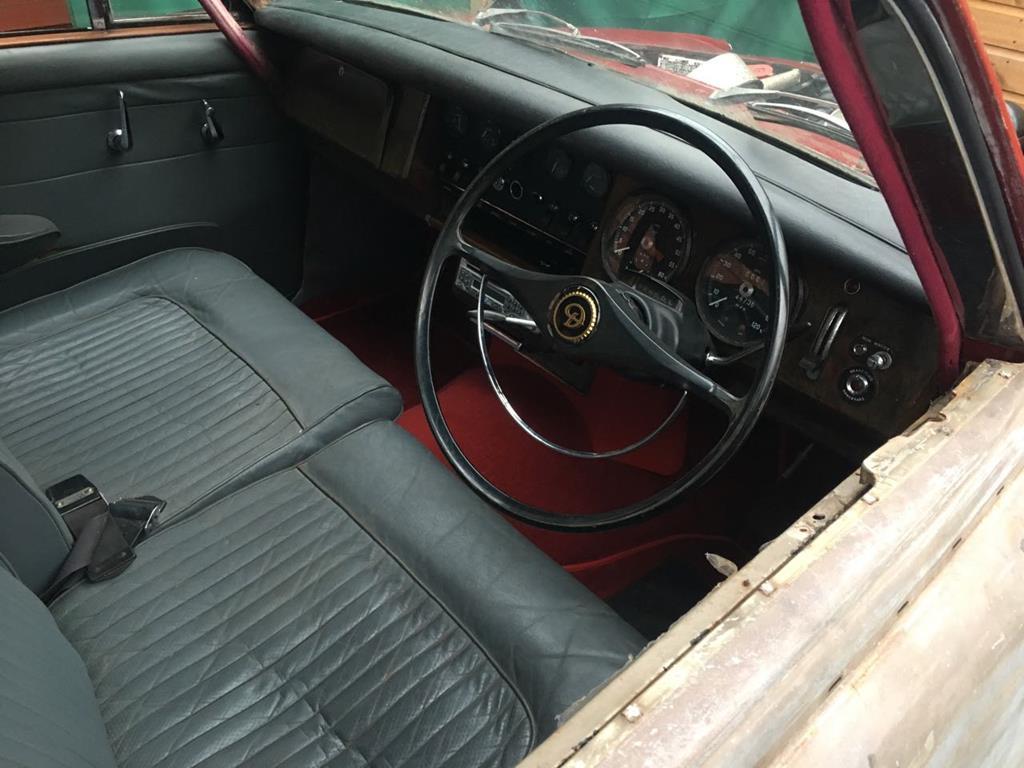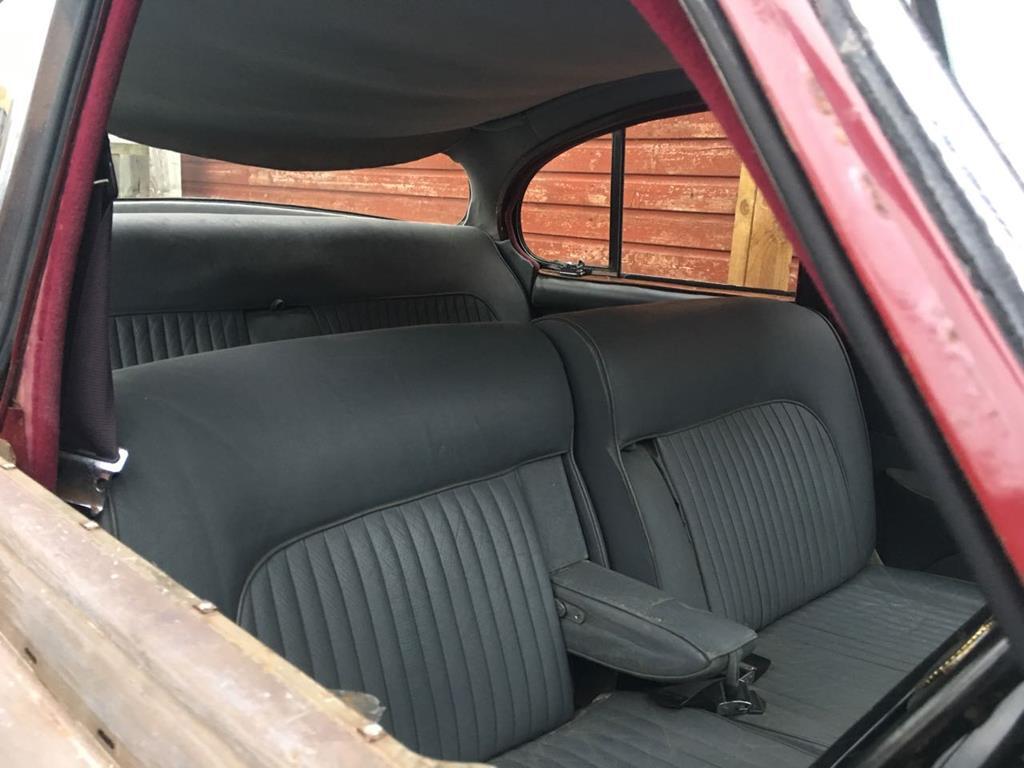 And last but not least, the v8 engine! All there, but dirty and a bit uncared for.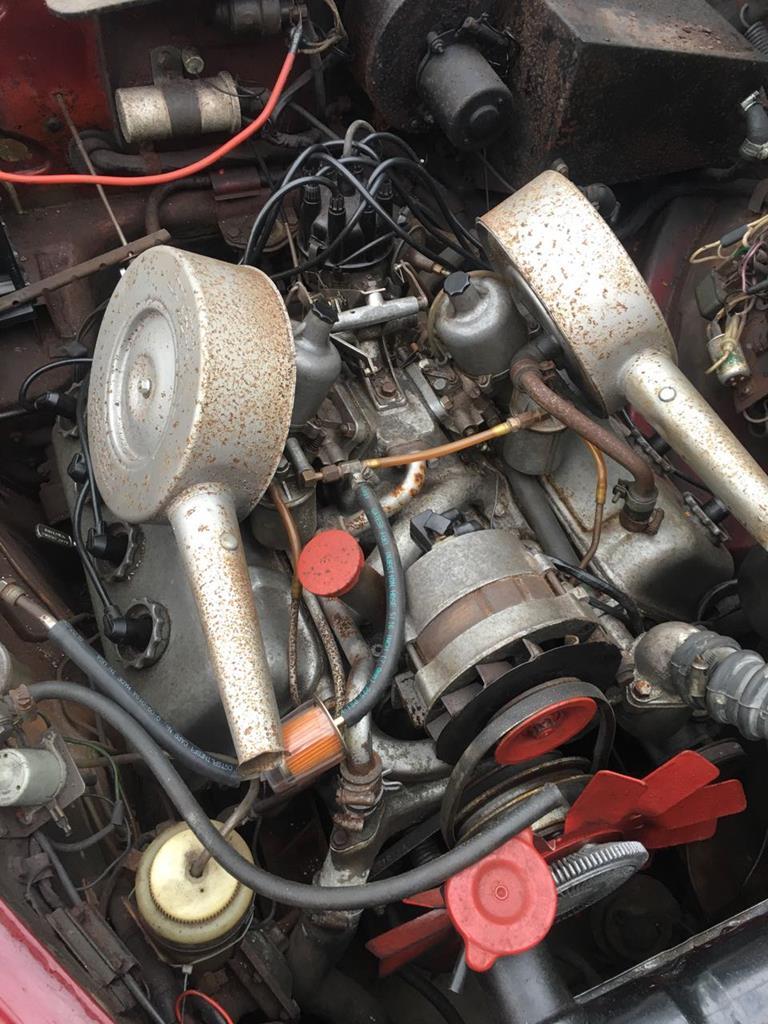 Before the car had even arrived I had been on eBay and sourced a replacement door that would need only minor repairs. Luckily the previous owner had supplied me with the window frame, glass, door fittings etc. It was just the door shell that was missing (too rusty to be worth repairing he said). As it turned out, I was also missing one of the hinges. So in the short term I just taped the door in place to help keep the neighbourhood cats and alike out!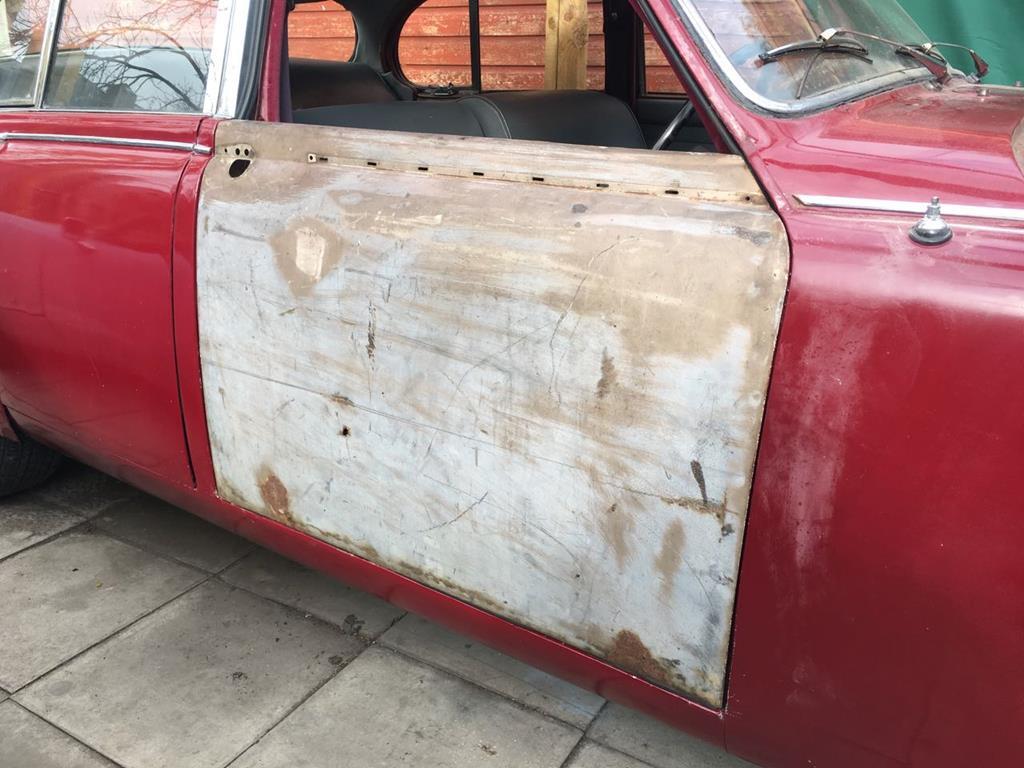 After that there was nothing more but to sit in the drivers seta and make 'brumm' noises for a bit, and daydream about one day cruising up the road in it....
So that was day 1. I've had some down time from work this summer, so progress has been fairly rapid, but there's still a long way to go. I'll try post some more updates over the next few days, bringing us up to date

* As it happens the Jaguar mk2 shell is designed for a XK straight 6 engine, and the Daimler V8 is almost as much of a squeeze in this bay as it would be in a Spitfire....hahaha