So
HoTWire
has opened up the application process - I know this because my email has gone nuts
In case you hadn't realised go here to enter
retroridesevents.com/
Create a login ID (if you have one from previous events it might work again this time but if it doesn't create one and we'll try to make sure it works for the future)
Edited to add - In
bold
so it's clear what's new
Edited to add Logins and Passwords from weekender entries seem to still work - anything from last years gathering or weekender won'tOnce you've logged in - fill in your personal details and as many cars as you own that are eligable for the event - Modern plated cars no thanksThen you can go to the entry stage select the car you want to use and apply for morning or afternoonWe will not accept entries from same person and car for both morning and afternoon sessions (Only exception is if two drivers and sharing the same car then one can enter morning and the other enter afternoons.)it should all work fine - it did for me and I'm a luddite with web stuff
Anyway "Variety is the spice of life" apparently
Picture taken by
AB car pix
Please note that it is as always our intention to have a Saturday afternoon/early evening Sign on for CAMPING PEOPLE to enable us to get cars into the paddock the evening before and to reduce the traffic in and around the paddock area on the morning of the show. (sign on stops when "Tat Auction" starts - cos we like to go to that too)
For those of you without tickets or wristband we will have tickets priced at £15 to purchase on the gate – please help us out by having the right money ready.
Entry instructions
Gates to the paddock (for Hill Climb participants only) are open from 7.00 – 8.30 We would advise you to try to be as early as possible as this helps you avoid the worst of the queues which really build up after 8am and last year didn't clear till after 10am – I'd like to avoid having stressed out people arriving late and not in the right frame of mind to respect the hill.
If you are late due to unavoidable circumstances (I'm not talking about things not in your control -not that you fancied an extra hour in bed) then please don't get stressed just get to the event safely and find one of the paddock team members.
When you've been parked take your "Paddock Pass" and all your documentation to the Hill Sign Hut at the top of the Paddock just below the Start Line
The "Event sticker" will be provided at sign on/Arrival – show them your Paddock Pass and you'll get an event number sticker to put in your FRONT WINDSCREEN on the PASSENGER SIDE PLEASE (LHD cars DRIVERS SIDE PLEASE)
Documentation Requirements
Driver Requirements
On the day any driver will need to have with them
- Valid Driving licence (Photo card or old style Paper one)
- MOT Certificate (Unless exempt under UK requirements i.e. historic class – if your vehicle is too new to need an MOT it won't be going up the hill anyway)
- Insurance certificate or cover note
We will accept Printouts from MID or DVLA for Insurance, MOT and DL.
Insurance - will accept Certificate or Cove rnote or a print from
ownvehicle.askmid.com/
MOT - will accept paper Certificate or a print off from
www.gov.uk/check-mot-status
Driving Licence – If you have lost or miss-laid either then you can get print out (screen print) from
www.gov.uk/view-driving-licence
(To use the DL checker - You need "Driving licence number", "National Insurance Number" and "your registered address Post Code")
Once those have been checked - you will have to sign an indemnity and then attend drivers briefing before the start.
Co-drivers (people sharing driving a car) Need to just show DL and proof of insurance cover at same time as driver books in, sign an indemnity and attend drivers briefing before the start.
Passengers - just need to sign an indemnity and do not need to attend drivers briefing (we are unable to pre-populate this info).
Note - VED - Now there is no requirement to legally display VED we aren't going to request proof for that - if you drove to the event it's pretty clear you should have it.
The requirement for MOT does not apply to continental registered cars – but they do need to bring their equivalent certificate/card even if we can't understand it or read it
Safety Equipment & Notes
Helmets - Mandatory (please bring your own)
It's your head in it - if it's suitable for use on a motorcycle it's OK for this event - the hill is not timed or in any way a competition but we need to comply with Shelsley's requirements.
Whilst there are a few helmets available for hire a fairly large deposit £50 is required on the day so please eliminate the need for all that by bringing you own helmet.
Vehicles can have one driver and one passenger – so two people max
No age or height restriction on passengers but they reserve the right to review this on the day and they must be wearing suitable seatbelts that fit properly.
Seat belts if fitted are to be worn.
How we will run the sessions
60 cars split into two groups – we split the cars into groups based on arrival times
RRG19 MS (30 Cars) Group 1 (will be staged at front of paddock)
RRG19 MS (30 Cars) Group 2 (will be staged at rear of the paddock)
We will NOT run the groups in number order – it doesn't work for Shelsley's paddock arrangement or the lack of return road or even the paddock team nerves on the day which can get a little frayed!!!
So just "play nice" with your fellow hill climbers and be "courteous to each other" – Going up the Hill first just means you have a long wait at the top while 29 other cars get to go – being last up the hill means you'll get to watch nearly all the cars leave the start line and once you get to the top you will be almost straight back down again I know which I would prefer so relax and enjoy the process.
Shelsley Walsh has no return road so the cars have to come back down the same way they went up – there is space for 40 cars at the top so when you've passed the finish line BRAKE!
While you are waiting at the top of the hill be aware of cars arriving.
The guide timings next will provide a bit more info
Timing sheet
07.00 Paddock gates open staff will guide you to either front or rear of the Paddock depending on if you are group 1 or group 2
08.00 Sign on hut open for documentation checks by RRG17 Staff – completion of Shelsley Walsh Disclaimers (Drivers and any passengers need to complete one) once you have done this you've got a little time to chill as we have to get 60 people through this process
08.45 Drivers briefing – This is carried out by the Clerk of the Course for Shelsley Walsh – listen to his instructions and advice – he's not doing it for fun. 
Morning Session Timings (Approx)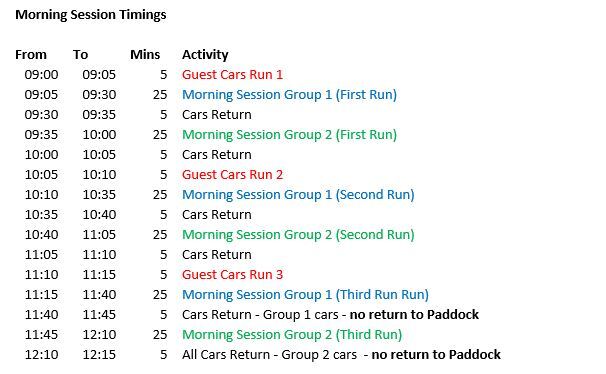 Please be aware the above timings are based on how we ran last year – accidents or incidents will seriously impact the time we have on the hill – 3 runs are planned but not guaranteed and your fellow participants won't be best pleased if you run out of talent and bin your car on the hill.
Leaving instructions (As we approach the lunchtime break / changeover
If as we approach the lunch time slot we are absolutely certain that the group you are in will not get another run there will be no return into the paddock and at this point you will be able to either join clubs stands on the show field or park in Retro Parking.
If we have incidents on the hill we may be forced to limit the runs to 2 – it's in your hands
- respect the hill
- respect your abilities
Any other questions related to Morning session please just ask in this thread
I'll start another for the afternoon session