Right then, so I took it out for a spin to get warmed up and adjusted the mixture probably about 1 1/2 to 3/4 out. I say that as it was stiff as and already at the bottom of its travel. I don't think this was how I had set it so maybe the garage did that when they tried to set it up with the non working Accelerator pump. Double checked what the timing is set too (10 Degrees). I read between 8 - 10 is good but around 10 you will get Pinging/Pinking. Its a whole lot better now though!! Its still doing it a little bit on lite Aceleration in gears 2-4. I honestly thought it was the gearbox / bearing as it sound a bit like a squeal with the usual nails dropping down an exhaust sound (when my Escort does this is sounds different but, its a different Engine). Its a lot better now so I either need to get a Colour tune as you say and maybe notch forward the timing to 8 or, bring out the mixture screw a bit more. Its still really stiff though so I don't want to mess with it too much untill I have to.
Re the choke... It still doesnt really seem to do anything. Its stiff as a board pulling the lever and it will shut the "flaps" but doesnt push them open. I made sure they were fully open when I did all the above. Also the choke idle screw that goes on the choke cam. I backed this right out as I was hoping this would free up the choke mechanism/cable. Didnt change anything though. I may have asked this before but is this screw irrelevant on a manual choke. Mine is the Weber aftermarket unit but I see on the manual replacement Carbs its a much simpler choke set up and seems to do away with that?
I was only out 20/30 mins locally but when it cooled down i whipped the plug out. Looks a bit black still but you can see where I whipped off the soot yesterday. I think this is a bit better but, will need time and more tuning.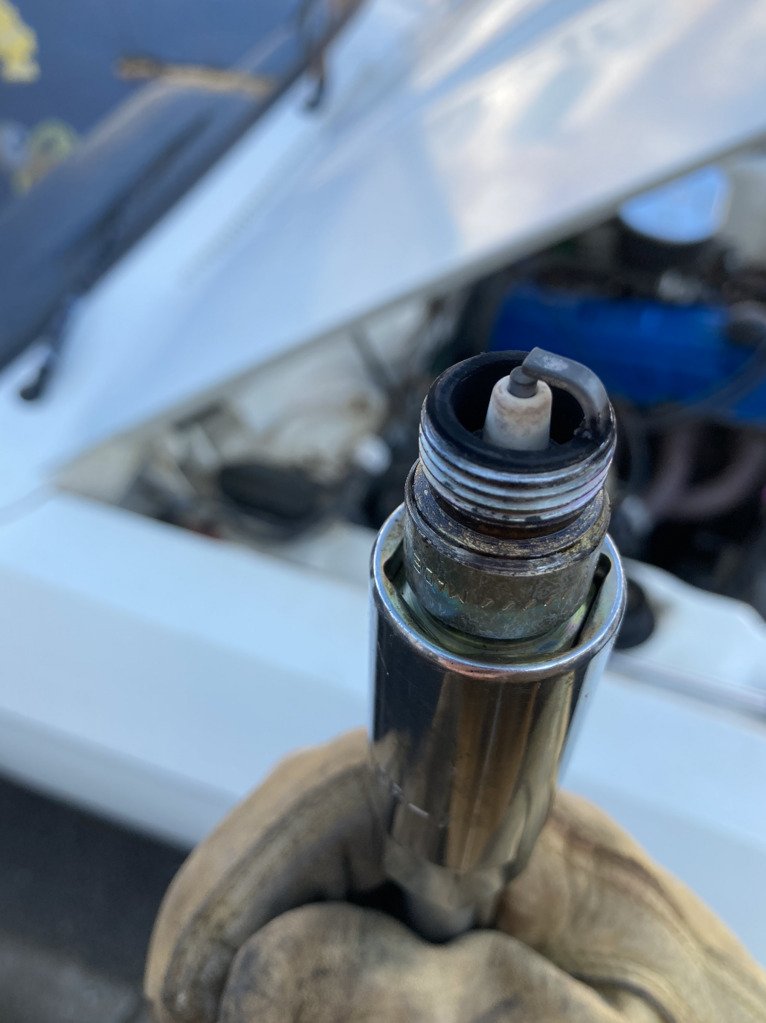 Thinking I need to replace the Diff cover next. I already have the cover but just working up the guts to get on with the job. Its still leaking slightly on the face of the old cover. Plus if I'm there I need to buy new anti roll bar bushes and handbrake bush, sealant and of course the oil.
Also, its still wandering around a little bit. I noticed the clutch cable is stuck between the engine mount and the steering column . Maybe this is holding it. I've managed to move it down a little so I'll see if that helps.
The brakes are still a lot to be desired 😂 Not sure if anything has changed or its my imagination, especially driving other cars too. Something was definitely sticking yesterday but didnt do it today. I can here a higher pitched rotating noise when I break now but i'm guessing that is the front disks. This has 3.0 legs on the front which means disks are expensive ... Think replacing these would help a lot.
Its all £££ though so i have to pick my battles... obviously safety is at the top. Did i mention she needs new tyres too? 😂I wouldnt mind different wheels though if I was going to spend on Tyres. Eek!!