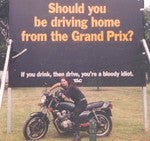 Did the person keep your old lada or try to sell it straight on? I always thought other than the heavy drive they were a perfectly adequate car and quicker off the mark than people expected.
Mid to high 30s seems to be the order of the day. I think economy takes quite a kicking due to the CVT more than anything else, plus it is pretty low geared. We'll see what figures we actually see on some decent runs as time goes on. My personal day to day MPG is always likely to be poor as Milton Keynes is absolute murder on economy in any car.
The average is so low on my example so far as I was having issues with the carb for a while and after it was replaced it was immediately obvious that the ancient CVT belt I'd been running had been dragging a lot as both economy and performance improved massively.
I think the Lada was moved on again after a couple of months, though the guy I passed it on to tends to switch and swap cars quite frequently.
She wasn't a bad drive to be honest, especially with the fuel injection conversion done which provided a massive improvement in the mid-range torque delivery. Vastly improved the drivability of the car, especially in traffic. The Riva has always been a bit prone to driveline shunt, and previously a lack of low end torque combined with that made driving in traffic tiring. Once the injection system was in place you could deal with crawling traffic without even needing to go near the throttle thanks to proper idle speed control.
I think the biggest issue I had with it was largely just where I live. Heavy brakes, steering and somewhat ponderous handling get wearing in a hurry when driving around Milton Keynes.