&nbsp
What kind of blowtorch is that?
It's just a regular screw-on-top-of-the-bottle type butane torch, screw regulator and piezoelectric ignition. Nothing special, bought it at the hardware store. To get the metal cherry red I have to add a little more heat from my small propane torch (butane doesn't really burn hot enough).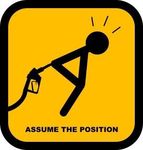 Having helped a neighbour a few times with shaping brackets and specifically flat bar, without heat, I know its not that easy to get the bends just right.
May try heat the next time.
Absolutely do! It turns hard steel that likes to crack into a substance more like warm toffee (though I suppose a better description would be akin to bending copper of the same thickness, cold). If you heat it in a narrow area you can get just that area to bend as it will "give" where it's red hot and remain the shape it was where it's not incandescent. Plus if you heat it up again once it's bent then let it cool slowly you relieve a lot of the stresses of bending the metal and it's less likely to crack in the future. It does soften the metal (which can be remedied by various heat treatment, how fast you cool it down mostly) but for things like this it's excellent.
The method I used was to heat the area up that I wanted to bend, put a pair of pliers quickly about 1/4" away from where I wanted the bend and then twisted. That starts the metal to "get the idea" it should bend there as you change the crystalline structure by stretching it. Heat it up again because the pliers suck a lot of heat out, bend it to closer to what I wanted and heat again then drop the piece down in the jaws of the vice and then a few blows with a BFH to fold it neatly. Clamp it back up in the air again, heat and then move the flame away slowly to let it cool off slow until it's no longer red, then turn the gas off and walk away for an hour until it's all cold.
Phil
Edit:. Huzzah, 100 pages!