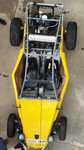 Anyone else think they'd like to join us?
johnthesparky
UVA fugitive
Sophers
Bmw E21
MiataMark
MX5 [dependant on a) learning to weld & b) doing the welding]
The Doctor
bstardchild
Lotus Carlton
Unfortunately take me off the list (unless you want a '07 Alfa on the stand), 'a' and 'b' just aijn't happening :-(
Umm I think I definitely need an imaginary car place, Alfa is now being uncooperative so could be an '04 Discovery useful if anybody gets stuck though! and it's got a RR sticker in the back window (much to my wife's disgust, it's her car).