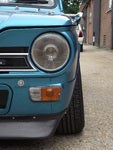 Ventured over from PH and caught up with this thread. You're doing some good work there, and especially surrounding all the rules it seems you guys have. I like the cut of your jib! Quite jealous of your surroundings too. Falling out of love with the UK at the moment - NZ looks nice!
If you need any advice from someone who's been there and done it (or some of it at least) just give me a shout

Rich
I'm loving the thread. Never had an Imp myself, but a cousin had a Californian that was a bit of fun.
Fell out of love with the UK a good few years ago. Don't get me wrong, proud to be English but hate the mediocrity. Only one thing to do...