Have been away for a while, not sure why, guess a mix of needing a break (read 'because the Capri's engine died after only a few miles') and work being like doing a full time big project car (replaced the hobby for a while).
With the hillclimb Capri back together (fired it up for the first time last night, so far so good....), Lauren has sold her Mk2 Capri (and is now looking for a Bedford CF camper), and we've got rid the 2.8i (because I just wasn't feeling it and couldn't be bothered to actually get one with it for some reason), it's time for something new.
The outcome of this is a some space in the workshop and the Zetec that was in my Mk1 Capri just sitting there gathering dust - yes I could sell it, but it's such a nice engine the answer is clearly to find something to put it into

- a plan was needed
Since the Mk1 soaks up most of the money I have for toys (and then some) I decided it might be fun to try do a low cost/high value (bang for buck) project. Given it's getting rather difficult to build a retro, especially a quick one, on a budget and because people keep telling me it's not possible, I thought I'd see if I could do it. A challenge then, and a challenge needs rules:
1) The budget is £1000 (not including engine/gearbox, but if you want to include that lets say £2000) - this has to include the cost of buying the car.
2) The car must be tax free (pre 1977 currently) to help make it cheaper to own
3) It should be at least as capable/fun as a RWD Escort
4) It should be usable as a daily car, such that if needed it could be someone's only car
5) It has to be a little different
6) The Cheat - as with all the best TV builds the cost of tools/consumables/workshop/having a trailer & tow car/collection costs are not included (but I am going to try and do all this with what I have, which is basically a good tool box full of tools, a welder, a bench and a vice - i.e. if you have a garage at home and some tools, you could manage the same - the most critical tools are actually free - knowledge (the best thing about the interwebs is everything you need is already out there and avaialbel for free) and some tenacity)
But what car to base the project on?
Since the rules say it has to be tax free and as fun as an Escort the obvious answer was something 70's, RWD and small - £1k isn't much of a budget so it can't be a popular car so the obvious answers were; Chevette/Marina/Midget/Spitfire/Avenger
Which lead to this - Plan A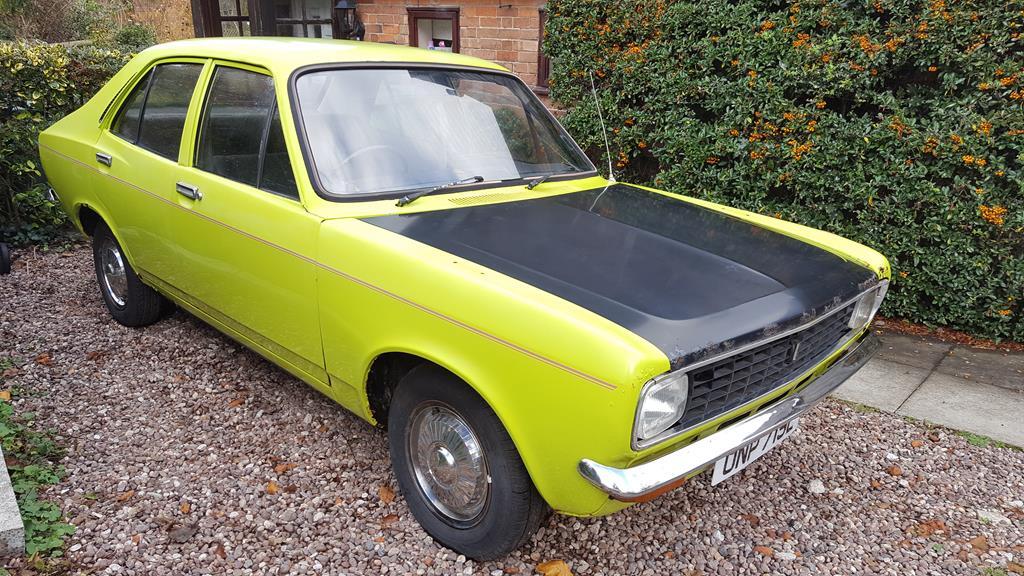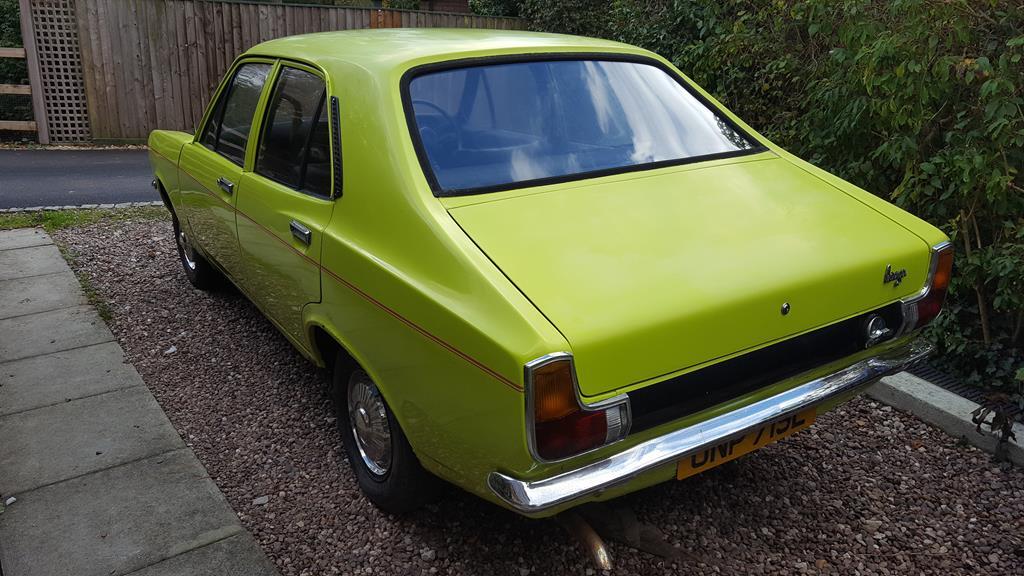 Fits the rules and is Lime green! What's not to like? Cost was £845 - a bit high, but left just about enough to throw the zetec in, and since had a good 1500 engine there were parts to sell to offset some costs.
However, it needed quite a lot of welding, nothing crazy and could be knocked up from off cuts, but even after giving it a good clean up I just didn't gel with it - which felt very odd, a few years back this was totally my sort of thing. Walking past it everyday, I don't know, I just didn't really get a vision for it.
So back on devil-bay it went and I was fortunate to get my money back - not a given! Has gone into the Avenger club fold, so hopefully will see the road at some point, was certainly worth saving.
But what did I want? Well a few more days of ebaying and I realised I actually wanted more of a 'sports' car - not many of these cheap enough for this challenge - the odd late gen Midget, some rusty Spitfires (questionable can match the rwd Escort capability rule), TR7's (though going up fast it seems) and Scimitars.
I've found of late that the place to find cheap retros/classics is Facebook, so set up searches there, Gumtree and of course ebay. Quickly it became obvious what the answer was - a Scimitar GTE; plentiful, 4 linked rear end with watts linkage (just like a Group 4 Escort

) and available in ok condition for not a lot of cash. Just got to find one without a completely dead chassis. Will the Zetec suit one, only one way to find out!
Now just to find one - ebay threw up a few around the £500 mark, an SE5a was particually interesting but had been played with, and looked a bit like the kind of car that you might spend as much time undoing old mods as you did getting it on the road. Then something a bit different popped up on Facebook, on some random marketplace search, a basically complete 1969 SE5a (missing engine) with an ok chassis and reparable body. The best bit, I could have it for £260 - score! But it was just north of Glasgow.
Cue a 4am start today and 14hrs on the road - but me and the £200 Terrano (nothing like a cheap daily) made it and I'm now the proud owner of this - Plan B, if you will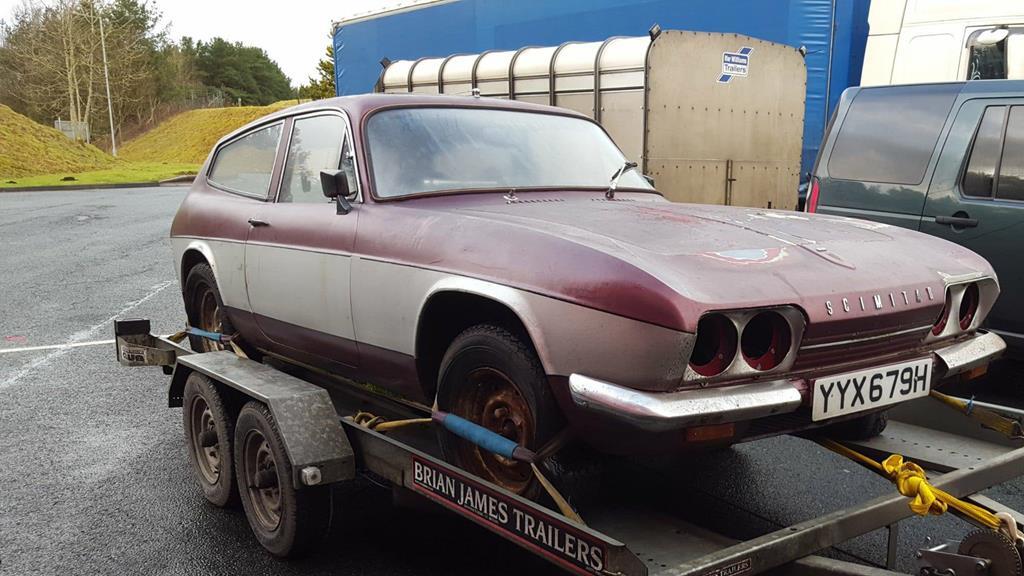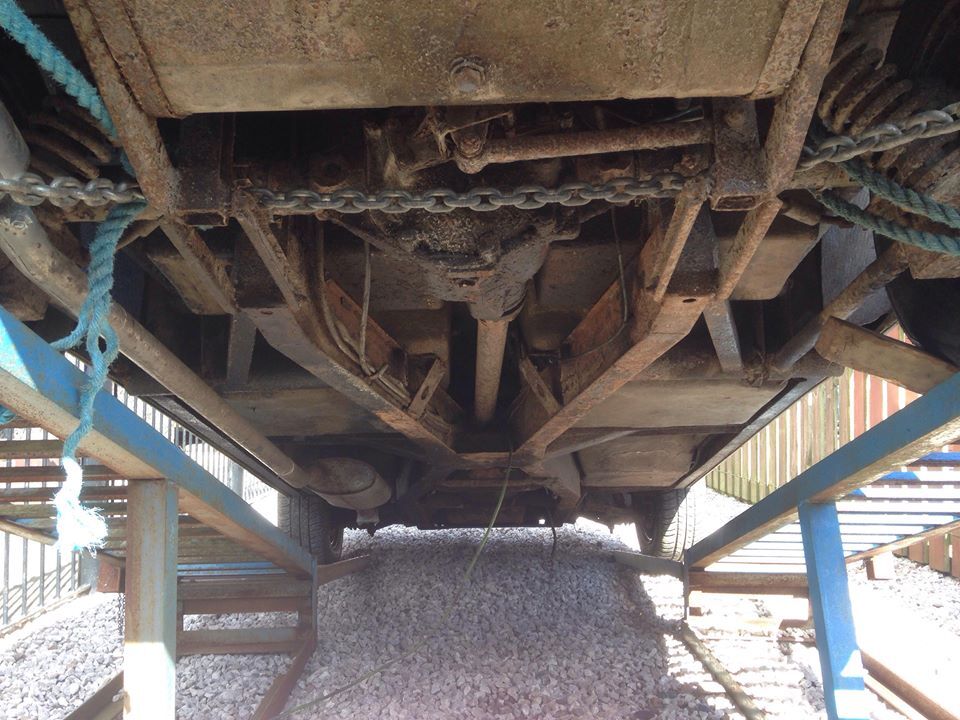 Never had a car so tough to load (thats what 4 flat tyres that won't hold air will do for you!) but dragged it on in the end. Not had a real close look around it yet but it seems surprisingly good, especially given the price.
Tomorrow will try get it into the workshop and start having a damn good poke around, then we'll see how the zetec looks in place.