I was bored.....OK!
I've had a few scanners over the past year, some just for fun but ill review what I've tried. I used them on various vehicles but I'm pretty VAG biased since the missus car is a 2005 mk1 TT and it likes a warning light.
1. The Cheap and nasty
Ebay £3.09 Vagcom.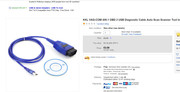 I couldn't resist purchasing this. It was either going to be a complete bust or the best thing ever for the money. You guessed correctly, it didn't work!
The disc was totally blank, and testing it with another copy of vagcom didn't work either. Straight in the bin!!!
2. Can Amazon do any better??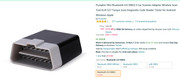 £15.88 means this is another tempting bargain. It has good reviews but I found it repulsive to use. Horrible Chinese malware infested rubbish for an app! I literally tried this for 3 minutes and decided it was causing too much of a headache to try and work. at least when you buy on amazon you can return it, just remember you have to pay postage!!!
3. Back on ebay, glutton for punishment!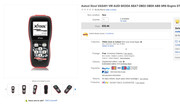 Now I did have a little bit of a tip for this one. At just over £50 it is an ABSOLUTE GEM! Once again its a knock off but boy does it have some features. With an audi A4 convertible I am currently working on I could fully diagnose every system, test everything such as doing a solenoid function test for the convertible roof and I haven't tried every function yet. I will definitely be keeping this bad boy!
4. A second hand professional tool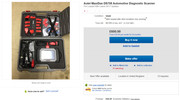 This Autel DS708 was definitely the most complete tool, but for a second hand one you are talking between £450 and £600. You also have to tread very carefully! I bought my machine for £400 and it worked fine for a few jobs until a friend asked me to copy a key for his audi. the bloody thing froze everytime I tried to connect to the cars computer. So I called autel uk. "Yes sir that's a common problem with the older models, the only way to fix it is to update for £300"
£300!!!!! I nearly fell over. I had to do it to save face but the machine did pay for itself eventually and then some! This machine has the ability to code cars. What that means is if you put xenons in your car you tell the car, "You have xenons now" In my case it paid for itself with my 2003 E320 CDI. It had a problem with the adaptive headlights. New xenon headlights were around £300 a side. All I had to do was plug Mr Autel in and tell the car, you don't have adaptive headlights anymore. Problem solved!
The next time I used it was on the same car. Go to any website and see how much it is to get a towbar fitted on one of these. It'll probably be around £750 because it needs coding. I spent £150 on a removable towbar from Poland, £130 on a trailer module from a towbar dealer and coded it myself. 2 mins with the autel and the car knows it has a towbar. Even a Merc indy wanted to charge me £60 to code this and it took all of 2 mins. RESULT.
In the end I think it shows if you spend a bit more then these machines can be useful. I know this is retro cars but most cars 20 years old have some form of OBD system. Plus, I reckon most peoples SWMBO cars don't have twin webers and a coil. food for thought...