Caution : Modern'ish content follows / user discretion is advised
As some folk already know, I mix my time between Retro stuff and new-fangled gadgets.
One of my "new" gadgets is a modern'ish BMW, fitted with stuff I'd not even heard about (I normally drive a 70's Hunter as a daily so it's bit of a technology jump
)
One of the neat things on the BMW is rather posh back lights - fitted with a mix of traditional bulbs and "everlasting" LED strip lights

The bulbs cost £1 each and can be swapped in minutes, the LEDs are soldered on a circuit board - then put inside the sealed light cluster and sold as a complete unit. Can anyone see where I'm going with this yet

BMW in their wisdom have decided industry standard LEDs (5mm diameter, never known to fail) are not suitable so have used their own design (4.2mm, tapered, many fail within 10 years)
Continuing their "it seemed a good idea at the time", if / when a LED fails, the others near it stop working (they go out in moral support?)
There are a few potential solutions :
Check the car wiring to make sure the lights are getting 12 volts - you don't want to go any further if your problem is a blown fuse !
Pretend you've not noticed half the lights at the back of the car aren't working (not easy in the dark winter nights)
Fit a "good used" 2nd hand unit ( then demand a refund when you discover the LEDs on the new unit don't work)
Buy a new light cluster from a BMW dealer (cost was £180 each side when I asked !)
Get creative and improvise (tenous link to this thread title)

Step 1 : use some kind of cutter ( multi tool or Dremel) to cut the red lens off the light cluster.
img.retro-rides.org/i/v/nomad/0cba22cc2870.jpg
Step 2 : forcefully remove the inside "cage" without breaking it, so you can unclip the LED circuit board.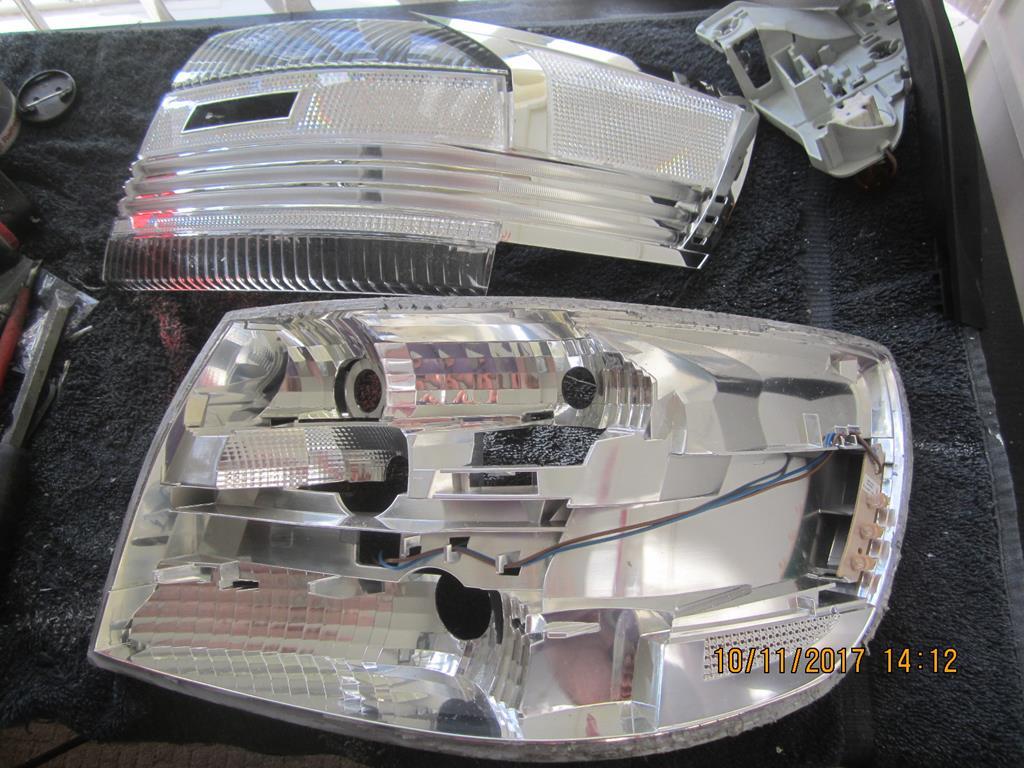 Step 3 : identify which partcular LED(s) have failed. Options :
connect a 9 volt battery, short out each LED in turn, when you do the faulty one, the other 2 will light up (assuming only 1 has failed)
connect a 9 volt battery and measure the voltage across each LED, working ones show 2 volts, the failed ones show 6 volts.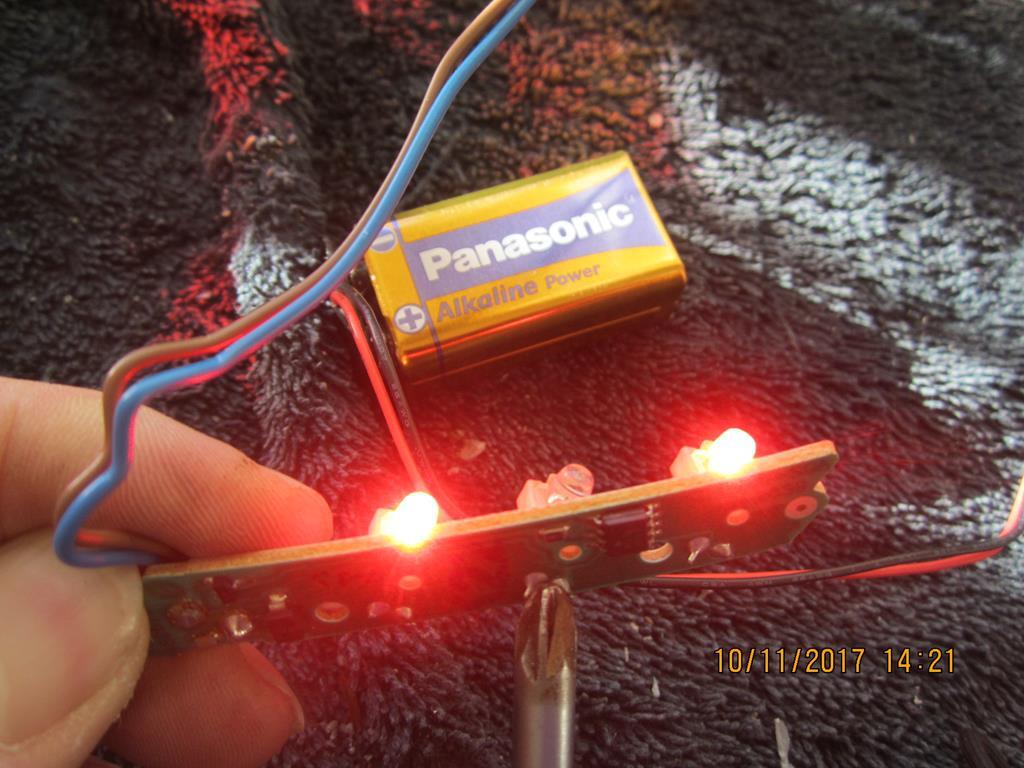 Step 4 : replace the LEDs, retest using your 9 volt battery.
Tip : a solder sucker is invaluable for removing the old LEDs
img.retro-rides.org/i/v/nomad/b388a48f0798.jpg
img.retro-rides.org/i/v/nomad/8d6bc3d12699.jpg
Step 5 : glue the red lense back in place, go to the pub and start spending the £100 you've just saved (fix the other side next weekend for another £100 saving )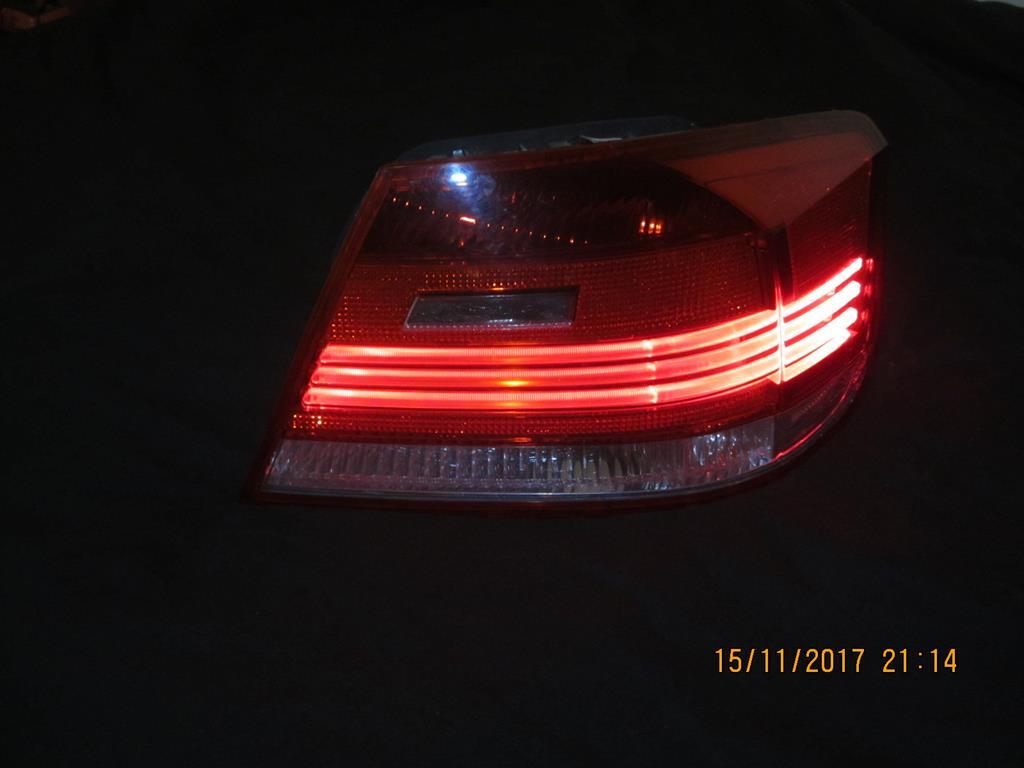 Total cost of the repairs ?
LEDS £1.30 (including postage for a pack of 20, I used 6), "5mm high-intensity red", Glue.
Time for each light : 1 hour strip/rebuild + 1 hour finding the dud LED and soldering.
Note : If anyone local needs LED lights repairing, let me know and we might be able to work something out

As this is a "non-Retro" update, now is good time to mention I also bought a £30 BMW-specific "C110" OBD2 code reader, very impressed with it.
It gives the fault codes recorded by the car, so you can trace faults and identify failing/failed parts.
The bad news is it flagged a faulty £90 fuel pressure sensor so the BWM dealer soon got most of the £100 I'd saved by fixing the lights
More OBD code reader info
forum.retro-rides.org/thread/201100/obd2-scanner-review-come-eventually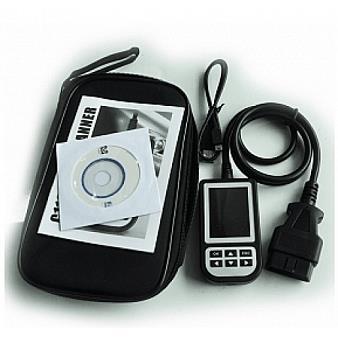 "BMW - the greatest driving machine" ... I wouldn't know, all I've done for the last 3 months since I bought it is try to fix one problem after another
Normal service should resume in the in the next episode, expect Retro and / or other interesting content