Suzuki T500 Cafe Racer / Custom build starts on page 2
Motorbikes are awesome.
I've been riding bikes for about 10 years now, and to begin with were my only transport. Going into my second winter of commuting, riding a totally inappropriate Ducati 748, I decided it was time to learn to drive. Within a year I'd got into retro/modifed cars and to an extent bikes took a back seat.
They didn't go away totally though, and I still had bike projects and got plenty of miles under my belt on a variety of different bikes, they just somehow always seemed secondary to the cars.
Life never stops changing though, and over the past year I've found myself getting more excited about riding bikes again and for the first time cars seem to be taking a more secondary role. With this in mind I planned to enjoy a summer of riding and tinkering with bikes and to buy a car that would just 'work'.
Frustratingly about the time I came to this conclusion, my super fun, and incredibly impractical, Gas Gas EC200 enduro bike that I had converted to be a supermoto, succumbed to the dreaded tin worm

So once I'd recovered a few quid by breaking the Gas Gas for parts, it was time to go bike shopping!
I fancied a change, it's been a couple of years since I've had a sports bike, so that was top of the list. I'm a fan of smaller capacity bikes, which I can use closer to their full potential (rather than riding round on a 'fast' bike never getting past 1/4 throttle unless it's a dead straight road on a warm summers day), so the late 80s/early 90s japanese race replica 250/400s are always a good place to start. I've previously had an RVG250 and a VFR400, the price of both has gone up a fair bit since I sold mine sadly. CBR400s are still cheap though... and I've never owned an inline 4 bike... hmmmm....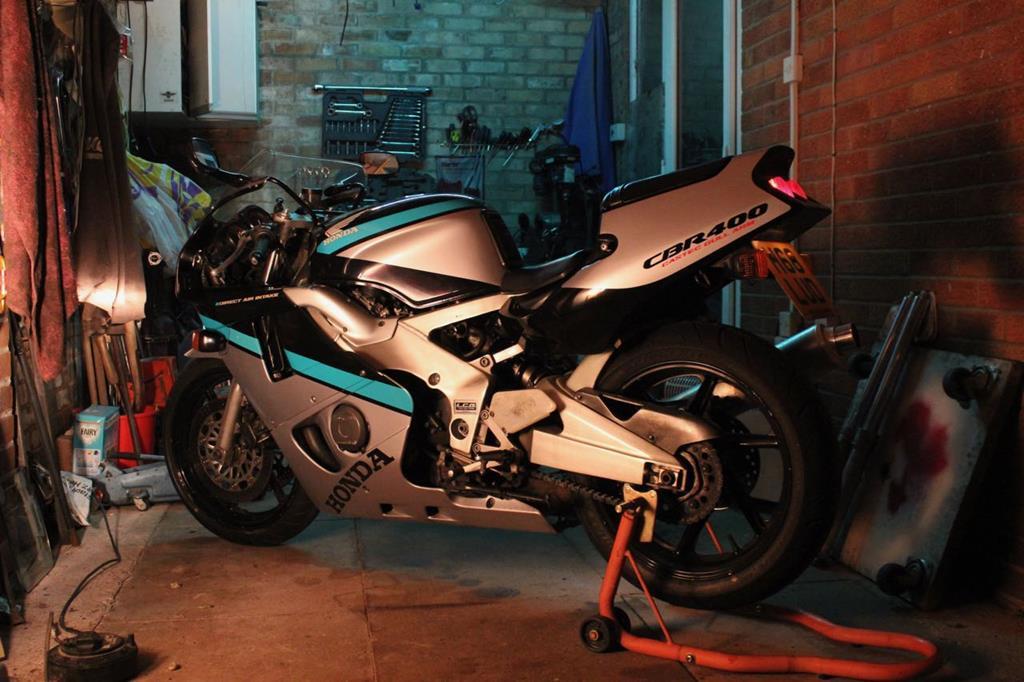 The bike I settled on was a 1990 CBR400RR, fairly high millage with a mix of KMs and miles on the clocks totalling 48,000, but it looked fairly well cared for, all original fairings (though they were a bit battered) and some nice new Bridgestone tyres. The seller also threw in a pair of the later design forks, which are a cartridge design rather than oil bath and offer rebound adjustment, they will need a rebuild though and I think the stanchions are too heavily pitted so will need rechroming.
Anyway, that can wait, the weather was nice, and all I wanted to do was to go out and ride!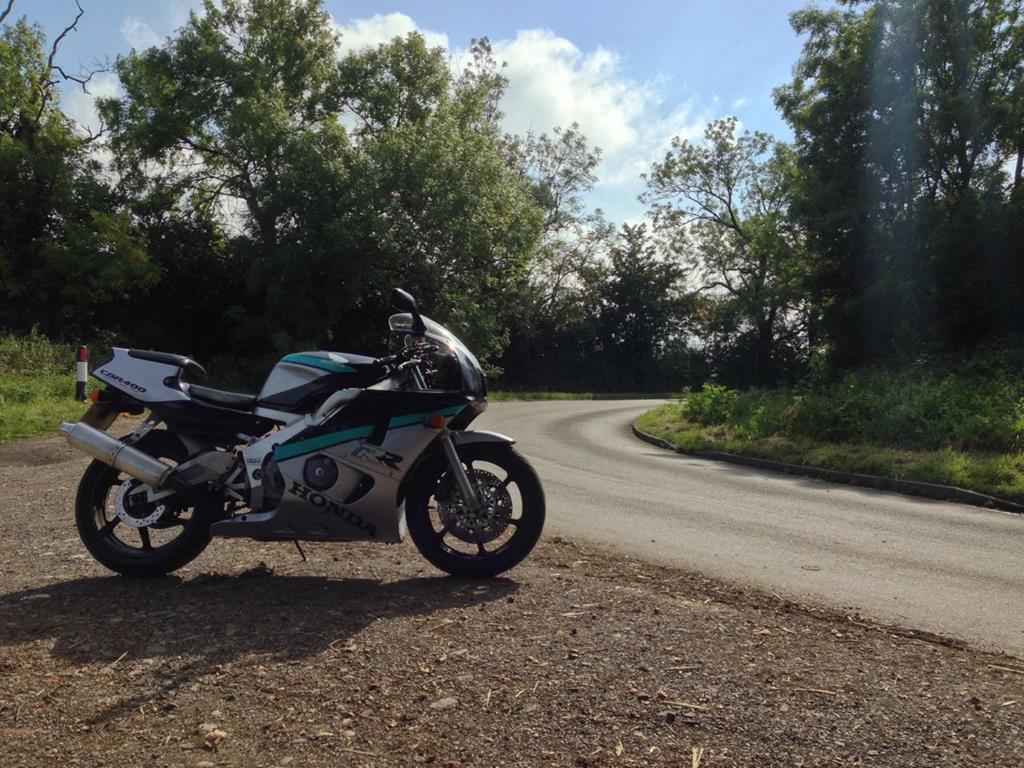 I'm really enjoying riding it, being small and fairly light, it turns beautifully, one of those bikes where you almost feel like you feel like you just have t think about cornering and round it goes (not like my Ducatis which needed more muscling round!). I like the engine, it's the most highly tuned inline 4 I've ridden and is all the better for it. Lazy V twins and singles can be cool, lazy inline 4 bike engines just feel like a car engine, haha. This one really rewards you for revving it and has a really great sharp response, with it being only a 400cc you can really get it up in the rev range, riding right to the 14.5k redline without going too fast, it's nice to be able to ride the bike at least party how it's meant to be ridden.

It's also impressed me with how well it works in ways it wasn't really designed for! It works with a pillion, neither my wife nor I are big people, and we fit quite we'll on the small bike. There's surprisingly good room under the seat, enough for a decent sized padlock and chain, and it's pretty frugal when not being thrashed, doing 150 miles on a tankful at ~60mpg.
So. I was having fun riding the bike and yet the urge to start 'improving' it was still there...