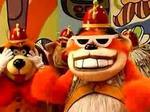 I wasn't planning on camping originally, then sourced 2 tickets from different people. Then after parking up and having a wander bumped into two people I know so we merged camps together!
Take the forum approach
Self police..........
OK we can't send in the cats but we can sure as hell point out when people don't come up to our RR stds - surely we can?
Anyone who caused any issue this year should be banned from next year - job done