After years of going to car shows and not being a part of one myself... I'm pretty excited to announce my car has been selected for the "Concours de l'Ordinaire " for Festival Of The Unexceptional!!
I've wanted to go to this for the two years previous but, with work commitments mean i always missed it. For my car to be judged is amazing! very exciting!!
I definitely need to touch a few things up near the time. Bumpers, Wheels and I also need to clean the seats and door cards too as it is now my daily.
Other things are finding a good way to clean and protect the engine bay and creating an 80s stripe like this...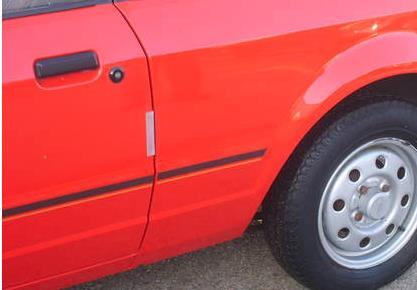 Any advice on how to do this would be appreciated. I don't want to buy anything cheap that will damage the paint but... id also like to do it for cheap. I was thinking something like this??
www.ebay.co.uk/itm/Solid-6mm-50m-Roll-Sticky-Self-Adhesive-Pin-Stripe-Vinyl-Decal-Tape-Car-Styling/181595113851?hash=item2a47e9897b:m:my2Cawy1XdVT_d6tZbFW9eA
The thing I'm probably
most
into, is trying to make it period correct for the show...
I'm thinking of going late 80s early 90s with it as its the kind of car that would have been cheap and available then.
I'm not thinking of changing it in anyway such as XR3 wheels etc. just little things like window stickers, putting the cassette deck back in of course and maybe adding a Flat Eric for the back window?? I'd love some of those "Knuckle Buffers" for the boot lid if i could find some that aren't £80!!!
Interested to know what you guys would do?
Also anyone previously been to Festival of the Unexceptional?
Heres a few recent pics i used to enter it into the event.