&nbsp
Nothing new to report, i just thought i'd post a few pictures of the Carlton i took tonight before i begin the de-stickerization... Hopefully at the weekend if by some miracle it's dry
Actually if you don't mind i'm going to do a bit of cross-pollenisation from my other thread which featured my mk2 Carlton, and just chop a chunk out of that thread and add it here just for comparisons sake:-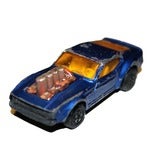 This one's for all you Borbet loving wheel whores!
I think this one is my favourite!
Again, another one for all you Borbet fans!
Now I've refreshed your memory on how that looked, here's tonights efforts with the mk1 Carlton, again because of the rain, and it being dark i had to take my photos in a car park, i'm not sure if this adds to the ambience of it all or not to be honest...
The Pistonpoppets have christened this "The Stickerbook Car" I wonder what they'll be calling it after the weekend?
I'm not sure where i'm going with this yet. It's funny, i've been thinking about having a mk1 Carlton estate for so long now, i had all these plans for it, but now, sitting here looking at it, i'm not sure what i want to do! I spent over an hour today looking at it, and thinking that it's such a nice looking machine (Its an eye of the beer holder thing!) I'm pretty sure they're the wheels i'm going to roll on, and i'm pretty sure i'm going to add a tow bar as i've managed to get hold of one for a mk1 Carlton estate. But apart from that, i dunno... I get the stickers off first, have a look at how the bodywork is underneath, and then start hunting down a few more parts... Stay tooned!