So, would you like to see how my crappy cars have been doing over the last 3 weeks?
Not well.
Last post I mentioned a blue E38, well that started misbehaving, running the battery down, other weird electrical things and it got culled sooner rather than later. So did the 2x 330ci cars I'd bought for breaking with MOTs.
which left me with this stellar choice: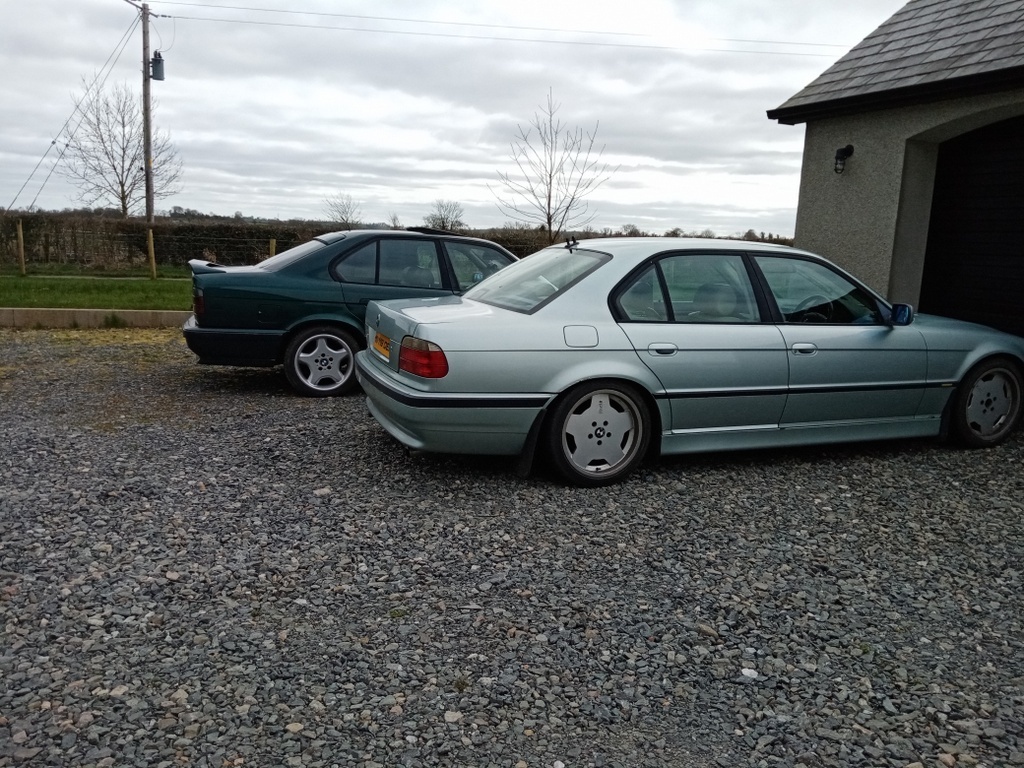 Now that's not bad, really. To save you the effort of looking back, that is an Oxford Green E34 525tds auto lowered on 17" Style 16s, and a Glacier Green E38 728i Auto lowered on 18"x10j RH Toplines.
However, I couldn't use them that much. On the E34 I discovered that between when I'd sold the car and bought it back last year, the then-owner had changed the bulbs in the rear lights to the wrong ones, and melted the light housing for the tail-lights. On rare Hella upgrade lights, the idiot. I'd only driven it in the daytime since really, or I may have found out ages ago and forgotten to sort it, but yes it needs a new set of lights now.
And the E38, well it was parked at someone else's house.
But when I went and got it back... well, we will come to that.
In the meantime a very colourful picture. I had to move the Skoda 120G to retrieve an E46 I had lying in one of the sheds out of the way. This was to make space for the M535i to come live indoors, but in the meantime a friend decided to buy an E36 shell I had hidden away in another shed, which means there is a space for the M535i there (and that's more accessible), so (if you're following...) the 120G went back in and the Estoril E36 Evo joined it in the new space in that shed.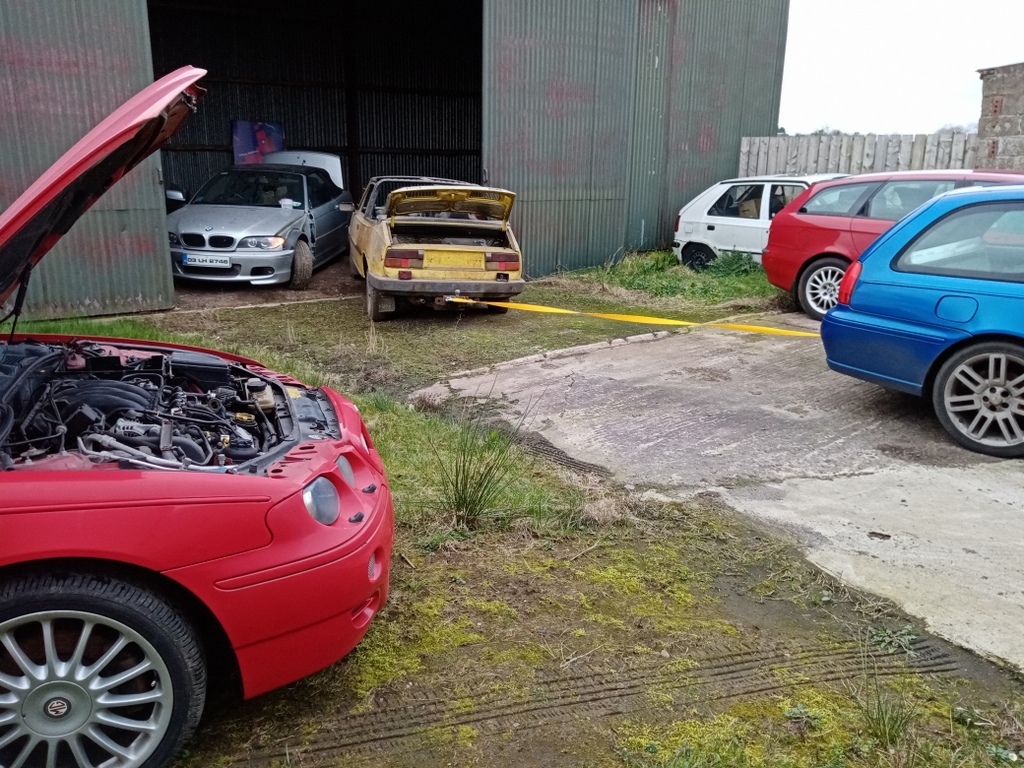 More attempts were made to fix the Impreza which is still taking up space at work. Still getting nowhere with it. Literally everything was unplugged and the dash totally taken to pieces to try and find where the electrics are shorting out, and at least now it seems like the dash isn't shorting, but the car starts sputtering at 3k rpm and the CEL is still permanently on. Such a puke.
Also taking up space at work is a dark blue MG ZTT, which manages to impress constantly by always starting when it needs moved - be it 2, 3 or 4 weeks since last moved, it always starts, so it has no drains ongoing, and the tyres all stay inflated. This makes it more reliable than 90% of the vehicles in the yard. Then I thought, why isn't this thing MOT'd? So I booked it in.
So, with all of that, I've been using the Discovery daily despite still not servicing it. Haven't had opportunity! And no, I haven't fixed that side-step either.
Driving towards a little church gathering one recent evening, I got a ping on the dash for the traction control. That was swiftly followed by the ACE light and then the SRS light. I knew I was in trouble but before I had a chance to figure out anything the rest of the lights came on, the headlights dimmed to nothing and I was running fast out of forward motion. I got it pulled up on to the pavement and it conked out.
So I called for reinforcements and a friend came with his Passat and some leads and once connected the TD5 fired into life easily, and stayed running. Weird, I thought. Travelled on to destination, just 3 miles more, and shut it off. Tried a flick of the starter and it didn't have enough juice to start but wasn't stone dead so looked like the alternator was at least charging a bit.
Later on, we jump started it again and I was given a battery and leads to take with me. I set off merrily and there was no sign of trouble.
Well, until 10 miles later along the motorway. I knew from before that I had no time to spare but I did my best to keep it going and got to the next junction of the motorway... and then along the slip road... and along the next stretch of road... and through town...and out the other side... in fact I got another 7 miles before it really started going, and then I got some kangaroo-ing, and I really had to work hard at it then but I got it one more mile before it totally went.
At this point I was 3 miles from work, which is where I was heading, as of course there was no sense taking it home if there was an issue needing fixed.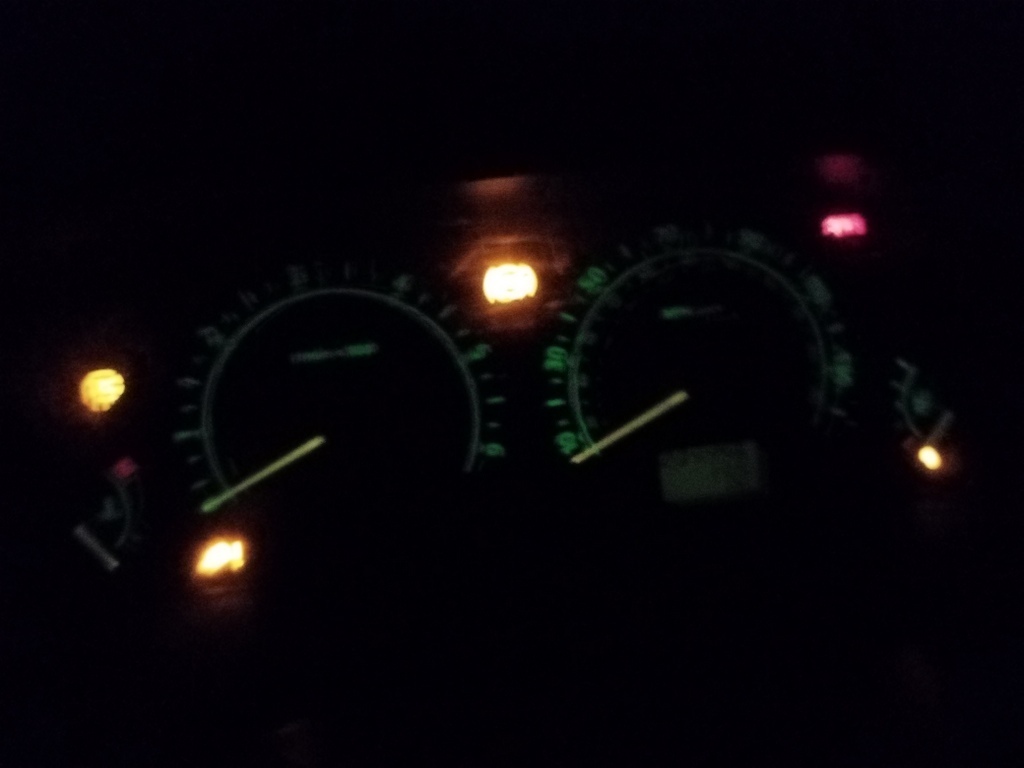 I tried jump-starting with the battery I'd been lent but it wouldn't take.
It was now 1am or so and I tried calling someone I know nearby to come help out but he didn't pick up. Yes it's late but he's up to all hours usually. So there seemed to be no option but to walk to work.
The first half mile or so was fine as it was through a little hamlet and all lit up. After that I was walking down pitch black country roads, which was still fine actually, and the clouds were low so it was relatively warm. I was glad it wasn't raining or windy, that would have made it much worse.
Not much to see: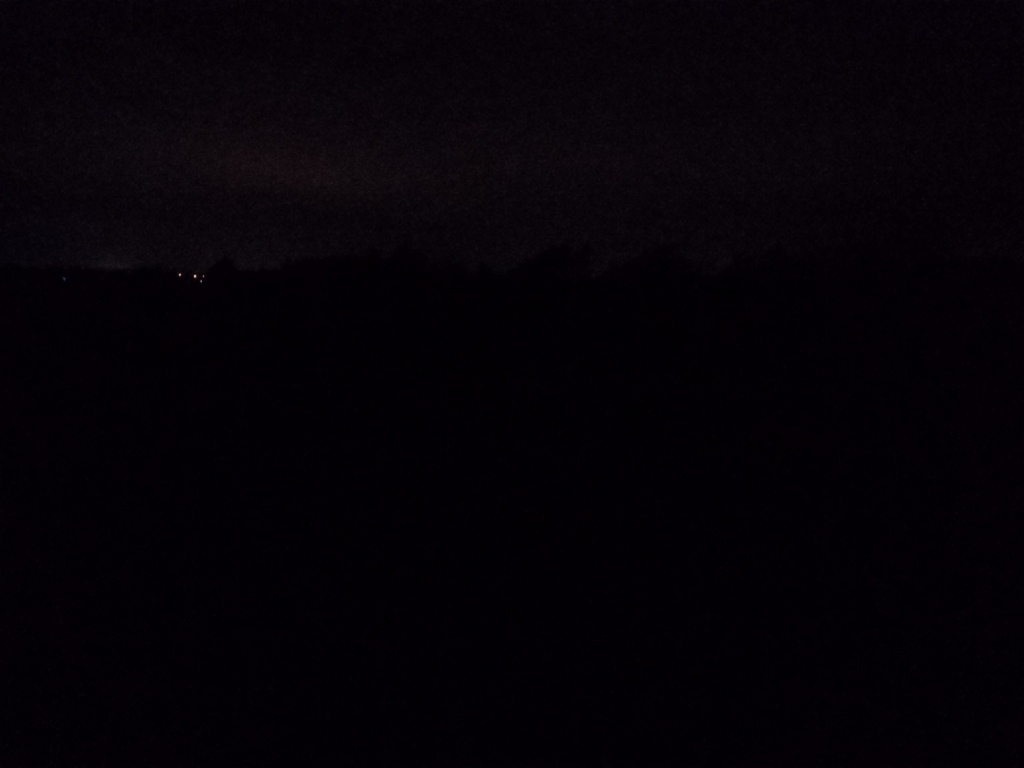 About half way to work, I realised I had no keys with me for work. Erm, that wasn't going to work out then. So I walked to the sleeping mate's house, and appropriated some transport. This is what happens if you tell people you know that you leave the keys in the car at night...
I headed back to the Discovery and jump started it, and it fired up with no issue at all. So I drove that into the little hamlet, found a spot outside a shop to park it up out of the way, locked it up and walked another half mile back to the other car, and just took that home. 2am - so didn't get enough sleep that night.
Up again early the next day to go finish off the customer repair job in work, so I could take that back and get my E38 which I'd left at the customer's house. Had to do a quick 2 hour round trip first thing to get some parts as we'd found some broken suspension and the only place in the country that had any stock was 40 miles away and had just one set left.
That job went swimmingly and he was very happy with the results. So after chatting for a while I got going in the E38 (realising then that it didn't get up to temperature any more, so it couldn't clear the windscreen very well). This night was much different to the previous, being open skies so temperature was around 5 degrees or so and a bit windy, so I pressed on to get home now that the E38 wasn't going to help me out there. About a mile away from the customer and I come over the crest of a small hump-backed bridge and at about 50mph in the pitch black suddenly what looms in front of me is a massive orange cone planted right in the centre of the right lane!
I had zero chance to avoid it - just not enough time or road-space. I had a flash of mental time to consider a flick to try and avoid it but all scenarios assessed, I would still have hit it, just with a different corner of the car. So I ploughed into it, making contact with the driver side of the bumper, about a third of the way across the car's 6 foot girth.
I pulled up a few feet forward from there - far enough from the bridge to avoid any accidents happening - and looked around to see if there were any scallywags laughing from the hedges, but nope, none to be found.
I got under the bumper and found minimal damage - just some plastic guards knocked into pieces, foglight wiring pulled down and a lump out of the bumper.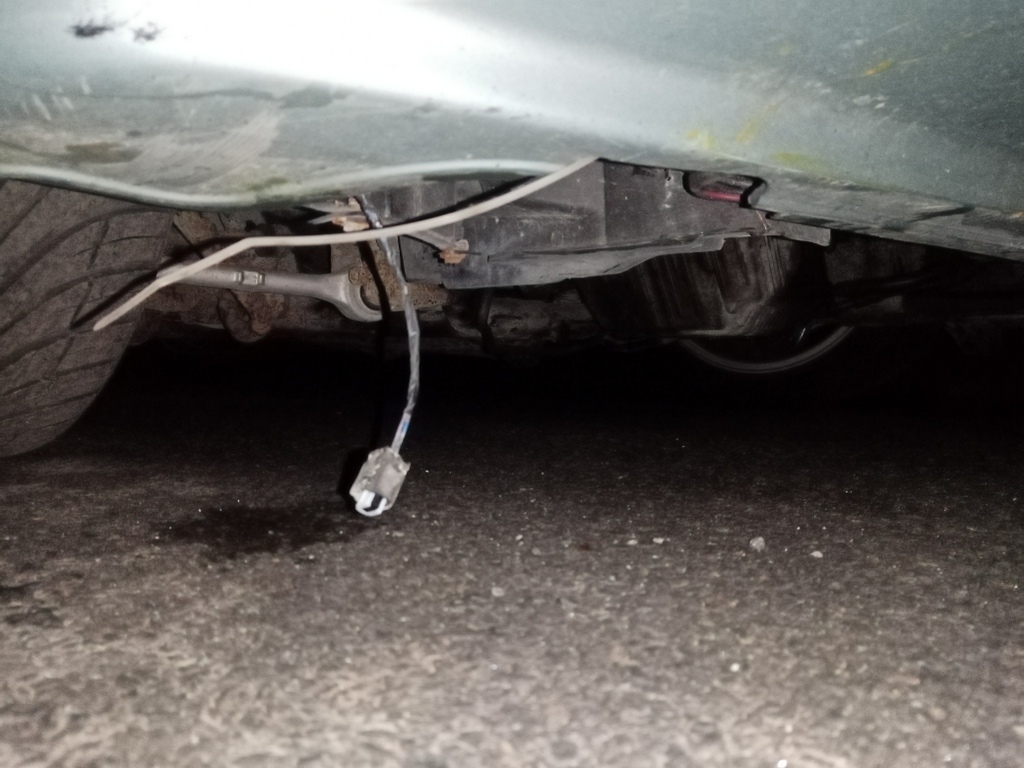 And of course the might of the E38 had obliterated the cone.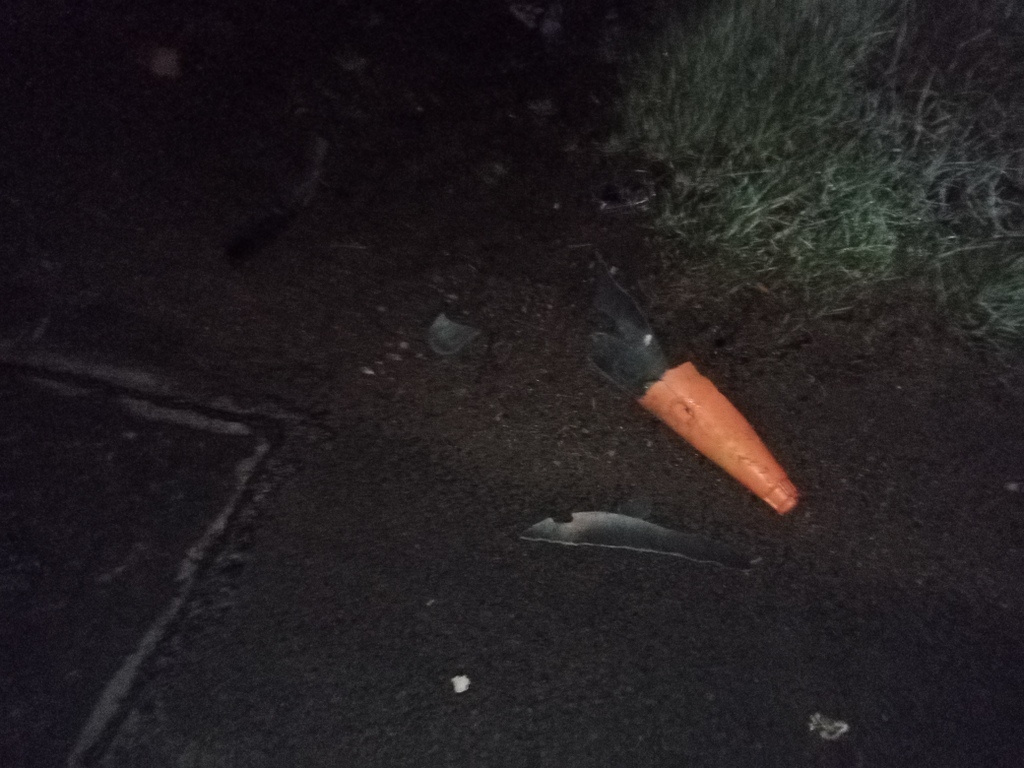 There wasn't much for it but to head home and forget about it (after picking up all the pieces off the road of course).
I think the van was at home so I used that the next day to get into work.
I was fast running out of cars but I had booked the MG ZTT for an MOT so I took that up, actually expecting it to pass and being a little bit nervous about it - which usually doesn't happen, so I guess I was hoping for a good result. Usually it's a case of whatever happens, if it fails it can be fixed, but the MG I actually wanted it to get through. Well, it didn't, a couple of suspension issues and a bulb out, so I've those to fix, but still no car to get home in then as I'd been hoping to press that into daily service.
The E46 325Ci convertible was sitting in work and I thought I'd give that a try. Those stupid Xenons were annoying me though, with their pathetic light output that means I can't see a thing at night, so I decided I'd change those and give it a go. Opening the lights up I found that they were actually cheap HID kits, so I ripped those out immediately and put some proper bulbs back into the lights (some of those blue +50% types).
Well, actually, one side was an HID, the other side had some stupid LED thing in it!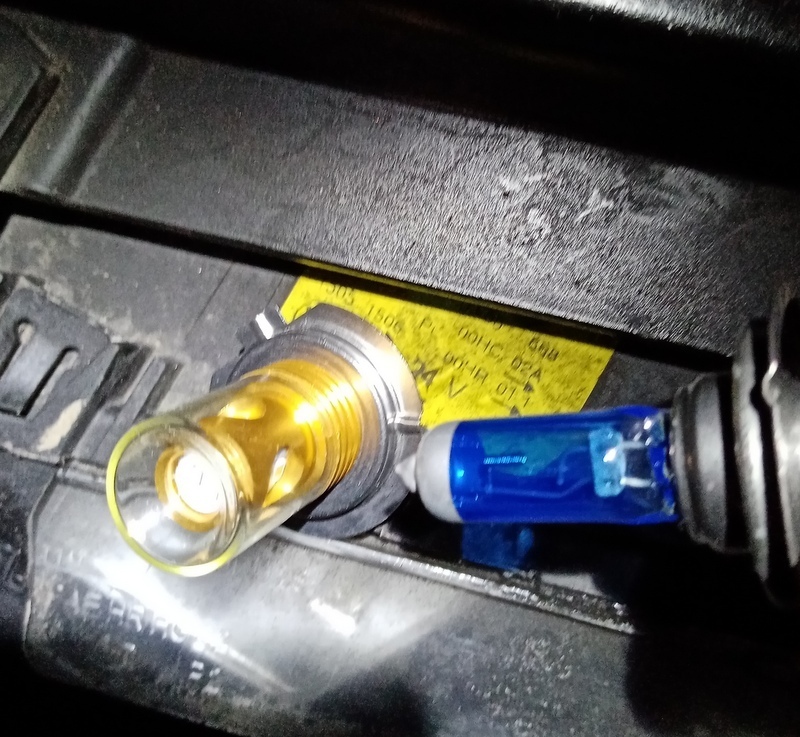 Once those were disposed of, I could see that one sidelight was bright white and flickering, the other side very dim and/or not working at all.
Took a look at those and found the most useless of LED lights which were almost totally broken on both sides.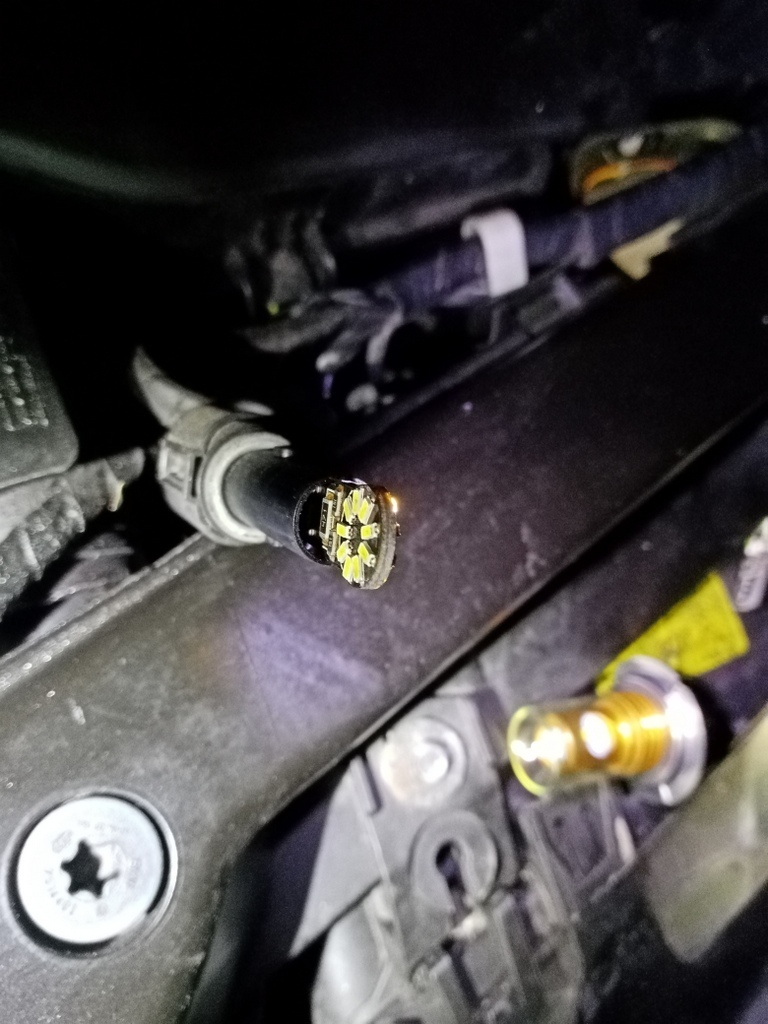 I just pulled those right out for the time being, and finally went to go home.
Yip. That rotating scratching noise will be a seized brake caliper, bearing, or something is rubbing on the prop.
Getting extremely fed up with this Cabrio and it's never-ending list of issues. One single more thing and it will be a parts car, of that there is no doubt. I can't tolerate a car that simply will not stay fixed for even one day. Not even enough for me to get home.
I took the van again. And I hate taking the van home, it doesn't fit in the drive so I have to leave it on the roadside and people fly along this blind country road at totally unsafe speeds.
The next day I got a call from the people that repair stuff and the alternator for the Discovery is
apparently so burned out that it's beyond repair.
I'm back in the E38 even though since the cone incident, there is a rattle from the front corner of it - droplink broken maybe, or ARB bracket pulled off? I've ten potential daily cars at the minute and not a one of them is in good enough order to use, and I have two big, long term project cars on the lifts in work and I'm still trying to down-size so I don't want to just buy another car to use for a while, I'm seriously trying to be good about that but this is frustrating, as if the stress levels weren't high enough!