I'm afraid all this lockdown malarkey has put the kybosh on much progress. I'll put together an update soon with what bits I have been able to do though.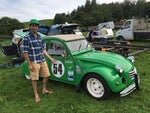 Not ideal but I'm looking at running a top mount scooped through the bonnet or a low mount angled one when I take it out of the estate and put it into my truck.
Cracking work and idea though, I am following with much interest - you're just a step ahead of me here so I'm sure I'll be referencing back to this, Max & Sowens threads quite often!
Thanks! I'm a bit wary of potential cooling issues... the standard Patrol radiator is a hulking great thing so I'm hoping that it'll cope having the intercooler ahead of it. The engine is staying in standard tune until I've ironed all the bugs out, so I'm hoping temps will stay manageable.