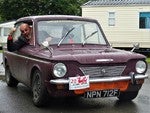 Foden made steam lorries before belatedly turning to diesels.
Eric R Foden wanted to produce the new-fangled diesel lorries but was stopped by his elders. He formed his own firm using his initials, E.R.F. in protest.
This seemed to have happened a lot in the early days of motorcars.
Henry Ford started the Henry Ford Company in 1901. After a year he left the company, which then was revamped and renamed after the founder of Detroit. The resulting company, Cadillac, lives on to this day under GM.
After a dispute with his first car company, Olds Motor Works, Ranson E Olds started a new car company using his initials. Whilst the REO brand is most known for the band REO Speedwagon, Olds Motor Works was later renamed into Oldsmobile and then lived on to a rather more succesdful future under GM. It's sad the brand is dead now though. Have a Toronado.
Also the early 60s GM Y/Z body is, as far as I know, the only monocoque car platform that was available in a rear engined (Chevy Corvair)
And front engined (Pontiac Tempest) configuration.