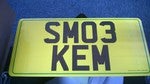 Are there any 'Typical' holiday resorts for Brits out there? You know the sort of thing... A little luxury for us whiteys from around London lol.
Hmm, let me think how to say this nicely...
Depends what you're looking for.
Beach 'n' Beer is probably Boracay but that's getting full of Koreans now, and they are weird people. Still, there's some nice hotels and you have a pick of quiet or noisy parts of the beach. We use it for quick getaways of around a week and there's plenty of good watering holes. May I recommend Nigi, Nigi Nu Noo's Beach Resort. I kid you not, it's a great place for singles, groups or families alike and we love it. The bar there is a particularly good people watching spot if that's your thing, it's certainly mine.. Have a feeling that Boracay will now begin to suffer from its own success as I believe the sewerage system, such as it was, is starting to creak. Get there whilst it's still nice and clean!
There's Subic Bay, which is the old US naval port now gradually re-inventing itself. Okay for a long weekend to escape Manila, but not really any longer.
Puerto Galera on Mindoro (not to be confused with Mindanao) is well known for its diving and party spots, but I've not met anyone with particularly glowing reports and we've never been. Plenty of bars I understand, but if I had to choose, then Boracay out of those 3 wins for me. For now.
Further afield there the islands of Cebu and Palawan, the latter being seriously quiet and unspoiled. Unfortunately, kidnapping is a little habit the locals have developed who then sell you to the Muslim insurgents on Mindanao. Still, the hotels are nice, for the short time you occupy it.
For a more 'theme' based holiday, then Ermita's your place! It's the next district up from us and offers all sorts of...how do I put this?.. diversions. That's a good word, diversions, yes. Just remember that some of the diversions have slightly more under their frocks than others. They are also fiercely determined, so if you enjoy the thrill of the chase, in Ermita you get to see it from the fox's perspective.
And finally, if your idea of fun is spending time in the company of pensioners powered totally by ED pharmaceuticals and Red Horse, then Angeles City is the destination of choice. Angeles is adjacent to what used to be the major US airbase in the Philippines, Clark Field and whatever it had that the GI's on R&R from Vietnam enjoyed can still be found in abundance. Be prepared to never see daylight as this place is strictly nocturnal and having driven through it one afternoon, I can see why.
So fill yer boots, lad!
P.S. Disclaimer; I have no connection with the Philippine Tourist Authority. Shame really