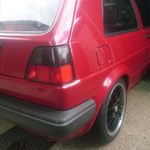 I saw this the other day and had to double check it wasnt you lol,
jalopnik.com/a-4-0-v8-range-rover-can-be-the-cheapest-city-car-1466772492
(I know locations & engine sizes are way off lol)
Brave. Yes...That's word I want, thank you. Brave. Sounds so much better than stupid.
I just tell everyone I drive a "Green" car. If pushed, I have to admit it's Epsom Green and may just have a V8, but green nonetheless.
Isn't it satisfying when you do a job and get instant gratification? Plug leads delivered yesterday and fitted them this morning along with 8 new plugs. God, what a difference. So that's what eight cylinders sounds like. Happy donkey, happy boy.
One thing and I don't know if anyone else has experienced this. Bag full of leads, all properly sealed up but only seven of them, number 3 is missing. Now No3 is one of the main reasons I was replacing in the first place. It wasn't a match and was held together with tape at one end. There must be shortage of No3 leads. Anyway, the old No6 pressed into service as the new No3 and away we go! He's going to send me a new No3 lead which will leave the next set short - see where this could end up? Chaos