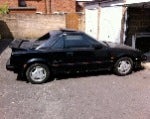 I'm using CO2 at the moment but have a baby bottle of Argon mix to try. And I was looking at the Mig forum last night to get some tips.
Adams Gas is next on the list when I get to the big stuff.
James
Short bursts is the answer. Don't try to lay down a single seam but do lots of short pulses allowing a second or two for cooling in between.