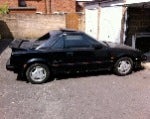 I need to have a proper read of your post and I'm not sure I have the brain power at the moment. Give me a day or three and I will.
James
No problem! And if there's no (easy) solution also no problem!
Worst case I now just make it all work and figure out how to adapt later. But it looks like this coming weekend has a pretty full calendar already so I might not get to do as much as I'd like anyway.
But next week is a short week due to bank holidays! Yeey...