Wotcher all. I finally manged to get my pics beaten into some kind of shape so I thought I'd best put them up here for anyone who's interested. If you're not just shuffle out the back without making too much noise and let me down gently, yeah? ;D
I've just kinda put a bit of everything up so I apologise if there are some which duplicate a lot of what's already been put up, but hey, this is my mini-blog from the day and my own spin, so hopefully they won't bore you too much. I've tried to say a bit about all the pics rather than just bung a link to a Photobucket album cos I think the least people deserve for showing their car is a bit of personal attention, but if you wanna just see the album without all my waffle the link's here
s668.photobucket.com/albums/vv43/Nik_da_Greek/Gathering%202012/
As always, apologies for any inaccuracies, I'm not an expert on everything (some might say I'm an expert on nothing lol) but I try my best. And try to read it as self-depreciating irony, don't take anything the wrong way. All the cars are amazing in their own right, but our tastes all let us down sometimes
First up, I''l start with my own stand, the rotaries of Exile Rotorsport and the RX7FB forum.
MR TOOL's inspired rotor display should have gone some way to drawing a few people in, and certainly a lot came over and peered at it forlornly lol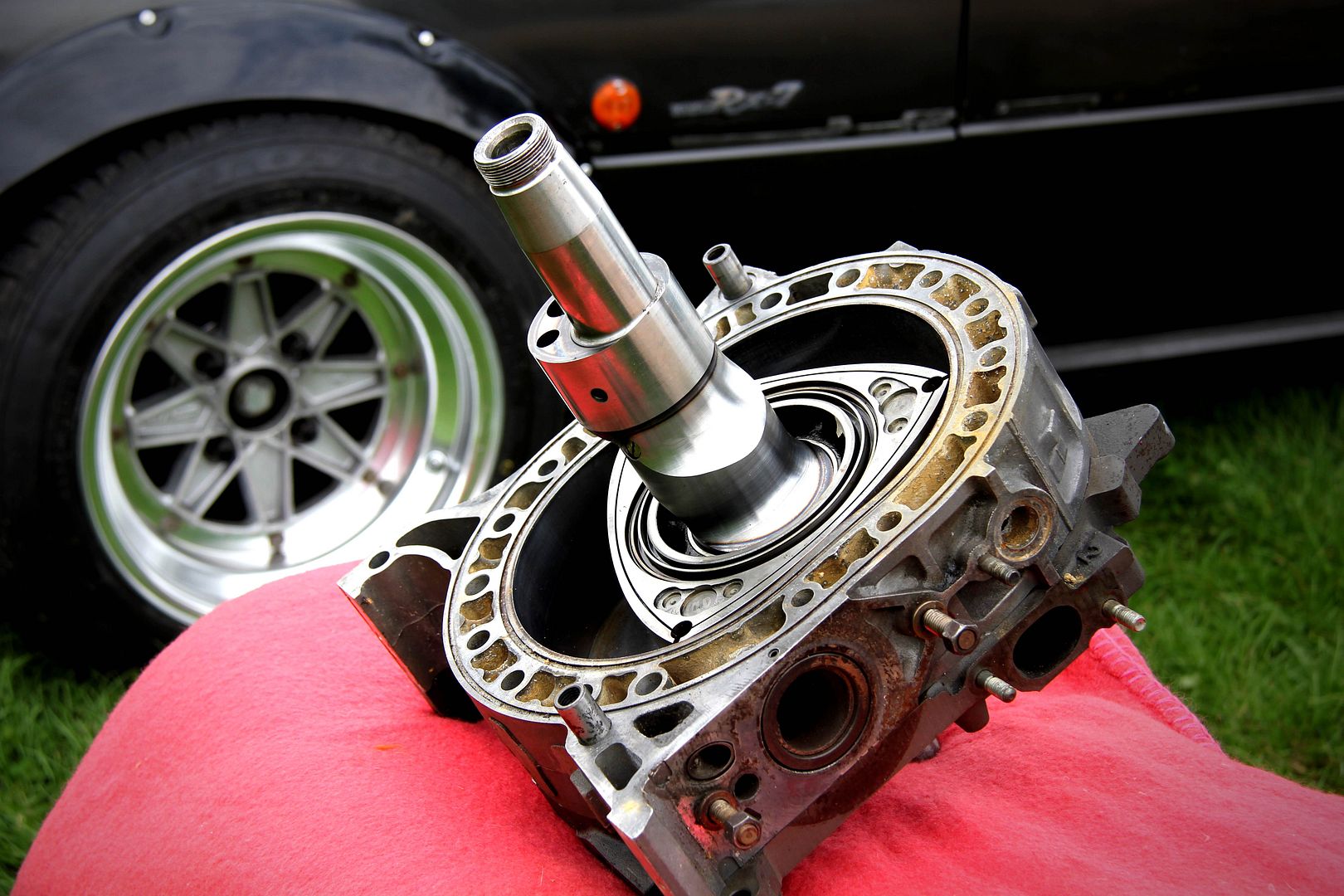 I reckon it was my pink blanket what made it really pop though hahaha. Maybe we need to set up some interpretation for people to get to grips with what they're looking at next time. Or have some friendly type (if we can find one) standing about to answer questions haha. I think many people were put off by the weird voodoo magic that seems to make the rotary engine work. Heathens, should show more respect for the only internal combustionengine patented in the 20th Century lol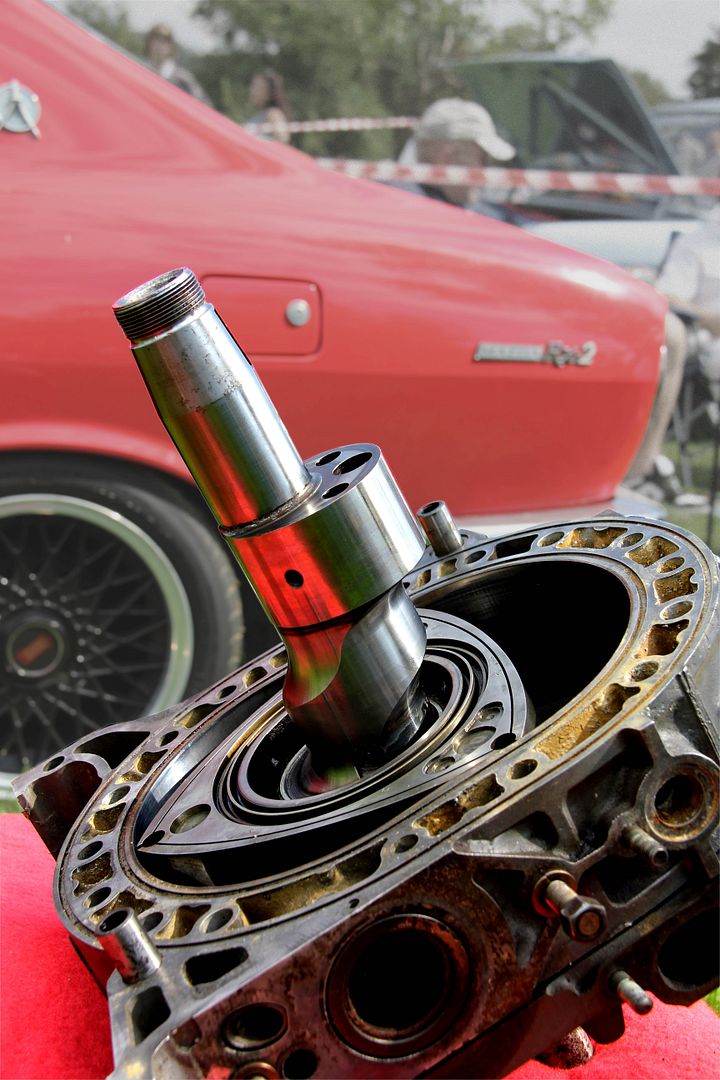 Right, cars then. Think we have to start with Timmers' new beast really, simply because it's most excellent and it's the first pic I came to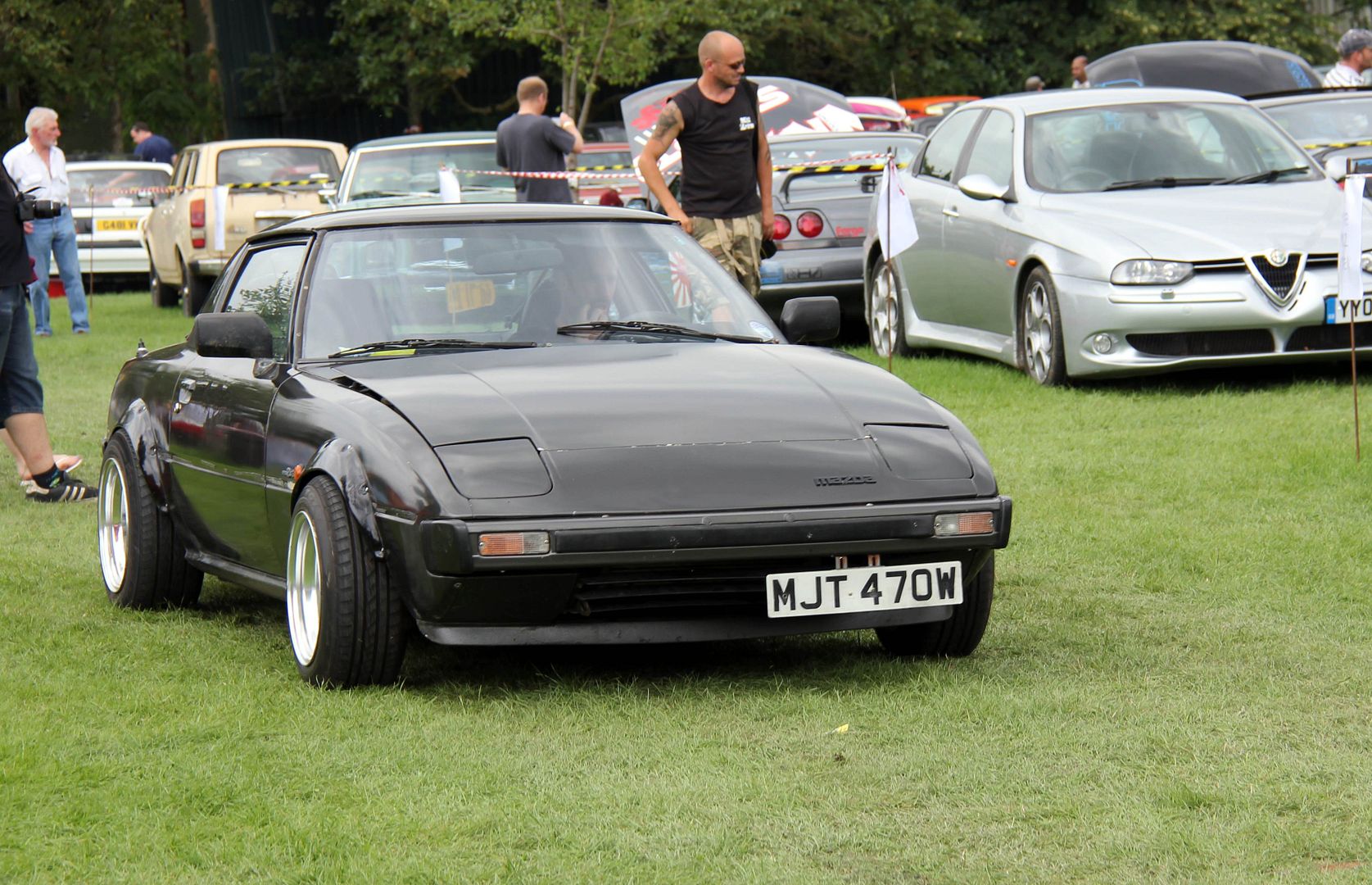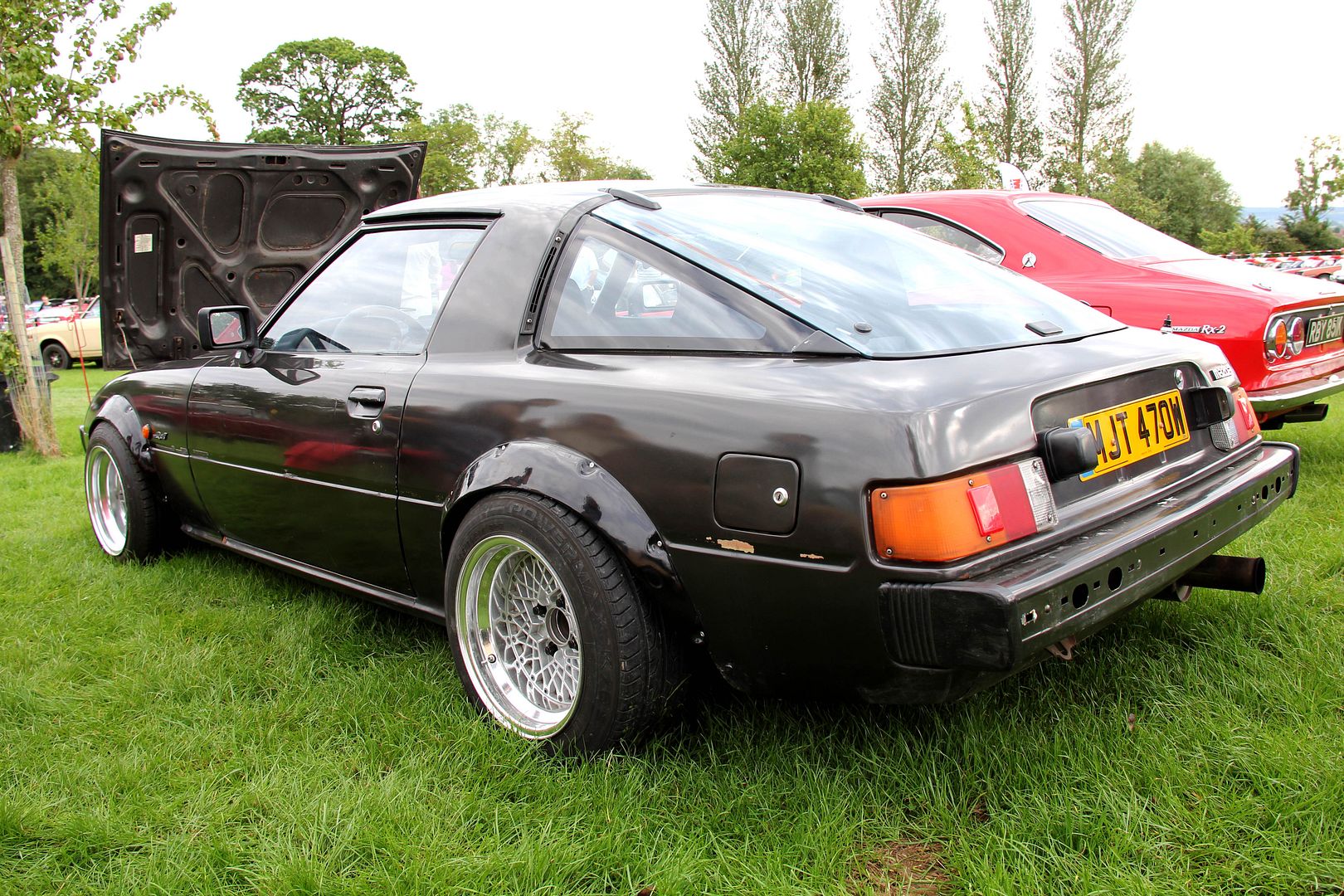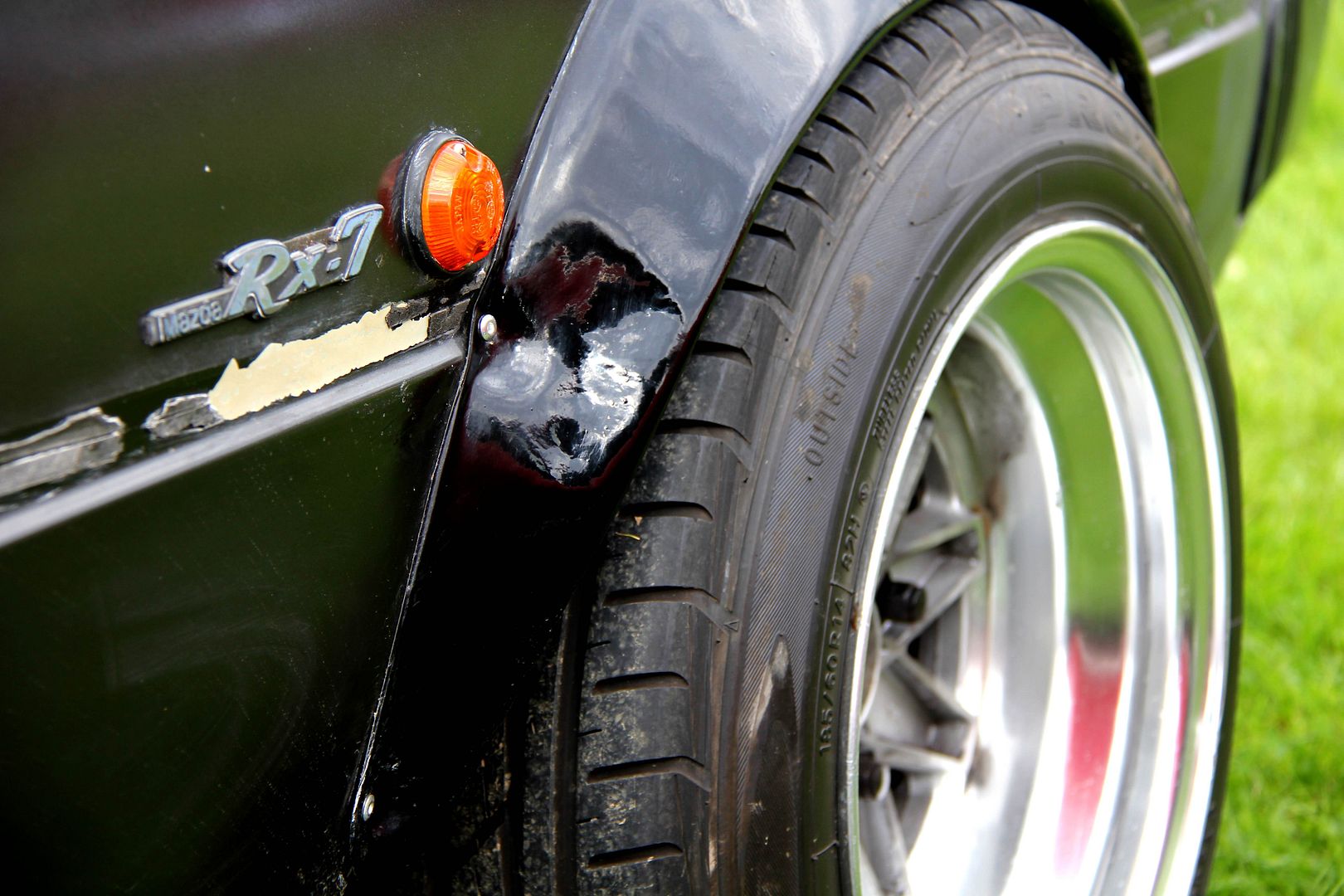 I haven't got many of Steve's in here cos most of the full-car shots I took were on the hillclimb, which'll come later. Here's a couple of detail pics though
Rexi84's Series 2 confused me until I realised it was
supposed
to be a different colour to mine, didn't realise Mazda went to the effort of making two almost identical blues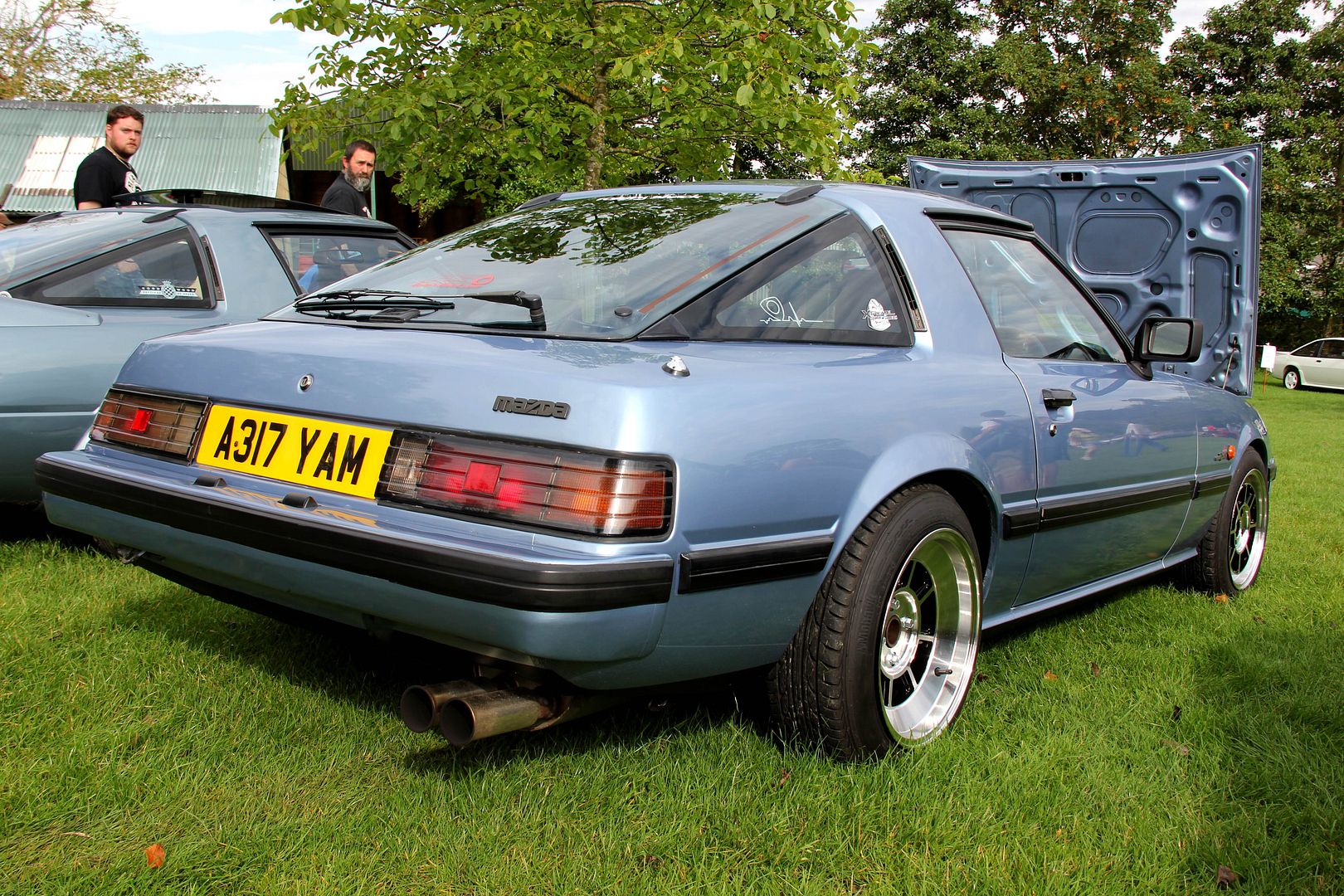 Want!
Loving the rotor heartbeat graphic, too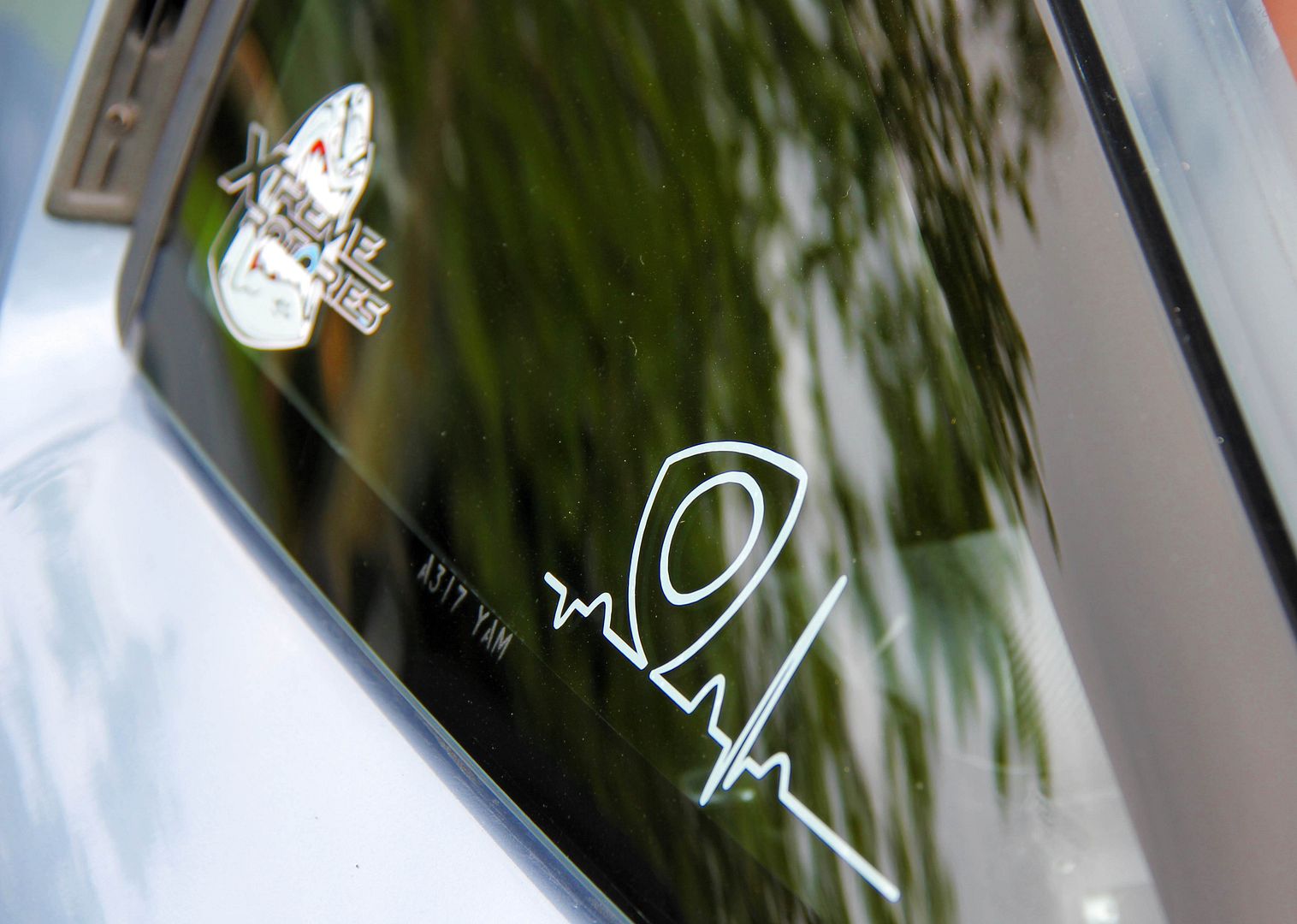 By now you'd be forgiven for being hopelessly confused, you'd looked at Tim's turbo FC engine in an FB, then Steve's one-off throttle bodied lump, then come to the Weber IDA downdraft setup and you're like "gahhhh, all these cars look the same but every engine's different..... in fact, which bit
is
the engine?". Good job I kept my bonnet shut, or it'd have been "but this one's just a huge blue box in it, now I'm totally lost
Marc and Karissa completed the line up of not-quite-matching blue FBs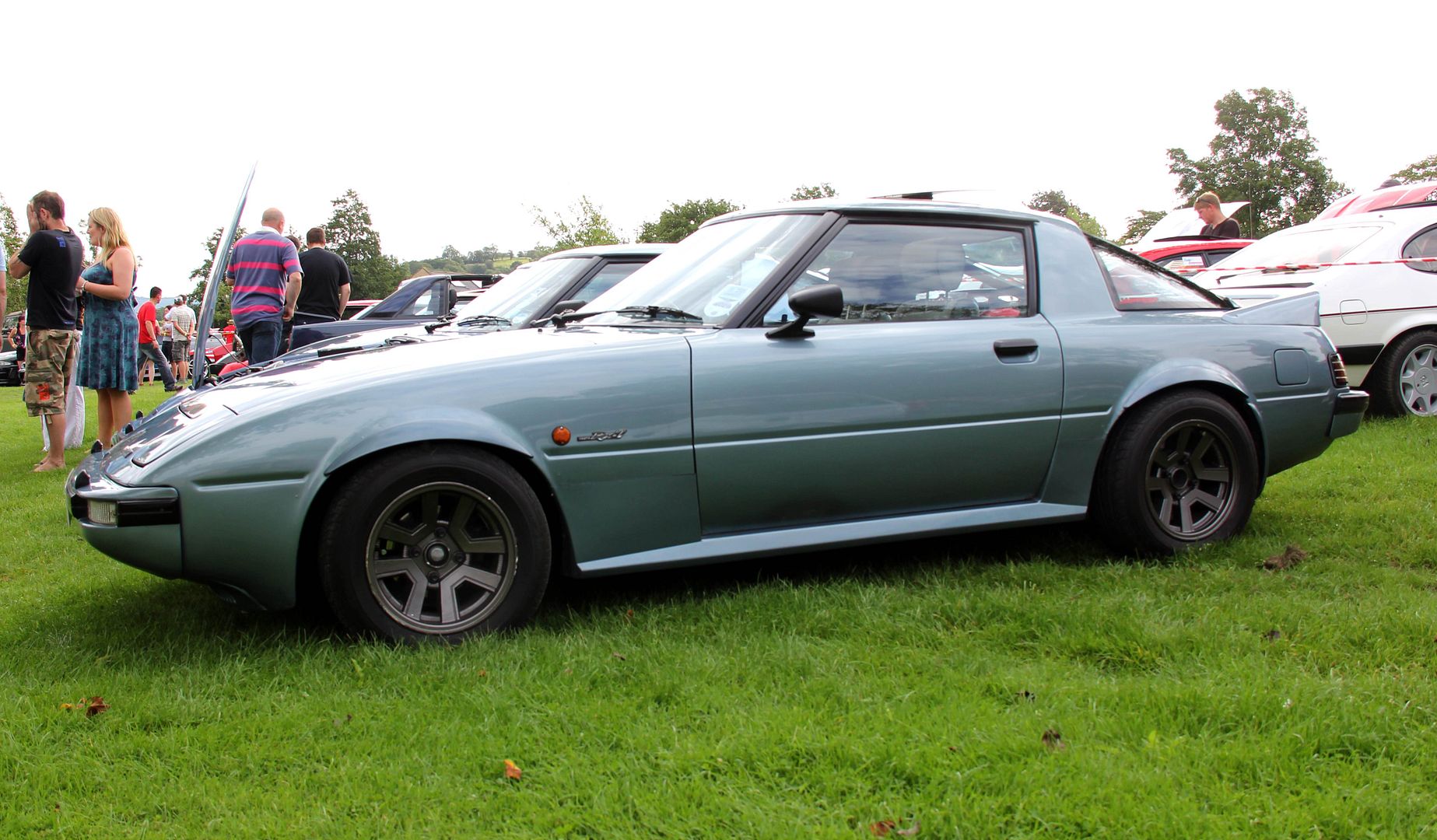 Gotta admit, those Celica-Supra wheels do look well! Ooooh, patination;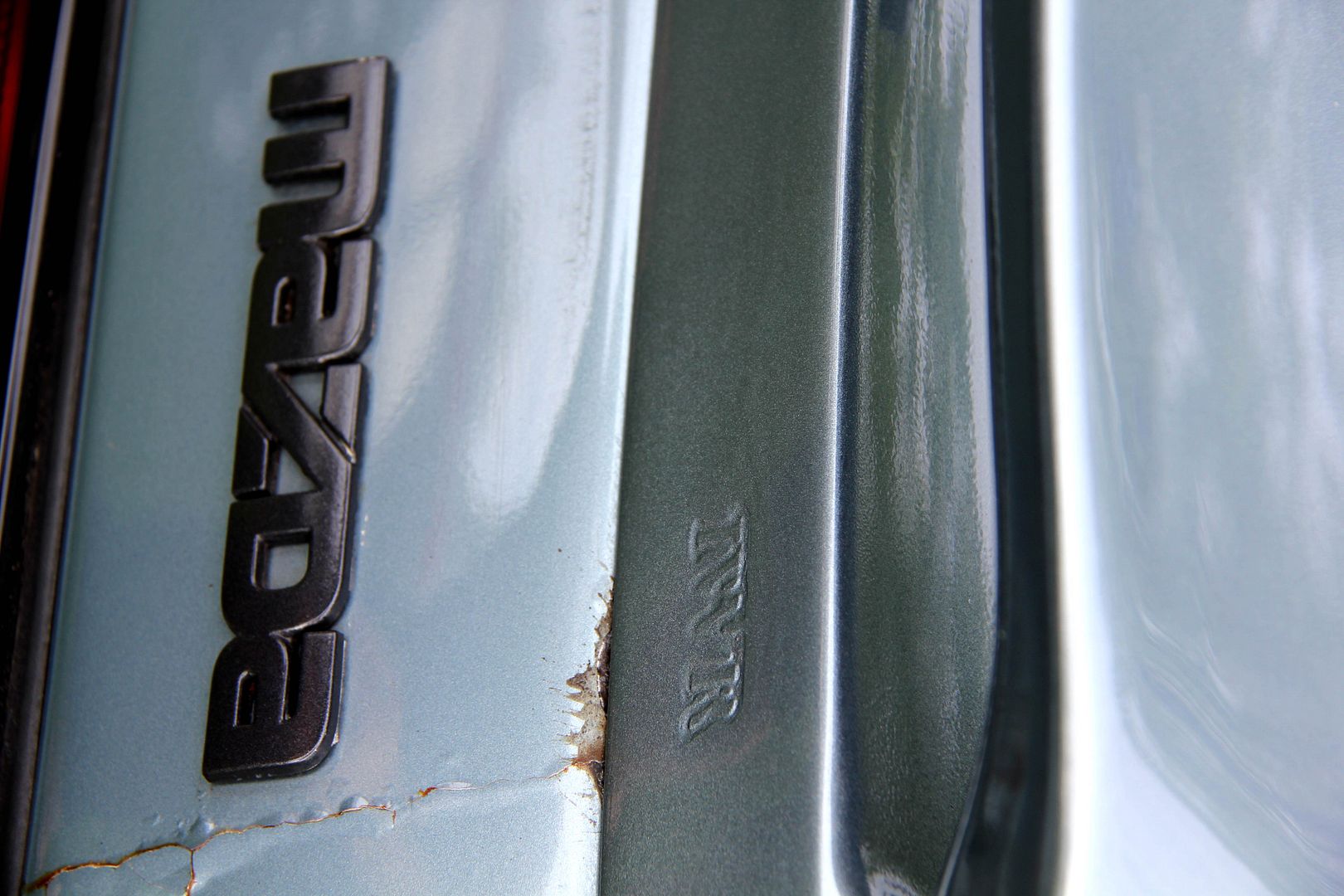 What are the odds, eh? Don't see another FB from one month to the next and then three blue ones come all at once
Just to prove we're not all about RX-7s some funny fella turned up with one of these
MR TOOL's less good RX-2 of two (yes, jealous...) travelled a few miles further than the rest of us as he had to detour around every bump in the road higher than 5mm to avoid twatting the mid-box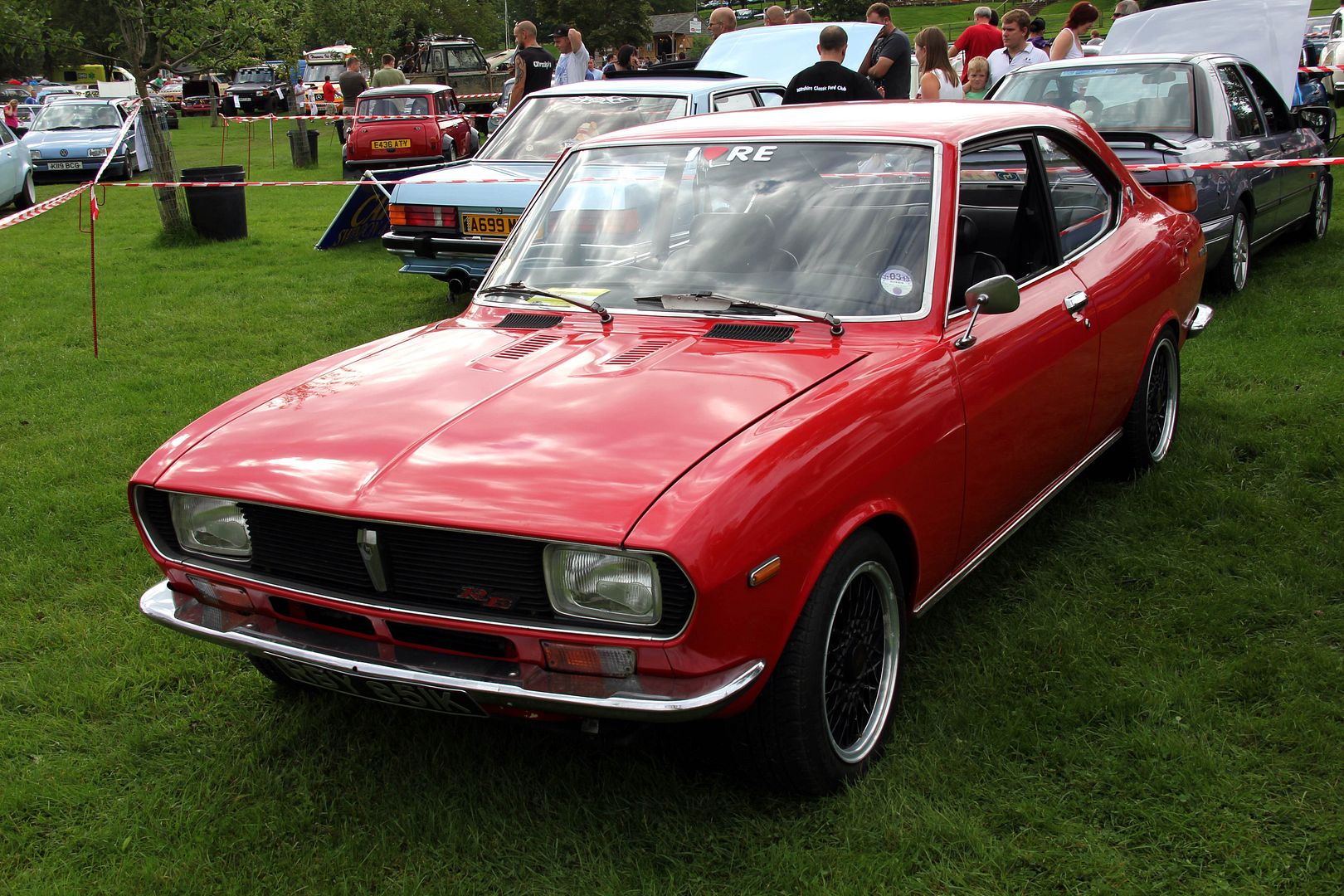 When Fisco turned up with the luxobarge Cosmo we certainly had a good spread of rotary weirdness. 13B luxury twin-turbo daft speed yours for 2.5k if you fancy it?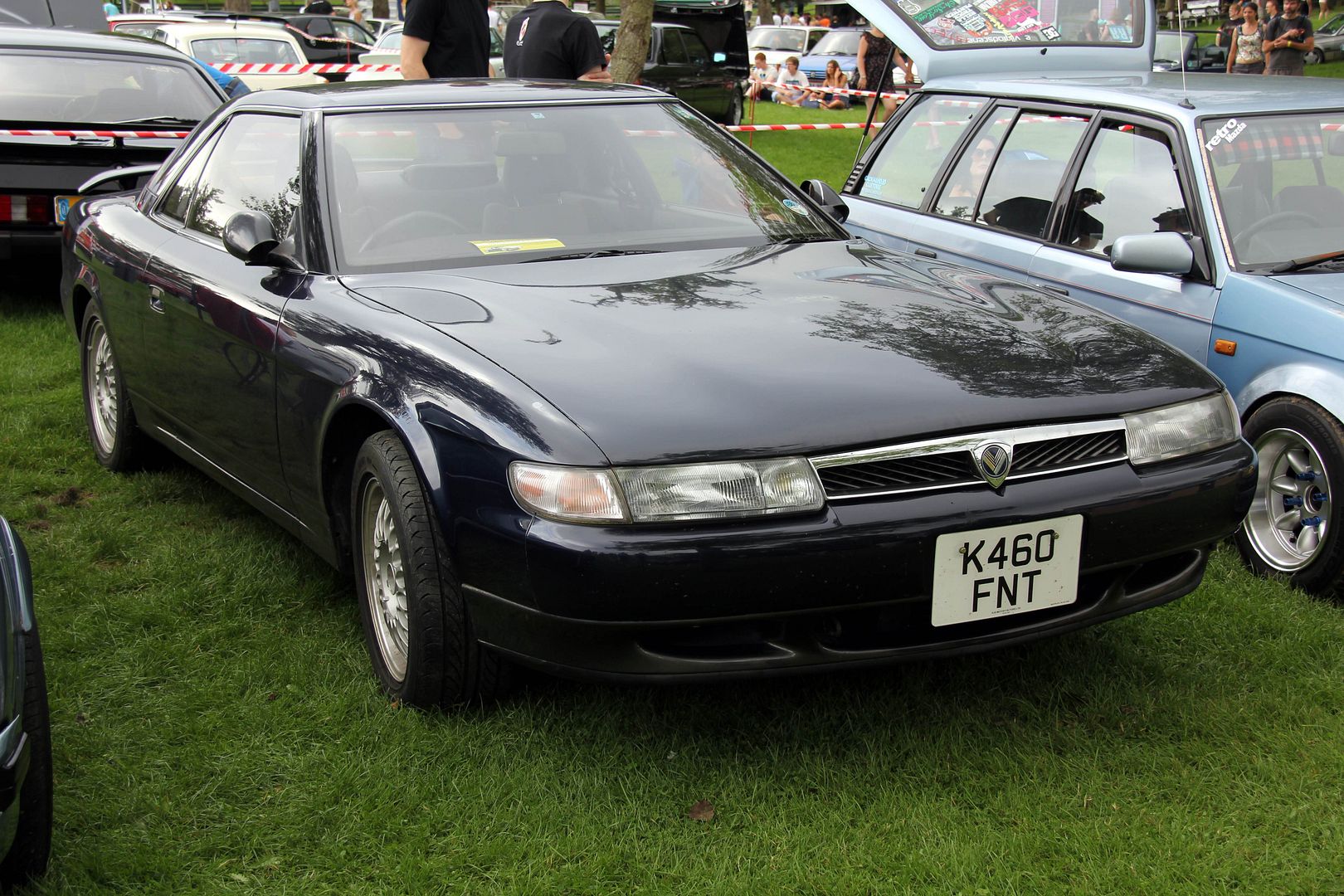 Not a bad turnout then by any standards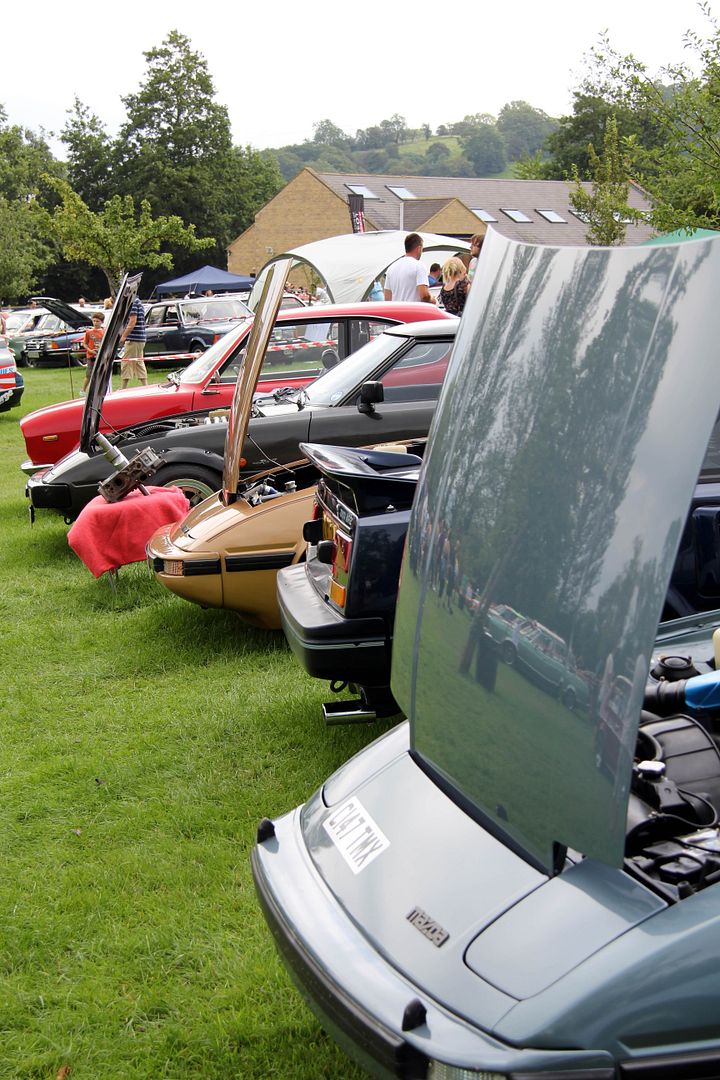 One of Marc's 323 mates sneaked on the end but I thought it fitted in quite well, being a dilapidated Wagon on minilites
Is it wrong to like it? lol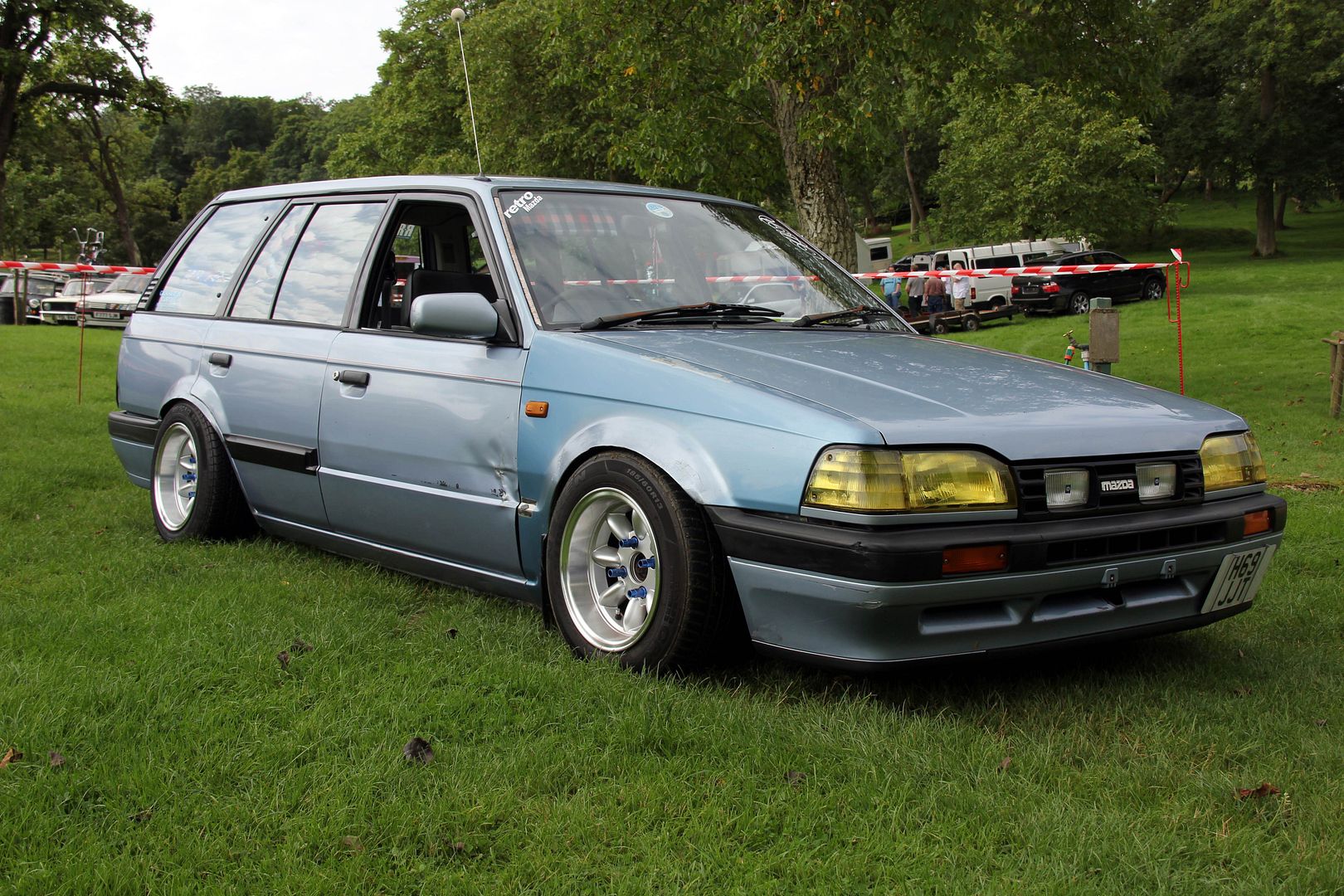 ...and as for Ian's new purchase, sorry dude, I thought I'd taken some pics of the exterior but I apparently didn't. I thought it was quite funny that Ian confessed he'd kept quiet what it was in case he got thrown off his own forum hahaha. I thought it was a pretty cool little car myself, and that's despite having been traumatised by owning one of its later sister models. Anyway, since I didn't get any photos of the outside, the secret's safe... unless anyone works it out from this sneaky shot of the bonkers "every manufacturer did it in the late 80's" experiment with rotary switchgear randomly strewn around the dash