I hope some of you guys will be interested in what me and a friend have been up to over the last few months, so having had our first successful outing in the car, (and acquired a few pictures in the process, as everyone loves pictures.) I thought it might be worth a thread. Hopefully this will make up for my hiding in the technical bit for the last god knows how long

A friend of mine's (Ben Moore) dad (Brian Moore) used to do a fiar bit of rallying back in the '80s, but packed it in when he had kids and needed to settle down. He didn't sell his car though, he just parked it in the garage and left it there gathering dust. Now Ben's finished uni and is earning, he thought it would be nice to get it going and start getting into rallying him self. We dug the car out of the garage over the summer, removing a full van-load of general tat from the garage that had built up around it. The car's a mk2 Vauxhall Astra GTE 8v, which was originally built in the '80s by Safety Devices, who built the works rally cars for Vauxhall at the time. We're not sure if it's an ex-works car, or if it was built by them using left overs from the works cars, but either way, its a serious piece of kit built to a very high standard. His dad recalls that the 2l 8v engine in it should be putting out a minimum of around 180bhp. Everything else you'd expect is there too, a fully seam welded and heavily reinforced shell, 8 point roll cage ect... Oh, and a Q plate as a result of being built as a rally car from day one, which also means I don't recall the cars actual age.
We found the car complete with a '92 tax disc, and looking remarkably well preserved, the paint work around the front end had suffered, presumably from water getting under stone chips and cracks in the paint, and as a result there was lots of surface rust on the bonnet and wings, but otherwise the car was solid. However the main issues were a lack of gearbox, driveshafts and front brakes. These parts had been sold by Bens dad when the car was first parked up.
The car in its home for the last 19 years: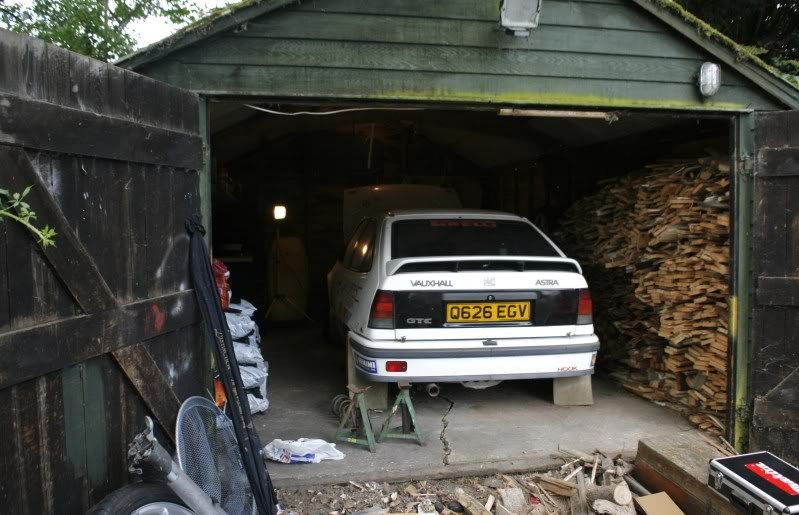 The rather awesome dash: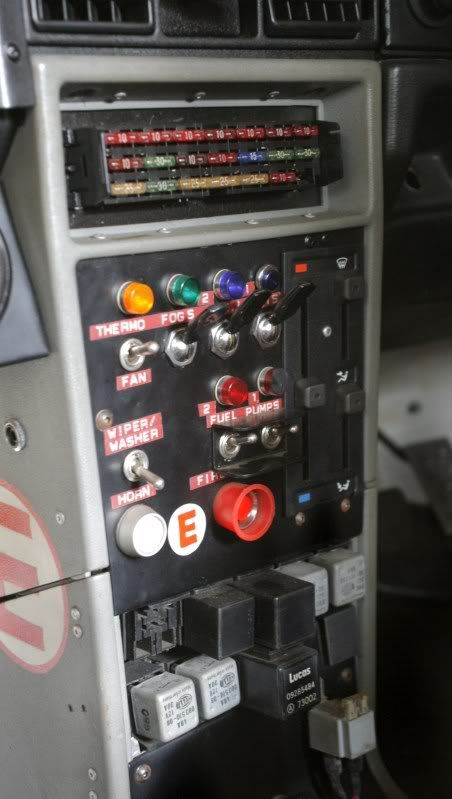 Proof of how long it's been since this car's seen the road: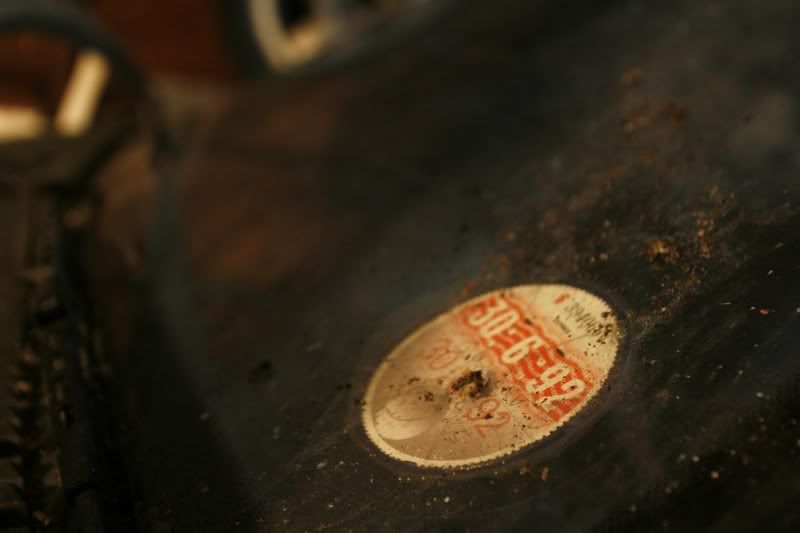 Ben sourced and picked up an F20 gearbox, which we proceeded to fit only to find the input shaft to be much smaller than the spline in the paddle clutch attached to the engine. Off came the clutch and out came the tape measure. This resulted in the conclusion that there was nothing suitable on the market that would fit the F20's input shaft, while working with the flywheel fitted to the engine. A phone call to a clutch supplier, and ~£150 of Bens hard earned later and he had a new custom made paddle clutch for it which fitted nicely.

The next issue came when offering up the standard mk2 Astra driveshafts. The car had some very nice Pilbeam Racing struts fitted up front, which inconveniently took outer CV joints from an unknown, non-Vauxhall source, and fitted to wishbones specific to the struts. Ben was given a pair of struts, front brakes and wishbones taken from a modified mk3 Astra, which were fitted with unknown aftermarket springs and shocks, as well as some decent sized drilled, grooved vented discs. We fitted them for the time being, and Ben's now in the process of hunting down what he needs to get the Pilbeam parts back on there. A new cambelt was fitted and the engine fired up with a huge puff of plop and dirt out of the exhaust, including what looked like some sort of rodents nest!
At this point I went off to uni, while Ben carried on recommissioning the car with help from a friend who used to service for his dad back in the day.
I came home front uni a couple of weeks ago and popped round to Ben's house to find the car all but ready for it's MOT, but still visually the same as the day we dragged it out of the garage.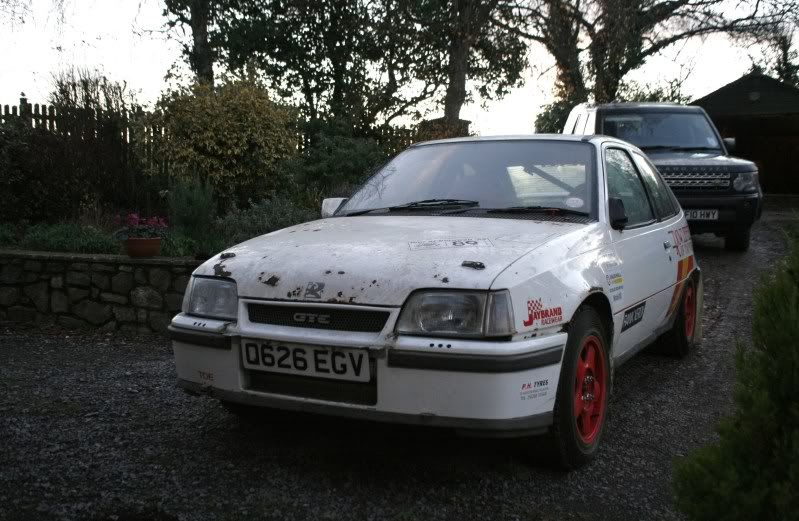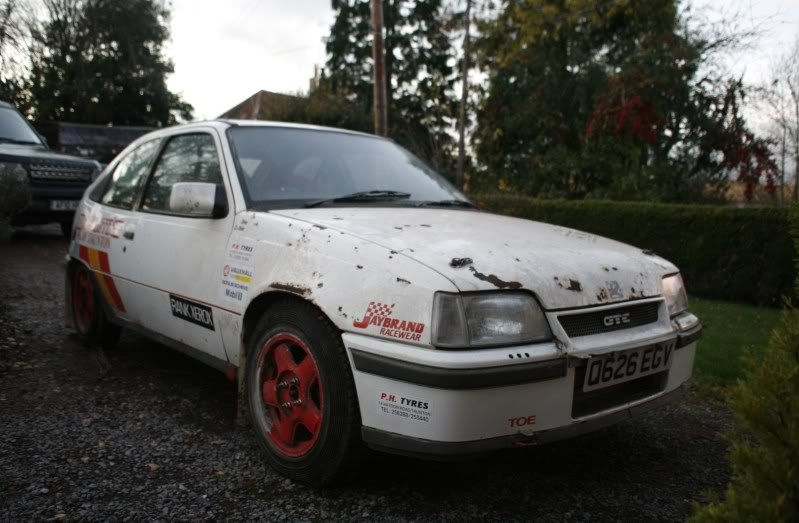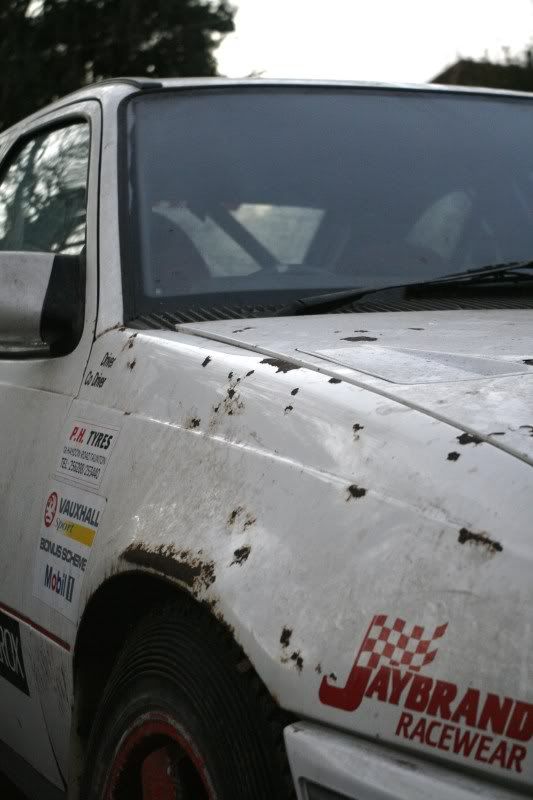 "Tour of Cornwall '92"
:
Again I had to go away and leave Ben to it, this time to my Dads house for the usual Christmas family stuff. While there I got a phone call from Ben on Tuesday asking if I'd like to co-drive for him at a test day at Smeatharpe Airfield the next day (yesterday)! Of course I changed the plans I did have for the next day, and agreed to come along and have a go at co-driving ;D. This is something I've never done before, but luckily Smeatharpe is usually arranged as a circuit, so co-driving isn't hugely important, and with it being an un-timed test day we were able to practice at our own pace. It was also Bens first time Rally driving, although both of us had done Rally 'experience days' as well as having competed in a grass surface Autocross series over the summer, and we've both always been into cars, so neither of us are strangers to driving hard.
While I'd been at my dads, the stickers had been removed from the Astra, and the rust ground back and painted over, along with some investigation into a smell of petrol inside (Leaking filler neck, sorted by tightening things up. Luckily the bag-tank had survived intact.)
I got to Ben's house at about quarter to 9 yesterday morning and found the car already loaded up to a trailer behind his dads Discovery, and the spare wheels and a random, far from comprehensive selection of tools loaded in the back of Ben's newly acquired T4.
We set off on the 20 minute drive to Smeatharpe strait away, and Ben's dad quickly left us behind, turns out that even when towing a car, a 3.9 twin turbo diesel disco is still considerably quicker than a 2.4 non-turbo diesel T4.

We arrived at Smeatharpe and noticed that Ben's van had a puncture that we'd somehow not noticed, silly-low-profile-tyre-fail. Anyway, we'd deal with that later. The car was unloaded, we signed on, paid the entry fee, listened to the drivers briefing and suited up in overalls and helmets. Being a test day, the format was basically an open track. There were 2 parade laps at the start of the day to learn the circuit, then you simply lined up and went out whenever you wanted, for as long as you wanted.
We checked the tyre pressures and headed strait out for a few laps, and the car performed brilliantly. The unknown front suspension was a surprisingly good match for the Bilsteins and Pilbeam tarmac springs that were in the back, the engine pulled bloody well once it was on cam, and everything just seemed to work exactly as it should, bar the washer jets, which wasn't a huge issue in heavy rain! The circuit was seriously wet, with lots and lots of mud and a disturbing amount of cow-excrement on it, but once scrubbed in the 20 year old cut-slicks gripped surprisingly well, and we found our fears of holding everyone up put to one side as the smiles grew and the lap-times dropped quickly. The only real issue being Ben reporting the car as being twitchy and unstable on the faster straits. We had no speedo, but a friend who had followed us for a few laps thought we were just touching triple figures down the fastest stretch. Personally I put the twitchiness down as simply being a result of Ben being used to driving modern Audi's, which are about as twitchy as an oil tanker.
Towards the end of the day we came in from a fairly long run and found the exhaust hanging low. 4 of the rubbers had died, not a huge surprise as they'd spent the last 19 years in a shed. Anyway, some new rubbers fitted and a few zip-ties reinforcing things, and we were off again, only this time Ben's dad Brian decided he'd like a go in his old car to see how it felt after so long. I should have been put off by Ben refusing to passenger for fear of his own safety, but I offered to co-drive for him as he didn't know the circuit, and I was curious to see what he was like compared to Ben. We flew into the first few corners at a scary speed and hugely overshot the first hair-pin finding our selves a few meters into a field
. Once he'd got a bit more acquainted with the car he put in some very fast times, instantly beating Ben's times, and showing a lot more confidence than his less experienced son. He also confirmed my suspicions about Ben's reports on the handling, and reported the car as exactly as he'd expect at speed.
I'd taken my camera along keen to try out a 75-300mm lens I'd got for Christmas, but I couldn't use it being busy in the car, so I stuck it on auto and gave it to Ben's little brother who'd come along to spectate. He did a really good job of snapping some of the action, and the lens was invaluable compared to the 18-50mm that was previously my only lens.
Anyway, the action shots: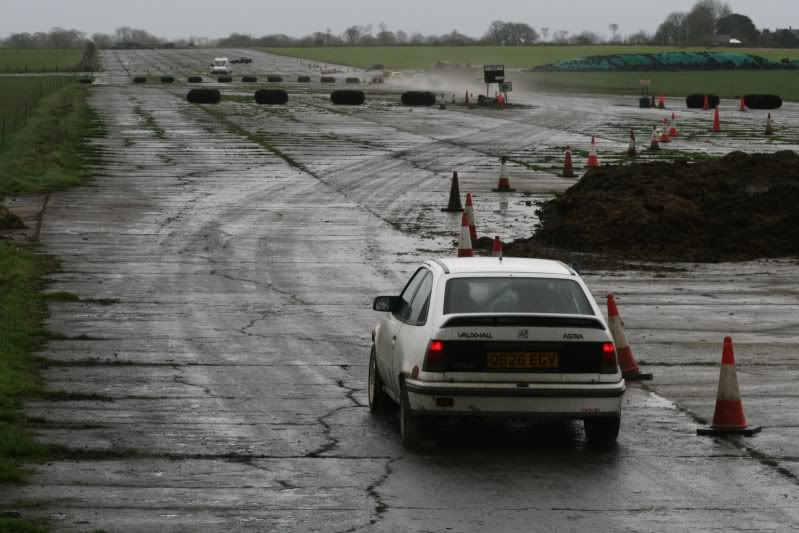 As with any event, the Escorts were out in masses, making the most of the slippery track and enjoying a bit of sideways action: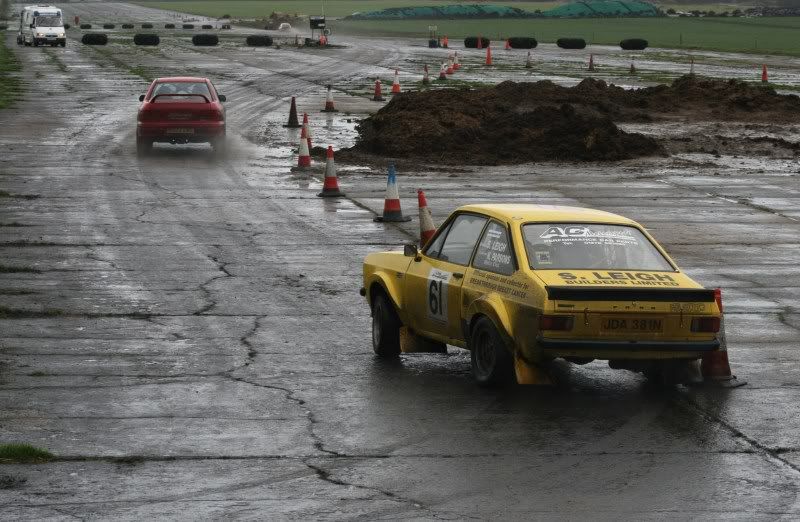 This little beast belongs to a friend, running a 1700 cross flow and an LSD: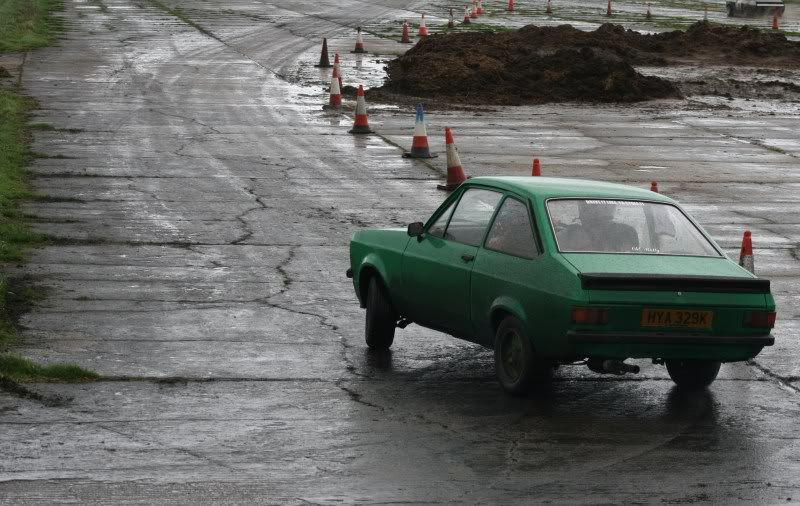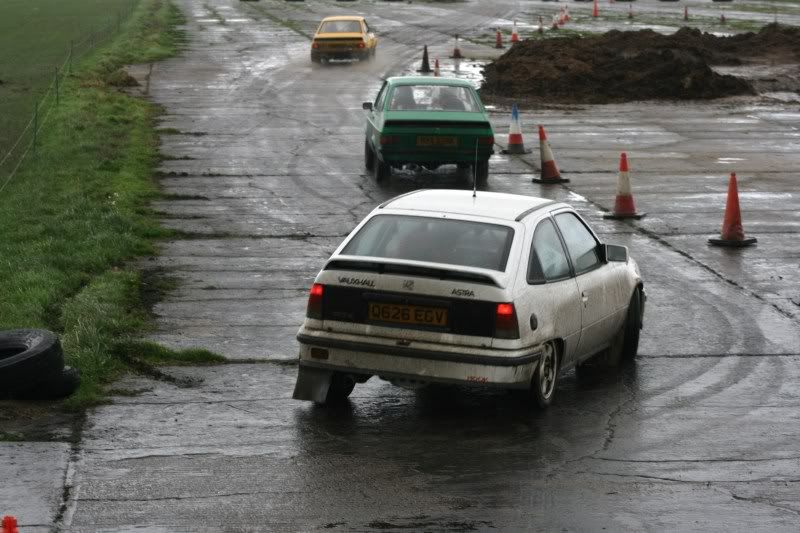 Another mk2 Astra, powered by a rather serious XE, it was shifting along very well until it threw it's alternator belt under the cam-belt and took out the whole valve-train

: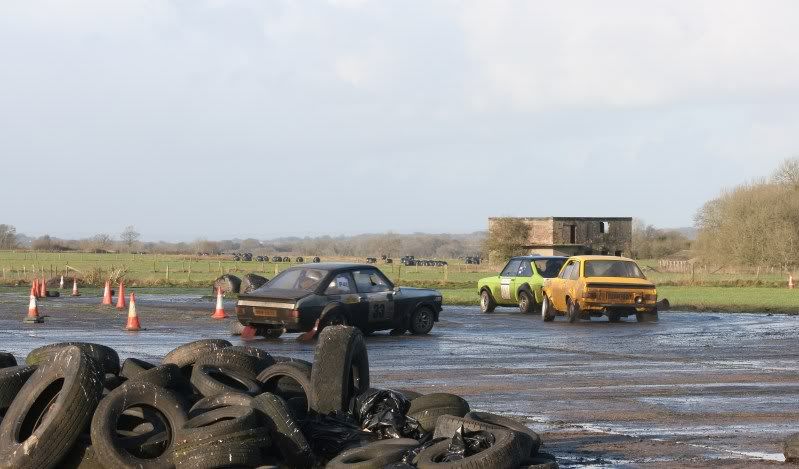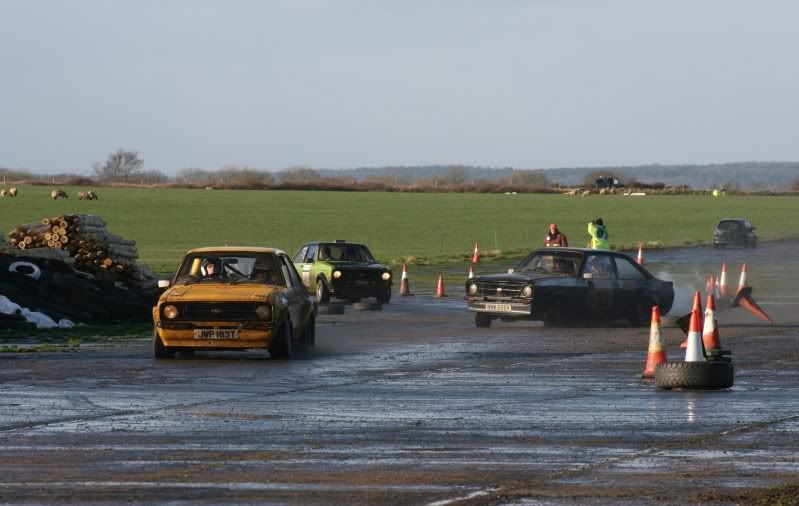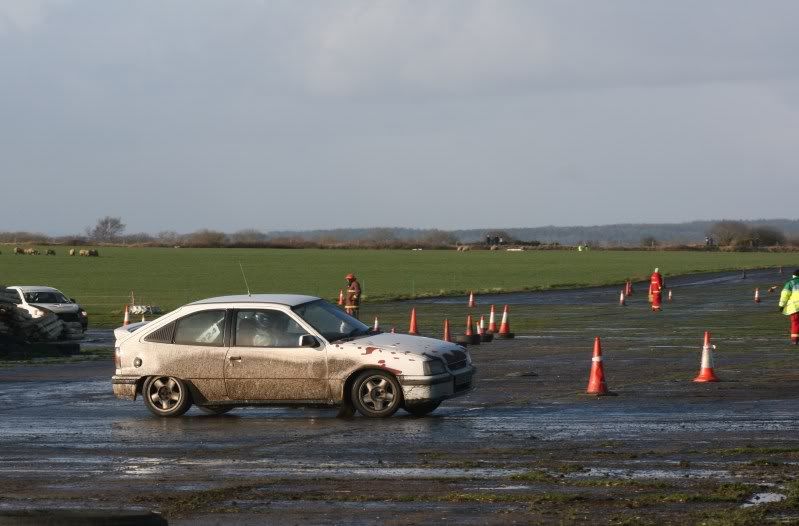 The car performed brilliantly, the only faults being the exhaust rubbers and us running it out of fuel on the last run. Impressive for a car that's been laid up for 19 years and received only the minimum recommissioning! We shredded one of the tyres, but replaced it with one of the spare set we had with us.
By the end of the day, the poor Astra was plastered in mud, but had escaped damage free and proved its self to be a very well built reliable car. Me Ben and Brian had had a great day, and we were all grinning ear to ear for most of it!
A few other guys got chatting to us and were amazed to find out the Astra only had 8 valves, which was quite satisfying. I don't doubt Brians estimations of 180+bhp, we were out accelerating an XE powered Nova as well as keeping with a lot of other cars which would suggest the power's in that region. In fact we'd limited the revs to 7.5k to be on the safe side, I can't remember what Brian said the actual limit is, but it's noticeably higher, so there should be more to give!
I snapped a few shots to show the state of the car at the end of the day: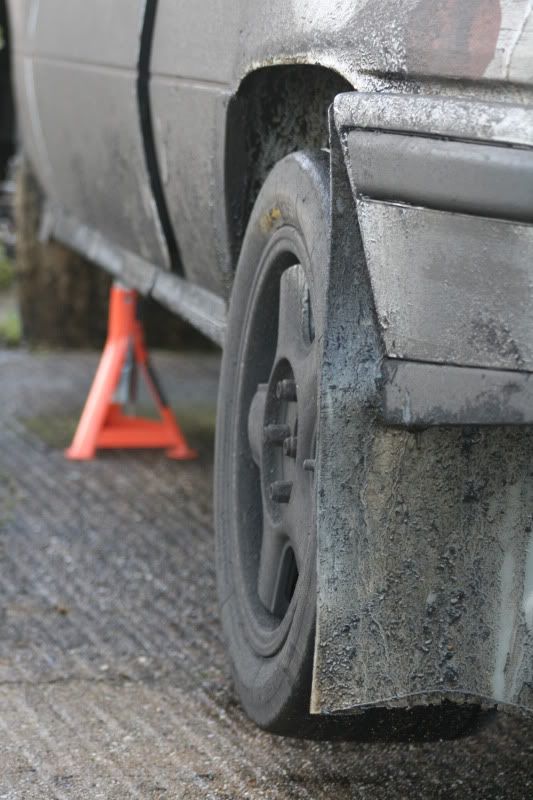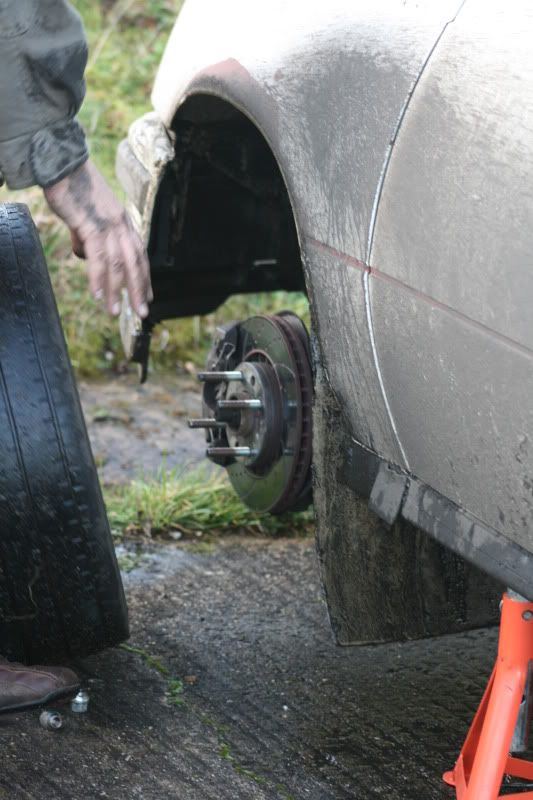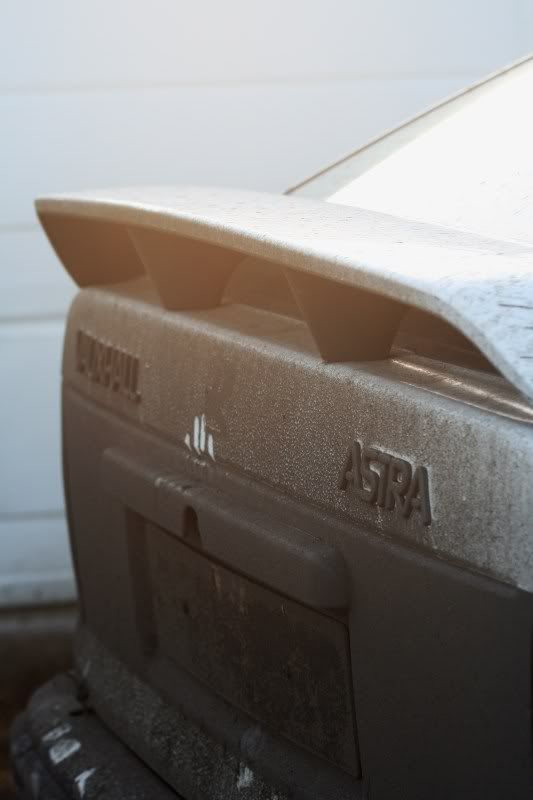 All loaded up ready to head home.
Unfortunatly I had to head back to my dads house to carry on being sociable with the family before the cleaning and unpacking could start, what a shame

If all goes to plan our next outing will be the Somerset Stages rally, although Ben will need to replace the seats, belts, extinguishers and his dads old overalls as they're no-longer in date, and I suspect he'll have to make a few more changes to fit in with current regulations. I think some fresh tyres would also be a good plan. I'll need to get some approved Overalls if I'm going to co-drive again. I'll report back if all goes to plan and we make it, but I suspect it may be pushing things financially.