Post by ChasR on Jun 30, 2011 20:30:56 GMT
The Spec as of Now (September 2013):Engine
: Stag 3.0 V8 on a Monarch Holley Carburettor conversion, early style Rimmer Bros Tubular exhaust manifolds, relocated alternator and a Newtronic Ignition system
Gearbox
: ZF 4HP22 4 Speedo Automatic Transmission, with an electronic speedometer drive
Chassis
: Chris Witor lowering springs with Superflex bushes in places. 6.5Jx15" Rays Payton Place Split rims complete with 205/60R15 rubber. Braided brake hoses with OE Spec pads fitted.
Other
: Mk1 seats refubished.
Here is the story of how I bought a Stag.
I saw it for sale locally and went to go and have a look. Ok the paintwork could be better but it was fine for me (certainly tidy), and with many new bits and other handy trinkets (electronic ignition, Stainless exhaust, new interior (some still to go back in), it looked like it was worth a shot. It did drive initially too!
So then I went to put a deposit down, and then paid the full amount. Then came the driving.
For the first 5-7 miles it drove quite nicely, but the gearbox did not sound too pleasant, and nor was the car very quick either! In the end I bottled it and trailered it back. This is where I found out just how difficult it was to push the car. Maybe the noisy 'box was telling me something.
It stopped reversing (even when in neutral and on an incline), but at least it was damn comfy to sit in (new seat covers and bases probably help there), has a solid and tidy body in addition to being priced right (there's alot to like with a new fuel tank, prop (a reason for that), and so forth.
Basically, this car has been converted from a BW Type 35 to a ZF 4HF22. In 1st, it sounds like the 'box has no oil (it has plenty and it is very clean), and well, it is time to get to the root of the issue. More will be told later on the issue.
Whether I will revert back to the BW setup or stick with the ZF (many are telling me to stick with it) is another thing (a few owners swear by the retrofitted ZF item, claiming they would not go back), but for now here are some pics of the machine: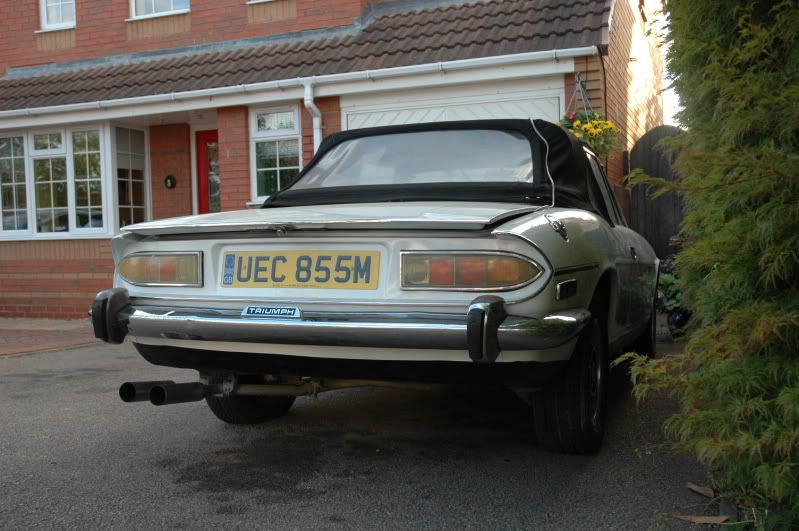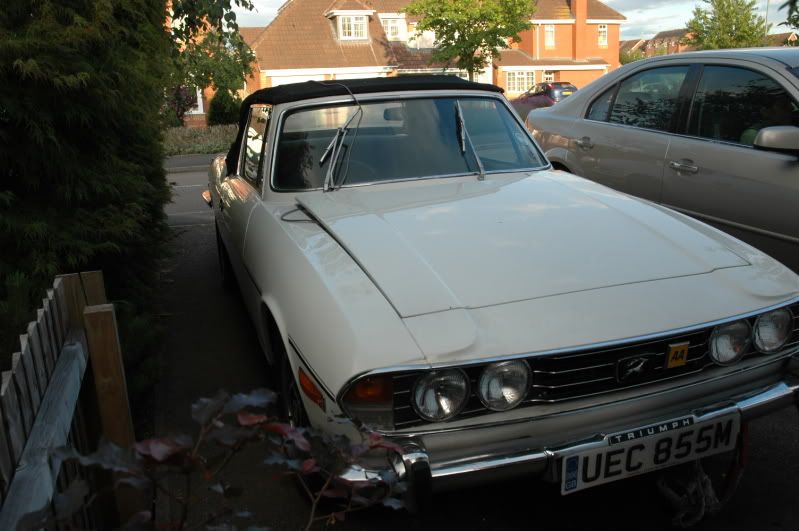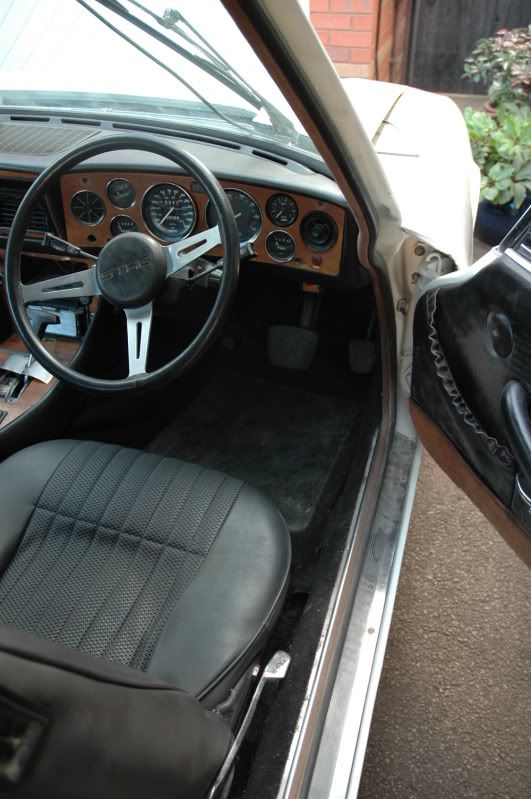 If that 'box issue can be sorted it should make for a lovely machine.
EDIT: The spec of this car is not too exciting, but I guess it is not a 'stock' Stag. So here we go:
Engine: Stock Triumph V8 with a Holley 390 4 barrel carburettor, Newtronic Electronic ignition with Bosch Sports red coil, Hart Racing Services (HRS) Starter motor relay conversion, spin on oil filter conversion with Kenlowe fan
Gearbox: BMW E30 ZF4HP22 Automatic gearbox with lockup converter.
Chassis: Stock bar Superflex bushes, Chris Witor Progressive rate lowering springs and Rays Engineering (Payton Place Queens) 6.5Jx15" Split rim alloy wheels on 205/60R15.
Interior: Refubished MkII interior with MkI seats.